You should visit El Salvador because of the tropical beaches, the unique colorful towns, the excellent ecotourism, the archaeological sites, the people, the cost of visiting, and the tasty Pupusas. Unquestionably, the country has other reasons why you should visit, these are only the most popular.
Before I get into more details about the reasons why you should visit El Salvador, let me give you some information about tourism in this unique country.
Divine Savior of the World Monument
Without a doubt, El Salvador is a stunning tropical country in Central America. It has the same attributes as other nations in the region, beautiful tropical beaches, great weather, exceptional historical traditions, plenty of ecotourism, and more.
So why doesn't El Salvador get as many visitors as other countries in Central America? Well, the main reason is the reputation the country has around the world, as being violent and crime-ridden. Given that the country has a bad reputation; it is no wonder that a lot of people don't even consider for a minute traveling to El Salvador.
Nonetheless, I would like for you to see things differently. Yes, El Salvador has crime and violence; however, the crime and violence are in parts of the country that you as a tourist will never have a reason to be in it.
Furthermore, crime and violence are never towards tourist; and not to mention that touristic areas are well protected; therefore safer. To get more information about El Salvador Safety, read the following, Is El Salvador safe to visit?
Is Tourism in El Salvador Getting Better?
Yes, tourism in El Salvador is getting better. The new administration began its five-year term on June 1st, 2019. All things seem to show that this administration will focus a lot of time and energy on developing and increasing tourism to El Salvador.
Sue Callejas Estrada is the Minister of Culture, and Morena Valdez is the Minister of Tourism. Both of them and the new administration have done a lot to increase the perception of El Salvador's Culture and Tourism around the world. I am hopeful that they will continue their focus on this task.
Surely, El Salvador is not your usual tourist destination, certainly not the first choice for a lot of people visiting Central America, but it should be included as a choice! This nation has a lot to offer when it comes to tourism.
Here are some top reasons why you should visit El Salvador or at least put it on your list of countries that maybe you will visit one day.
The Tropical Beaches
El Salvador has a fantastic coastline ideal for travelers looking to get their surf on; and also for travelers looking to enjoy the warm waters of the Pacific. The country has plenty of beach options all over the place.
While in El Salvador, you can visit the beaches at La Costa del Sol, Los Cobanos, La Libertad, or you can go to the eastern part of the country and enjoy the endless stretch of soft sand and clear waters at El Cuco beach.
These beaches are some of the best in the country; but, there are more! To view a full list of what beaches the country has to offer, visit the beaches in El Salvador page.
On the other hand, if surfing is your thing, head on to El Tunco, El Zonte, Punta Roca, Mizata, Las Flores, or Punta Mango. These are some of the best surf spots in El Salvador.
The unique colorful towns
This small nation is home to some fantastic small towns; you can visit places like Panchimalco, La Palma, Suchitoto, Ataco, Juayua, Nahuizalco, and others. Some of these small towns have history dating back to colonial times or even before.
At these unique colorful towns, you will be able to view and enjoy things like colonial architecture, local customs, historic colonial churches, and local tasty food, to name a few.
However, if small colonial towns are not for you; visit San Salvador, Santa Ana, San Miguel, or Santa Tecla. These cities are larger and have more city like activities.
Ecotourism in El Salvador
For those travelers looking for outdoor ecotourism activities, El Salvador is a viable option; the country has a vast array of volcanoes, lakes, and natural parks that visitors can enjoy.
Volcanoes
The country has over 20 fantastic volcanoes scatter all over its territory; some of them are active, and some are not.
Some of these volcanos have hiking trails that will lead you to some great adventure and incredible views; the most popular are, Izalco volcano, Santa Ana volcano, and Cerro Verde. These three volcanoes are a popular destination for travelers; mostly because their trails are more accessible, and they are easier to get to.
Now, you can also venture into volcanoes with no proper trails and more difficult climbing conditions. Chaparrastique and San Vicente volcanoes are the two I recommend. If you want to know more about these volcanoes and others, visit the page "Volcanoes in El Salvador."
Lakes
Visiting a Salvadoran lake is another great option for spending time outdoors and do some ecotourism.
Some of the most well-known lakes are Lake Suchitlan, Lake Ilopango, Lake Guija, and Lake Coatepeque.
All of these lakes, except Suchitlan, are of volcanic origin or caldera lakes. Suchitaln, on the other hand, is a man-made lake.
Each Salvadoran lake has its own history behind it, so choosing which to visit will be a personal choice. If you want to know more about these lakes, visit the "Lakes in El Salvador" page.
Coatepeque Lake
Natural parks
And finally, the natural parks, at these parks, you will find plenty of ecotourism activities to keep you busy.
El Salvador is home to fantastic protected areas where you will be able to see plenty of flora and fauna.
These are the best Natural Parks in El Salvador, Cerro Verde National Park, El Pital, Montecristo, El Imposible, El Boqueron, Walther Thilo, and Los Naranjos.
If you want to know more about Natural Parks in El Salvador, visit the "Parks in El Salvador" page.
El Salvador's ecotourism is one of the top reasons why you should visit El Salvador; these fantastic parks are ideal for spending time outdoors enjoying nature.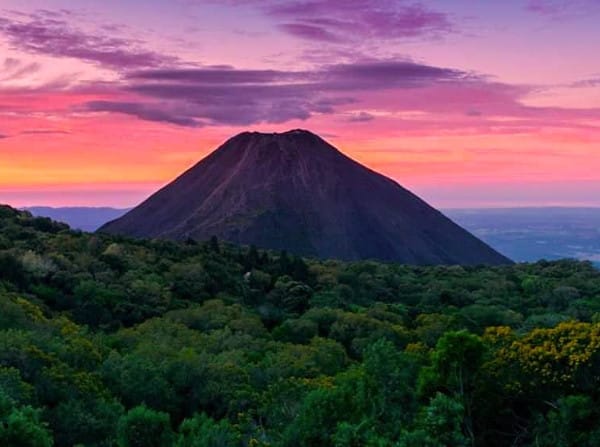 The archaeological sites
The archaeological sites in El Salvador might not be as impressive as the ones in Guatemala or Belize. Nonetheless, these archaeological sites are impressive and should be in the must-see list of El Salvador.
If you finally make it to El Salvador; visit Tazumal, Joya de Ceren, San Andres, or Cihuatan. You will get to see and enjoy the historical, cultural value these sites bring to the region. To learn more about archaeological sites in El Salvador, visit our Mayan Ruins in El Salvador page.
The Friendly People
You might not know it because of what you hear on the news about El Salvador. But, Salvadorans are one of the most friendly and hospitable people on the planet.
They are passionate about the country and eager to share everything with you; their knowledge of things, their home, their friendship, and if it comes down to it, some of them might even share half their beer or Pupusas.
I am Salvadoran; I get joy reading articles or watching videos of what visitors say about Salvadorian people, particularly how friendly they are.
Costs of Travelling to El Salvador.
El Salvador is not an expensive country to visit. Most likely airfare will be the most costly item that you will have to pay.
When it comes to other expenses such as accommodations and food, there are options for all types of visitors.
If you are traveling on a budget, you can find low-cost, safe accommodations for about $30 per night at the capital; or $10 per night at a beach town like El Tunco or El Zonte. Now, if money is not an issue, you can stay at the top hotels that can run you upwards of $200 or more per night.
Food is another item that is not expensive; unless you want to eat at a proper restaurant. A typical local meal will cost you about $3.00 to $4.00, including a drink.
The cost associated with visiting El Salvador will depend on you and what you are looking for; the good news is that there are options available.
Visit our page, travel to El Salvador on a budget, and get some ideas on how to visit El Salvador with a small budget.
The tasty Pupusas
What can I say about the most recognizable Salvadoran dish around the world; other than the following "Do not ask for a fork, eat it as Salvadorans do; USE YOUR FINGERS."
For those who don't know; Pupusas is a Salvadoran dish made of a thick corn tortilla and stuffed with savory fillings such as local cheese, pork, refried beans, and a few other items. When you place your order, they will ask you how you want them or what you want in it.
In my humble Salvadoran impartial opinion, Pupusas alone are a great reason, and the only reason people need to visit El Salvador.
Salvadoran Pupusas.
Visit El Salvador.
To summarize, El Salvador Tourism is in a developing stage and getting better every year. As it is now, it has some elements that will please visitors; however, it also has some things that will not make visitors happy. This is the reality of El Salvador's tourism today.
Nevertheless, the reason why you should visit El Salvador are compelling enough that you should take a chance and visit El Salvador, this small tropical country in Central America is waiting for you.