El Salvador is the smallest country in Central America and not your usual tourist destination. Most travelers looking to visit Central America look first at popular destinations such as Costa Rica or Panama.
However, visitors shouldn't dismiss visiting the smallest nation in Central America. El Salvador has plenty of reasons to visit; it has plenty of places for tourism and plenty of activities to keep visitors busy for days.
Why visit El Salvador this Year?
You should visit El Salvador because of the tropical beaches perfect for surfing or relaxing, the colorful towns full of history and traditions, the excellent ecotourism activities, and the impressive archaeological sites.
Other reasons to visit El Salvador are the cost to visit, the culture, the traditions, the arts and crafts, the food, and many others. A visit to El Salvador is worth doing!
10 Reasons Why You'll Want to Visit El Salvador
Some reasons to visit El Salvador this year are the tropical beaches, the colorful towns, the ecotourism, the archaeological sites, the year-round surf, the cost, and the culture.
SEE ALSO: What is the Best Time to Visit El Salvador? Deciding on the Best Time to Explore El Salvador!
The following are the top ten reasons why you should consider visiting El Salvador.
1. The Amazing Beaches
El Salvador has a fantastic pacific Ocean coastline filled with superb beaches to accommodate all types of visitors. The country has plenty of beach options. Travelers looking to enjoy the Pacific's warm waters have plenty of choices all over the coastline.
Are you looking for a beach to relax in? You can stay near the capital and visit La Costa del sol, El Puerto de La Libertad, or San Diego beach.
If you don't mind traveling, go to the eastern part of the country, and enjoy the endless stretch of soft sand and clear waters at El Cuco beach.
If surfing is your thing, you are in luck! El Salvador has some of the best surf spots in Central America.
Go surfing at popular locations such as El Tunco, El Sunzal, or Punta Roca; these beaches get many visitors, especially on weekends. If you prefer to surf with fewer people, go to El Zonte, Las Flores, or Punta Mango beach.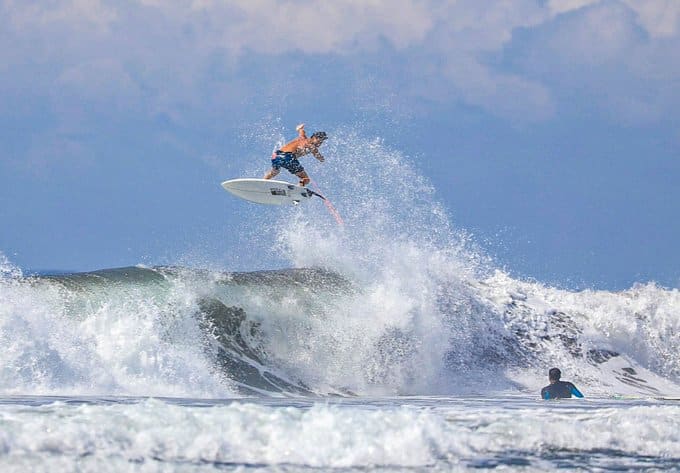 2. The Colorful Small Towns
El Salvador is home to some great little towns with history and traditions that date back to colonial times or even before. These towns are all over the country; so, finding one you can visit and explore will not be difficult.
Some of the most visited small tourist towns are Panchimalco, La Palma, Suchitoto, Ataco, Juayua, and Nahuizalco. You can view and enjoy many different things in any of these unique colorful towns.
For example, you can appreciate the colonial architecture, learn about local customs, explore historic colonial churches, and taste the local gastronomy.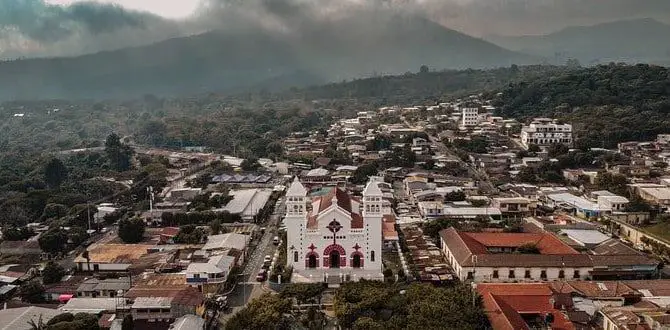 3. The Ecotourism
If you are looking looking for ecotourism activities, El Salvador is a viable option. The country has a vast array of volcanoes, lakes, and natural parks that can be visited and explored at any time of the year.
Volcanoes.
The country has over 20 great volcanoes scattered over its territory; some are active and have constant volcanic activity.
Hiking and exploring these volcanoes is a top activity to do in El Salvador. Some of these volcanoes are easy to hike as they have well-marked trails.
However, other volcanoes are more challenging as they don't have paths and are not easily accessible. Exploring these volcanoes is more for experienced hikers.
Lakes.
El Salvador is home to impressive lakes; there are three that you should visit and explore. The first is Lake Suchitlan, a man-made lake located near the colorful town of Suchitoto.
The other two are volcanic calderas, Ilopango and Coatepeque. These two are impressive volcanic caldera lakes that are still active.
Natural Parks.
El Salvador is a small country with plenty of natural parks for you to explore. Some of them are near largely populated areas, and some are in remote areas of the country.
You can go to the Cerro Verde National Park; here, you will find two impressive stratovolcanoes and plenty of Flora and Fauna. This park is near the city of Santa Ana.
You can also stay near the big city and visit the El Boqueron National Park, which sits just outside the nation's capital.
If you don't mind traveling to remote areas, go to El Pital National park. This bi-national natural park is near Honduras.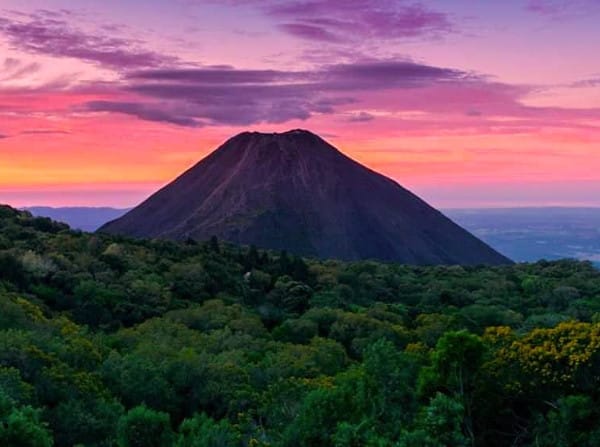 El Salvador's ecotourism is one of the top reasons why you should visit El Salvador. These fantastic parks, lakes, and volcanoes are ideal for spending time outdoors enjoying nature.
4. The Archaeological Sites
The archaeological sites in El Salvador might not be as impressive as the ones in Guatemala or Belize. Nonetheless, these archaeological sites are exceptional and should be on the must-see list in El Salvador.
If you make it to El Salvador, visit Tazumal, Joya de Ceren, San Andres, or Cihuatan. You will get to see and enjoy the historical, and cultural value these sites bring to the region.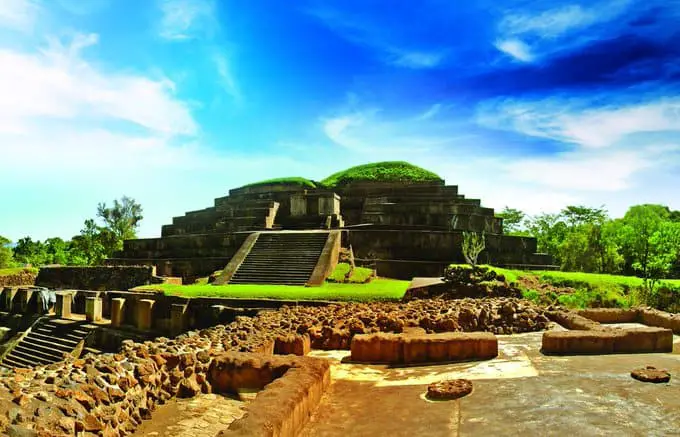 5. The Surfing
A top reason to visit El Salvador is the year-round surf; the country has plenty of beaches where you can get some surf done the entire year.
If you are an experienced surfer, it is best to visit during the wet season as the waves are better.
El Salvador is a top destination for surfing in Central America and is getting better. The Salvadoran government is pushing surf to attract new tourism into the country.
If you are new to surfing, don't worry! There are plenty of surfing schools around to teach you how to ride a Salvadoran wave.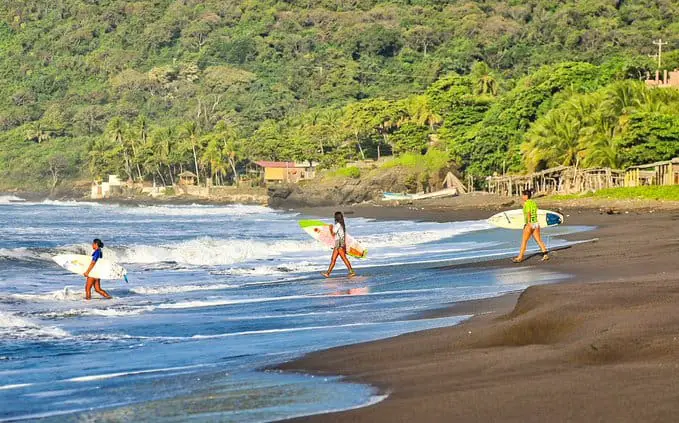 6. The Diverse traditional Foods
El Salvador offers visitors a variety of traditional Salvadoran foods to eat. If you visit the beach, you will have plenty of fresh seafood dishes to taste.
Now, if you are away from the beach, you will find plenty of great local foods to try. One item that you must have is Pupusas, which is considered the national dish of El Salvador.
By the way, most of the country's small towns have food festivals on the weekends. At these local gastronomy events, you will find tasty local foods to enjoy.
7. The arts and Crafts
El Salvador has a lot of pride in its arts and crafts; the traditional way of making them dates back to pre-Colonial times. The Salvadoran arts and crafts are great to decorate homes or to give as gifts.
In many local markets across El Salvador, especially in smaller towns, you will find plenty of local crafts such as bowls, mugs, plates, hammocks, and other decorative items.
Arts and crafts are a big part of Salvadoran culture. El Salvador has an art and crafts tourist route. This route takes you to colorful towns where making these crafts is a way of life.
Also, in 2020, the government is using local art pieces created by a local Salvadoran artist to attract tourism back into the country.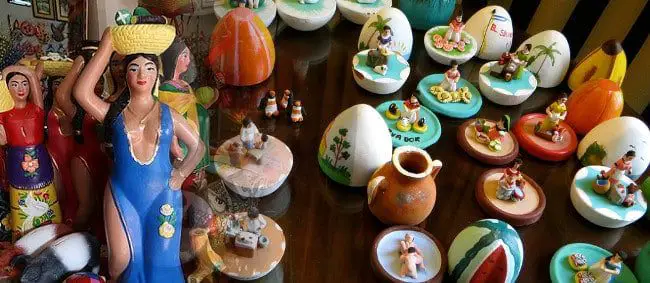 8. The Historic Buildings and Churches
Another reason to visit El Salvador is to explore the historic buildings and churches. These beautiful structures have a great history to share.
In San Salvador, you will find fantastic government buildings and intriguing churches for you to explore. The majority of these buildings are at the historic downtown center.
The most popular and unique colonial-style churches are in smaller towns. So, make it a day an visit one of these small towns, explore the local church, and participate in all the local activities.
9. The Cost of Visiting
El Salvador is not an expensive country to visit. Airfare is usually the item that will cost travelers the most. Nonetheless, by not flying direct and during non-peak traveling days, it can cost less.
There are options available to visitors regarding the reduction of other expenses, such as accommodations and food.
If you are traveling on a budget, you can find low-cost, safe accommodations for about $30 per night at the capital; or $10 per night at a beach town like El Tunco or El Zonte.
Now, if money is not an issue, you can stay at fancy hotels that can cost you upwards of $150 or more per night.
Food is another item that is not expensive; unless you want to eat at a proper restaurant. You can eat a typical meal in local markets for $2.50 to $6.00, including a drink.
The cost associated with visiting El Salvador varies depending on activities and accommodations. The good news is that there are options available to reduce costs.
10. The Capital City, San Salvador
San Salvador, the capital city, is another top reason to visit El Salvador. This city is the cultural, political, and business center of the country.
San Salvador has museums, historic buildings, unique churches, great shopping, tasty gastronomy, and plenty of accommodations.
Most travelers use the nation's capital as a stepping stone to get to other destinations in the country. But, San Salvador has plenty of things to offer.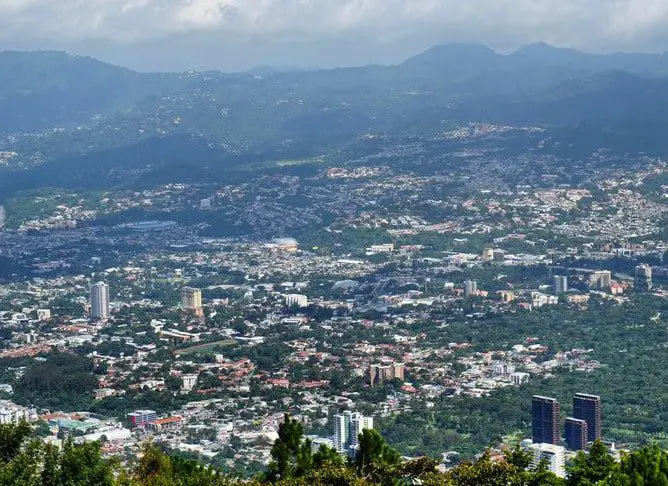 The top reasons to visit El Salvador listed above are not the only ones. This Central American country has plenty of other reasons why you should visit El Salvador this year.
Also, you might not know it because of what you hear on the news about El Salvador. But, Salvadorans are one of the most friendly and hospitable people on the planet.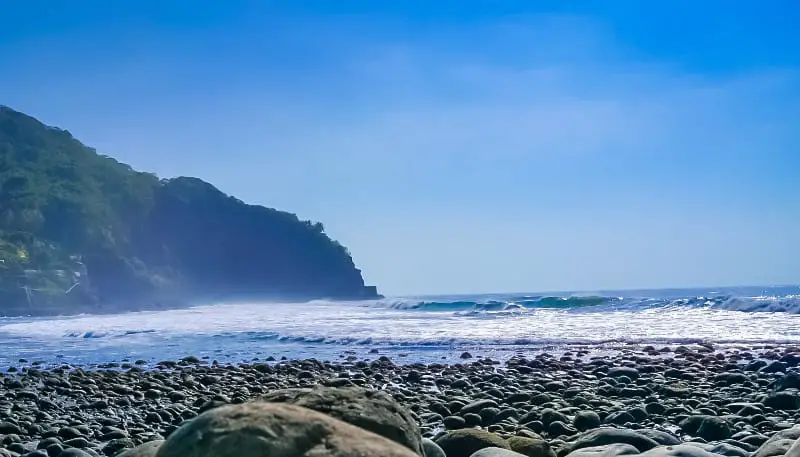 Take a trip to El Salvador Today
If you haven't traveled to El Salvador, this is the time to consider doing it. Even though the country is small and is still underdeveloped, there are plenty of reasons to travel to El Salvador this year.
Take advantage of the low cost of visiting. Explore the archaeological sites, take surfing lessons, relax at the beach, hike or volcano, or hang out at the nation's capital
Visit this small nation, get to know the locals, and learn about the country's great history and culture.