Towns & Cities
---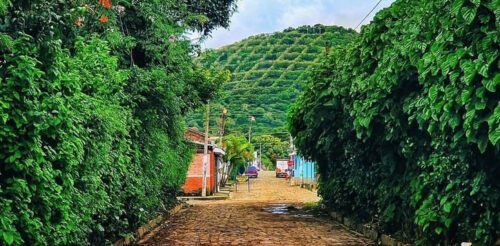 Apaneca El Salvador. Charming Town in Ahuachapan
Apaneca El Salvador is a municipality in the department of Ahuachapan; it is a mountainous area of 45.13 square kilometers. Apaneca is located at an elevation of 1,486 meters above sea level. The municipality of Apaneca is a top tourist destination, high up in the mountains. It combines adventure, gastronomy, history, culture, cooler climate, and … Read more
Juayua El Salvador. Great colonial town in Sonsonate
Juayua El Salvador is a colorful small colonial town in Sonsonate surrounded by mountains and vast vegetation; the city is part of La Ruta de Las Flores touristic route. This astonishing small municipality located in the middle of mountains and spectacular landscapes is a top touristic destination for locals and foreigners alike, especially during its … Read more
Sensuntepeque El Salvador. The Municipality of 400 Hills
Sensuntepeque El Salvador is a municipality and town in the department of Cabañas. Sensuntepueque is the head city of the department; it is located about 85 kilometers from San Salvador and 105 kilometers from the international airport. The municipality is near the Honduran border at an altitude of over 800 meters. The typography of the … Read more
Alegria El Salvador. Picturesque mountain town in Usulutan.
Alegria El Salvador is a colorful small town and municipality located at a high altitude in the department of Usulutan. Alegria is located at an altitude of over 1,200 meters above sea level. The Alegria lagoon or Laguna de Alegria is its most popular attraction. The town and Municipality of Alegria in Usulutan has a … Read more
Olocuilta El Salvador, the Town Known as the Pupusas Capital
The town of Olocuilta El Salvador is located in the department of La Paz, right off the main highway that connects the international airport and the capital city, San Salvador. Olocuilta is famous for being the home of the rice flour Pupusas and for the many Pupuserias, some of which stay open for 24 hours. … Read more
City of Ahuachapan El Salvador.
The city of Ahuachapan El Salvador is a gorgeous mountain small city located in a region that produces fantastic coffee and has geothermal activity. Ahuachapan is the westernmost city in El Salvador near the Guatemalan border. Ahuachapan is the capital city of the department of Ahuachapan; it is located about 100 kilometers from San Salvador, … Read more
---