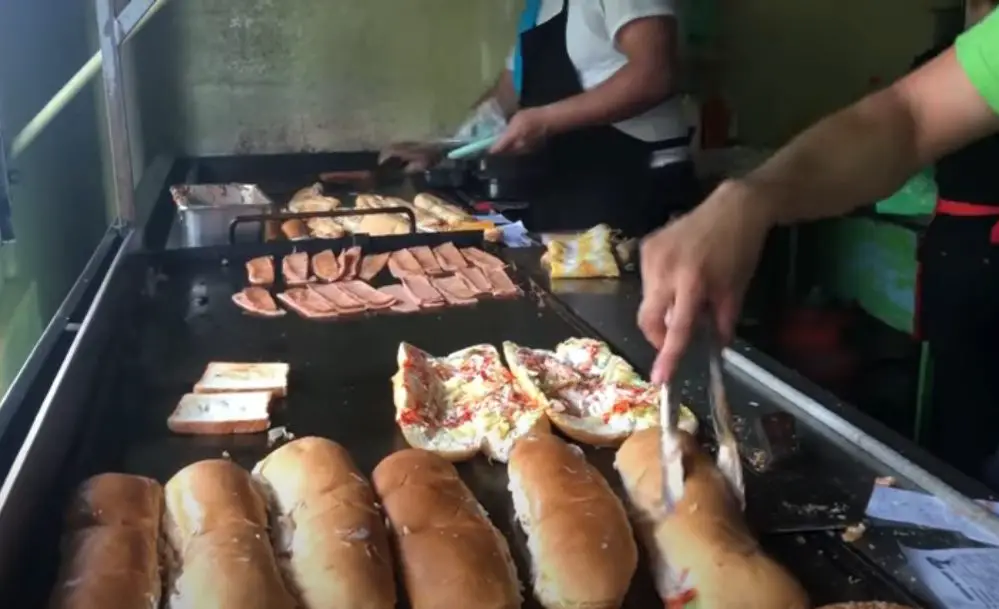 El Salvador is a country full of colorful customs and traditions; one of these traditions that don't get much attention is eating street foods. The El Salvador street foods are not your traditional dishes that take longer to prepare; these are foods mainly eaten as snacks.
Some of the best El Salvador street foods to try are Pupusas, Tamales, Yuca Frita, Pastelitos, Tortas, Panes Mata Ninos, Elotes Locos, Quesadillas, Nuegados, and Empanadas. The Salvadoran street foods are available around municipal parks, local markets, and areas where large amounts of people congregate.
The following Salvadoran dishes or snacks are available everywhere, from small towns to large cities. They are definitely worth trying at least once.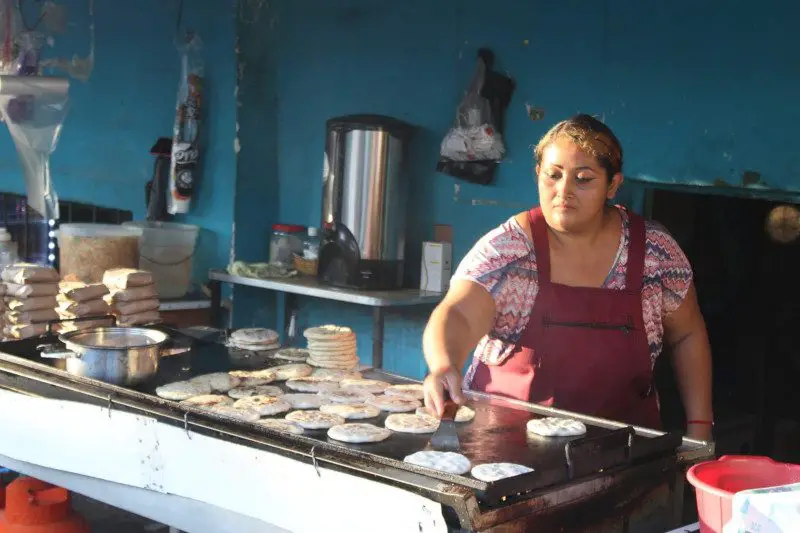 Pupusas
Obviously, the national dish of El Salvador is first; even with street foods, Pupusas are a suitable choice to start with. Pupusas are one of El Salvador's most famous meals. They are ideal for breakfast, lunch, dinner, or snacks.
It does not matter what region of the country you find yourself in; if you want to eat Pupusas, you will always find a Pupuseria nearby.
Pupusas are thick tortillas made from corn or rice flour stuffed with delicious ingredients such as pork, cheese, or beans; they are topped with Curtido and tomato sauce. This affordable food is one of the go-to foods for Salvadorans.

Tamales
Tamales are another traditional food served in El Salvador on all occasions, from birthdays to funerals. This classic dish is available in street locations all over the territory. You can buy traditional Tamales with chicken inside or Pisques, which have refried beans instead of meat.
Yuca Frita and Papas Fritas
Yuca Frita (Fried Cassava) or Papas Fritas (Potato Fries) are two popular foods available in street food locations all over the territory. You can buy these fried foods separately or combine them.
Yuca Frita or Papa Fritas are traditionally served with Curtido (Fermented cabbage relish) and tomato sauce; However, some locations will also top them with ketchup, mayonnaise, and Shredded Salvadoran cheese.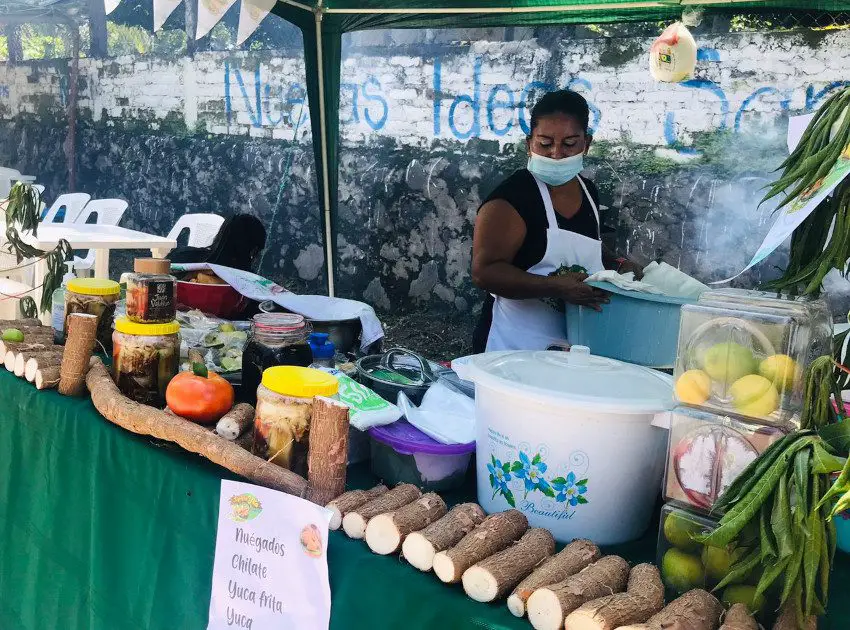 Pastelitos
Salvadoran Pastelitos are made with flavored corn dough stuffed with ground beef or mashed potatoes. They are deep-fried and served with Salvadoran Curtido and Tomato Sauce. This dish is so popular that it can be found anywhere in the territory; they are a popular mid-afternoon snack. Pastelitos are affordable and easy to prepare.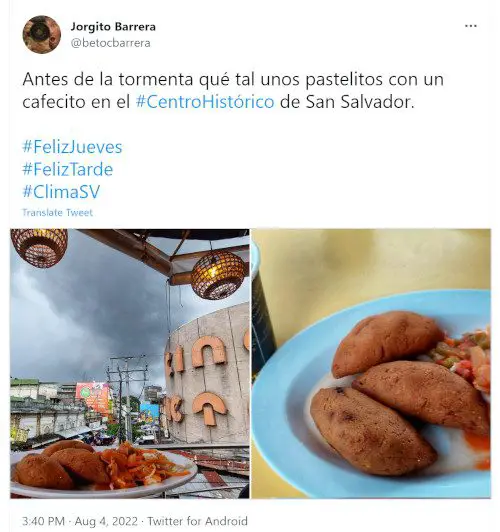 Tortas
The delicious Salvadoran Tortas are your traditional hoagie sandwich. You can get this sub with ham, sausage, beef, or chicken. The meats are cooked in a flat-top cooking griddle. Each street vendor adds its own mixture of spices or sauces to give it a unique taste.
Los Panes Mata Niños (Child killer Sandwiches)
The famous and not very well-named Panes Mata-niños (Child killer Sandwiches) are the delights of many Salvadoran children. It is common to find vendors selling this sandwich at the school gates at recess time or when kids are leaving school for the day.
If you are looking for something healthy to eat, this sandwich is not it; it has Mortadella ham, ketchup, mayonnaise, mustard, cabbage, carrots, and salt and pepper.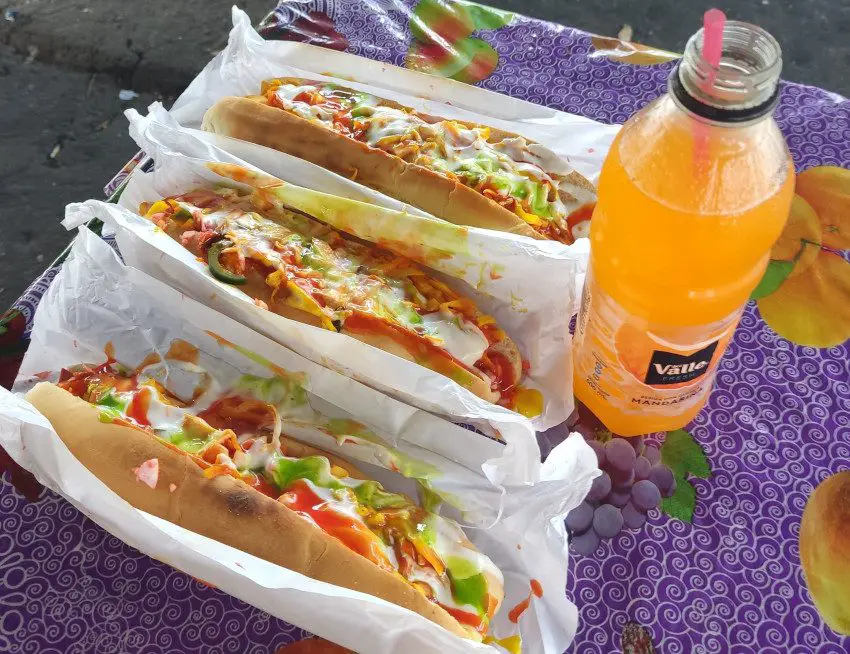 Elotes Loco
Elote Loco (crazy corn) is a popular snack in fairs, parades, and other popular holidays. It is whole corn on the cob grilled or steamed and then skewered; it is then covered with mayonnaise, mustard, ketchup, black sauce "English Sauce," and shredded Salvadoran cheese.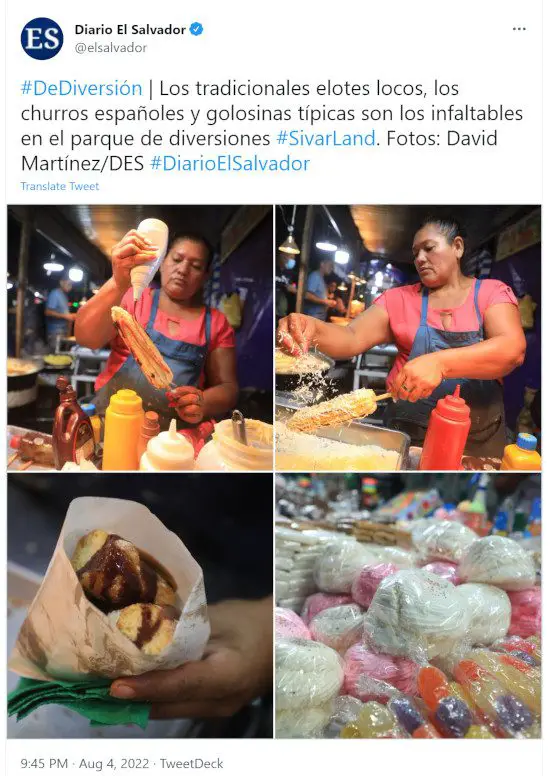 Enchiladas
Salvadoran Enchiladas are made using the same type of corn dough as Pastelitos. It is a flat tortilla deep-fried topped with refried beans, cabbage, tomatoes, sliced hard-boiled egg, ketchup, mayonnaise, and shredded Salvadoran Cheese.
The eight foods or snacks mentioned above are not the only ones available as street foods; there are plenty of other options for street foods, such as Nuegados, Empanadas, Quesadillas, and more.
Where to try El Salvador street foods?
There is no right or wrong location to try these popular Salvadoran street foods; they are all available in the entire Salvadoran territory. However, there is one location I highly recommend that you visit and try the food.
The street meats at the San Vicente detour (Las carnitas del desvío de San Vicente).
You can taste delicious beef and pork dishes at affordable prices on the Pan-American highway at the entrance to the city of San Vicente; here, you will find several stalls where you can enjoy delicious meats.
These stalls have been offering carnitas to people who travel along this highway for quite some time. I remember stopping to eat at this location when I was a kid in the 1980s, right in the middle of the civil war.