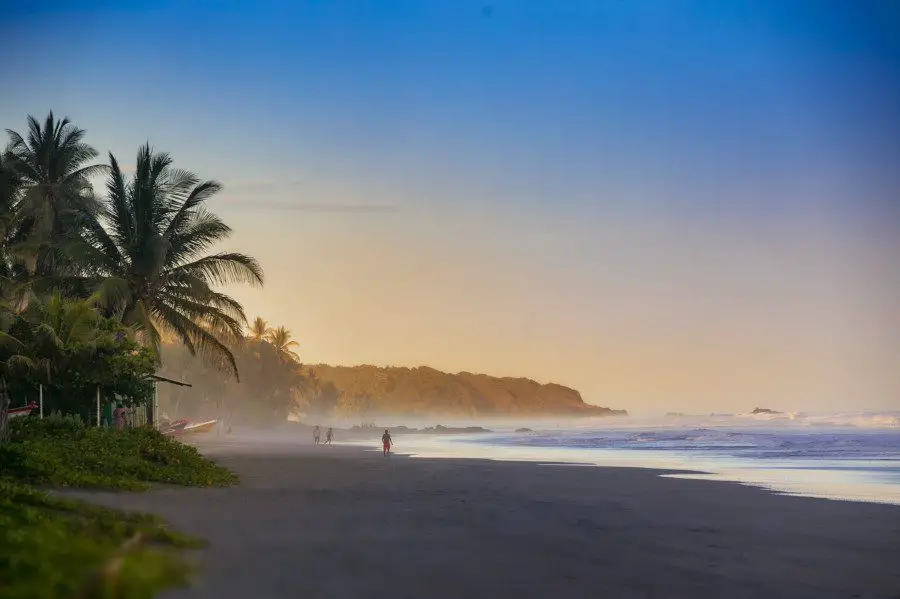 The best beaches in El Salvador are La Costa del Sol, El Cuco, El Tunco, La Libertad, El Zonte, San Diego, El Sunzal, Los Cobanos, El Espino, and El Majahual. Also, Las Flores, Barra de Santiago, Punta Roca, and Mizata. El Salvador beaches are fantastic for surfing or relaxing with family or friends.
El Salvador beaches are ideal for all types of visitors, surfers, families, couples, singles, etc. The country has some of the best beaches for surfing in Central America; it also has fantastic beaches perfect for relaxation and enjoyment.
The vast majority of El Salvador beaches are in underdeveloped regions of the country. Some visitors see the underdevelopment as a charming reason to visit them; in contrast, others don't seem to like it as much. The country has more than 300 kilometers of beautiful Pacific Ocean coastline. Here you will find 14 of the most beautiful tropical beaches.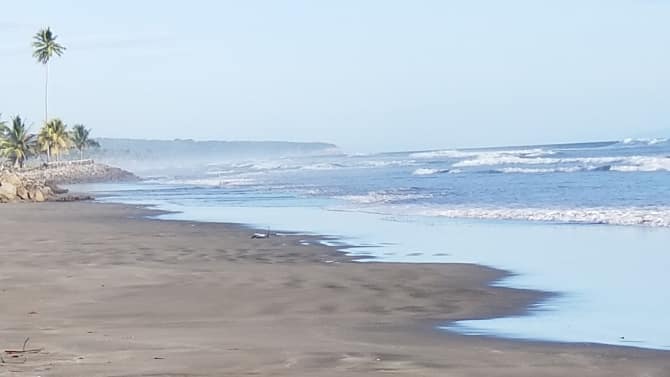 1. La Costa del Sol Beach
When it comes to the best beaches in El Salvador, La Costa del sol is one of the most popular. The beach is within a tourist area with the same name. It includes three beaches, La Costa del sol, San Marcelino, and Los Blancos.
This beach and the area are considered the most developed coastal area for tourism in the country; it has a vast array of excellent hotels, hostels, restaurants, stores, and activities.
Luxury travelers in El Salvador head to La Costa del Sol; it has beautiful oceanfront villas, vacation rentals, and upscale beach homes.
La Costa del Sol is an excellent option for foreigners visiting El Salvador. For one thing, the international airport is about 24 miles away. Also, the beach area has plenty of accommodations and plenty of everything for tourists to enjoy and do.
This Salvadoran beach is popular among locals and foreigners, particularly during the vacation time of Holy Week, the August vacations, and the Christmas holidays.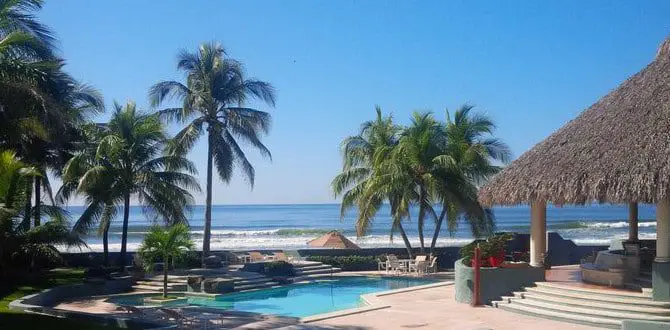 2. El Cuco Beach
Without a doubt, El Cuco beach is one of the best beaches in El Salvador; therefore, it's also one of the most visited. This beach is in the eastern part of the country near the city of San Miguel. This beach would be more popular if it were more centrally located and had more infrastructure.
Because of its underdevelopment and difficulty getting to it, this beach is popular mainly with locals; however, it is not uncommon to see foreigners visiting.
Playa El Cuco has everything a top-notch beach should have, a vast soft sandy shore, smooth waves, a relaxing atmosphere, and more.
The dark sandy beach with vendor huts and seafood restaurants attracts visitors from all parts of the country and some foreigners.
3. El Tunco Beach
El Tunco beach is a surfers paradise and a popular destination for backpackers and travelers on a budget. This incredible beach is one of the top surf spots in El Salvador and a big part of the Salvadoran Surf City project.
In addition to being a superb surfing spot, this beach is also famous for the exceptional sunsets and wild weekend parties.
If you are looking for a beach to relax and enjoy, this beach is not the one for you. However, if surfing and hanging out with backpackers is your thing, then El Tunco might not be the place for you.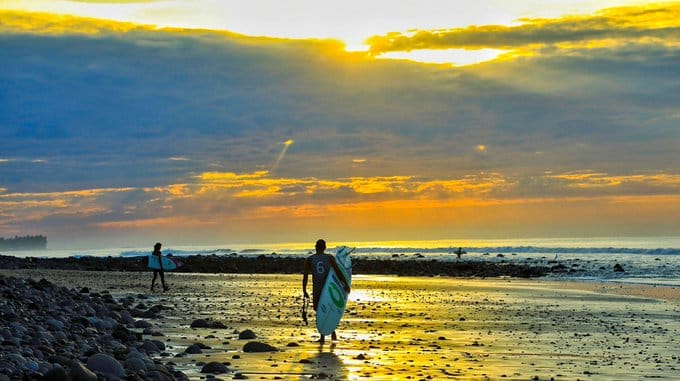 4. Port of La Libertad Beach
Puerto de La Libertad, or liberty port, is a beach located within the city of La Libertad in the department of La Libertad. It has a beach, a pier, and the Malecon or boardwalk.
The beach is an excellent option to spend the day relaxing or enjoying with family or friends; there is plenty to do and see here.
The beach area is excellent to spend the day. The pier is an open-air fish market great for purchasing fresh fish. The Malecon is a modern touristic area located along the beach; it has many amenities, including restaurants and souvenir shops.
La Libertad beach is the central area in President Nayib Bukele's Surf City project; it will become even more popular starting in 2021.
The Chinese government is helping with the restoration and expansion of the port dock and its surroundings. The renovations include a drinking water system, a sewage system, and a line of pedestrian streets, sidewalks, parks, and boardwalks.
5. El Zonte Beach
Playa El Zonte is a secluded surf spot popular with local and international surfers. It is located at kilometer 53 of the Litoral highway, in the municipality of Chiltiupan, La Libertad.
Many surfers prefer this laid-back location instead of the hectic El Tunco beach or Punta Roca. The crowds are minimal, the surf is always good, and accommodations are affordable.
6. Playa San Diego
San Diego beach is located in the department of La Libertad, about five miles from the La Libertad pier. The beach is about 4.3 miles long, ideal for all activities at the shore and in its waters.
This beach is attractive because of the white sandy beaches and the long shoreline that leaves plenty of beach space to enjoy.
San Diego beach, despite being very accessible, it's not very crowded. Therefore, you will be able to enjoy your time here with plenty of privacy.
San Diego Beach is surrounded by private ranches and homes. However, access to the beach is open to the public.
7. Sunzal Beach
El Sunzal is a top surf spot located near the famous El Tunco beach. There are about half a mile apart. Playa El Sunzal is part of President Bukele's Surf City project; in 2021, it hosted the 2021 ISA world championship games.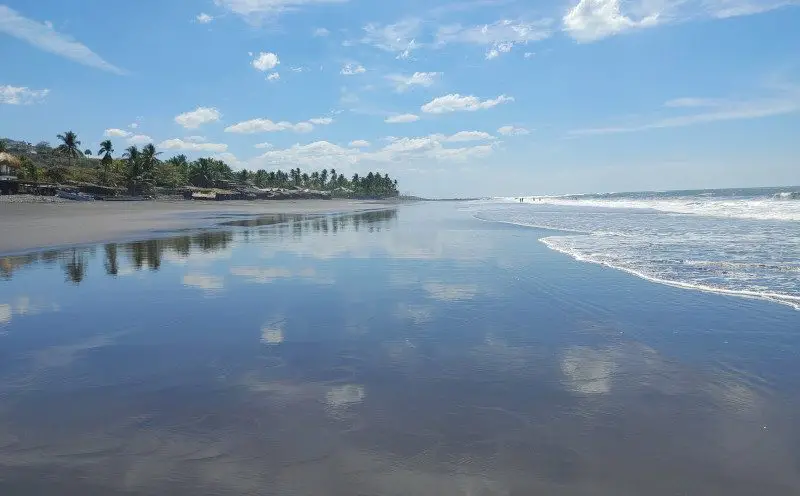 8. Los Cobanos Beach
Los Cobanos beach is located in the western part of the country in the department of Sonsonate, near the Port of Acajutla. This beach has a coral reef of about 150 kilometers in length; it's the longest reef on the Pacific Coast in Central America.
Scuba diving is a popular activity at this beach; you can observe coral formations in addition to all the marine life. Other popular activities include whale watching, deep-sea fishing, snorkeling, and relaxing at the beach.
9. El Espino Beach
El Espino beach is considered one of the best beaches in the country and one of the favorite beach attractions in eastern El Salvador. The main characteristic of El Espino is how long the beach is; it has more than 10 kilometers of continuous beach perfect for relaxation and fun.
The gentle waves, warm weather, and beautiful sunsets make this beach one of the preferred destinations by many Salvadorans.
This beach, just like El Cuco beach, would be even more popular if it were centrally located and the area was more developed.
10. El Majahual Beach
El Majahual beach at La Libertad is one of the most active beaches in the country, primarily because of its proximity to the capital and other large cities. This beach gets crowded, especially on the weekends and national holidays.
El Majahual beach is a top touristic destination for Salvadorans who want a family-oriented relaxing atmosphere at a low cost.
11. Las Flores Beach
Las Flores Beach is a fantastic surfing spot in Easter El Salvador; it is next to El Cuco beach, another famous beach to visit.
Las Flores Beach is just like other beaches in the eastern region of the country. It has smooth black sand and a long sandy coast. However, this beach is peculiar as it has impressive waves ideal for surfing.
Additionally, Las Flores is surrounded by dense tropical vegetation, which gives it a unique setting.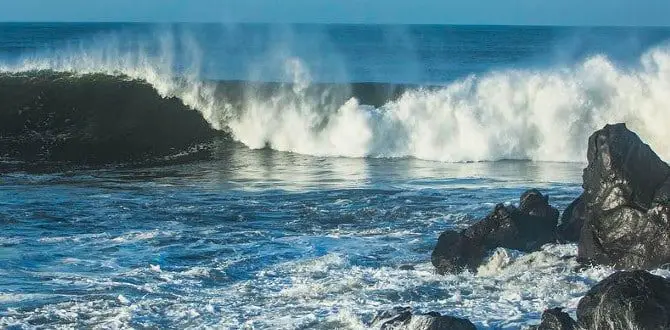 12. Barra de Santiago
Barra de Santiago is a beautiful beach worth visiting in Western El Salvador. At this beach area, the ocean, estuary, and river mouth come together. The Barra de Santiago sits in a protected wetland area surrounded by different types of mangroves.
13. Punta Roca Beach
Punta Roca beach is a popular destination with locals and foreigners for either surfing or relaxation.
This exceptional beach has consistent waves for surfing. Also, it has warm Pacific Ocean waters perfect for relaxation or fun.
Punta Roca beach is another of the best surf spots in El Salvador. It is not that far from El Tunco and El Sunzal, two other top surf locations in the country.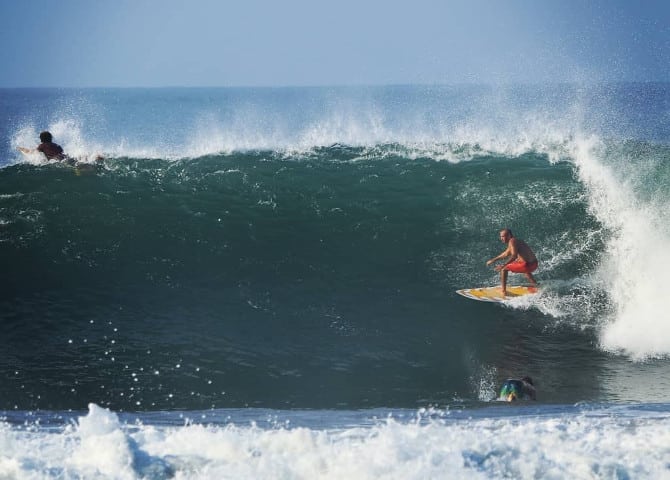 14. Mizata Beach
Mizata beach is another beautiful top surf spot located in the department of Sonsonate. This beach is excellent for anyone looking for a more secluded environment to either surf or relax.
Mizata beach has exceptional surfing conditions the entire year. Also, it offers a tranquil environment ideal for families, couples, or friends to have fun unwinding or surfing.
Beaches in El Salvador Locations
Beach
Location
Municipality
Department
Distance
from Airport
Kilometers
Distance
from San Salvador
Kilometers
Map
La Costa del Sol
San Luis La Herradura
La Paz
29 km
64 km
View on Map
El Cuco
Chirilagua
San Miguel
124 km
138 km
View on Map
El Tunco
Tamanique
La Libertad
41 km
44 km
View on Map
Port of La Libertad
La Libertad
La Libertad
34 km
37 km
View on Map
El Zonte
Chiltiupan
La Libertad
52 km
53 km
View on Map
San Diego
La Libertad
La Libertad
33 km
42 km
View on Map
El Sunzal
Tamanique
La Libertad
43 km
44 km
View on Map
Los Cobanos
Acajutla
Sonsonate
124 km
89 km
View on Map
El Espino
Jucuaran
Usulutan
122 km
157 km
View on Map
El Majahual
La Libertad
La Libertad
124 km
89 km
View on Map
Las Flores
Chirilagua
San Miguek
140 km
174 km
View on Map
Barra de Santiago
Jujutla
Ahuachapan
164 km
129 km
View on Map
Punta Roca
La Libertad
La Libertad
34 km
35 km
View on Map
Mizata
Teotepeque
La Libertad
85 km
86 km
View on Map
El Salvador is a small country. It is called the Pulagarcito de America or America's thumb and the 45-minute country.
El Salvador has earned the nickname "El Pulgarcito de America" for being the smallest country in Central America and on the continent. However, it has plenty of things to offer visitors.
The 45-Minute Country comes from its small size. It's a play on the fact that you are around 45 minutes from San Salvador, wherever you are in the country. It's an exaggeration, of course. But not much of one." CentralAmerica.com
Do not let its size fool you; El Salvador has some fantastic beaches worth visiting. Also, living in El Salvador is becoming an option many people are considering.