El Salvador handicrafts are well known all over Central America and in many countries around the world. The handcrafts made mostly at small colorful towns aim to show Salvadoran culture and religion. The way of making these arts and crafts are a tradition that has been pass on for generations since colonial times.
A sure way of getting to know about El Salvador handicrafts and the towns that produce most of them is to visit the artisan route in El Salvador or handicrafts route in El Salvador.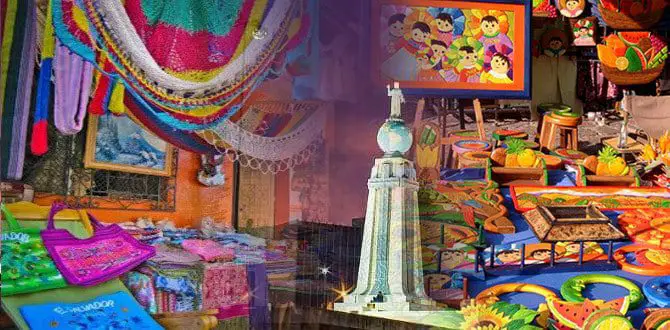 This route is a popular tourist destination ideal for those looking to explore, appreciate, and buy local Salvadoran arts and crafts.
The route is composed of six small colorful towns, Ilobasco San Ignacio, La Palma, Suchitoto, Citala, and San Sebastian; these towns produce fantastic crafts made out of clay, wood, and other items.
This touristic route is a way for the Salvadoran government to increase awareness and promote the country's arts and crafts locally and internationally.
Six colorful towns in the artisan route in El Salvador.
Even though the artisan route is centered on pottery, hand made crafts, and art, every town on this route has plenty of additional activities for visitors to enjoy and appreciate.
1- Ilobasco
The colorful town of Ilobasco is located in the central region of the country; it is in the department of Cabañas, about 42 kilometers from San Salvador. Ilobasco produces handicrafts made out of clay, a unique craft that is well-known all over the country.
2- San Ignacio
The town of San Ignacio is located in the department of Chalatenago, near the border with Honduras. This town, in addition to its fantastic handicrafts, is also near El Pital, the highest point in El Salvador. Another top reason to visit this town is because of its fantastic mountain weather.
3- La Palma
The city of La Palma in Chalatenago is the birthplace of painter Fernando Llort, a Salvadoran artist who created Naift Art. This art form is a technique that consists of representing events of everyday Salvadoran rural life, as well as typical flora and fauna into Copinol Seeds or wood.
4- Suchitoto
The popular town on Suchitoto has plenty to offer visitors other than handicrafts made locally. Suchitoto has wonderful cobblestone streets, beautiful colonial houses, an iconic church, and magnificent panoramic views of Lake Suchitlan. Also, this small colonial town is regularly mentioned as the cultural center of the country.
5- Citala
Citala is a town of Mayan origin, it is located in the department of Chalatenango near the border with Honduras. The town located at an altitude of about 715 meters above sea level enjoys a fantastic colder climate. Citala is an impressive beautiful natural viewpoint located high in the mountains that produce great handicrafts.
6- San Sebastian
A beautiful town of San Sebastian is famous for its textiles that focuses on the art of looms. The handicrafts of San Sebastian are unique that you will not be able to find them anywhere else in the country. Working on looms has become a way of life for many of those who live in this beautiful town.
About the towns in the handicrafts route El Salvador.
This is an interesting tourist route that combines towns with different types of attractions, such as high altitude mountains, artisanal villages, ecotourism, gastronomy, and much more.
Most of these towns are attractively decorated with murals that display Salvadoran life; additionally, at these towns, you will find a wide range of tourist services such as hotels and restaurants, among others.
Evidently, the towns on the handicrafts route in El Salvador are not the only ones that produce handicrafts in the country. Other colorful cities such as Nahuizalco, Salcoatitan, Juayua, Apaneca, Concepción de Ataco, and Achuachapan, also create astonishing crafts.
El Salvador handicrafts.
In El Salvador, you will find local handicrafts at most touristic spots, they make the perfect gift for relatives or friends; also, they are perfect for decorating homes or offices.
The Salvadoran arts and crafts are a unique way of displaying local life, culture, traditions, and much more. Additionally, at many of these towns, you can take workshops and create your own Salvadoran handicrafts.
In conclusion, travel to this beautiful country and visit the towns in the artisan route in El Salvador or handicrafts route in El Salvador; unquestionably, I am sure you will enjoy your visit to any of them!