Juayua El Salvador, a colorful small touristic colonial town surrounded by mountains and vast vegetation; the city is part of La Ruta de Las Flores touristic route. This astonishing small municipality is a top touristic destination for locals and foreigners alike; especially during its food festivals.
About Juayua El Salvador
To begin with, the town on Juayua is a prime touristic attraction for locals and international tourists for many different reasons. Some of them are the fantastic scenery, the numerous local events, the superb history and traditions, the coffee plantations, and much more.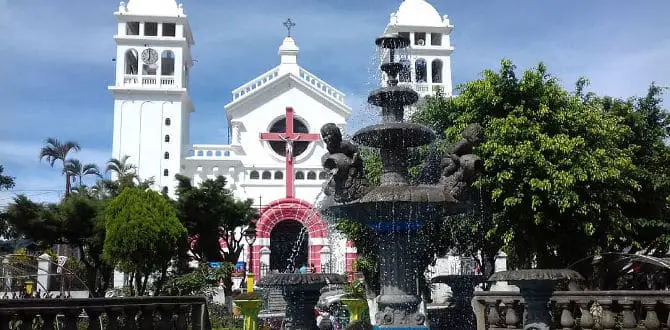 Also, the area around the town has coffee plantations that produce some of the best Salvadoran coffee. Evidently, you can sample this great coffee at local shops or at the coffee plantations that offer tours.
Furthermore, the town is clean and well preserved, you will be able to see plenty of colonial architecture that is visible around the city. Additionally, the walls around many stores or homes are covered with murals painted by local artists; these murals have their own meaning to it.
Error, group does not exist! Check your syntax! (ID: 7)
What to do or see at Juayua
The best things to do and see in Juayua are the food festivals, the colorful town and its murals, The Santa Lucia church, Los Chorros de La Calera waterfall, and the coffee tours. Undoubtedly, there are other fun activities at Juayua not listed here, but I listed only the most popular.
At any rate, this town is one of the most visited by tourists, either locals or foreigners. Without delay, here are some of the best things to do and see in detail!
Attend the Juayua food festival
Undeniably, visiting the food festival in Juayua is one of the main things to do; the festival attracts hundreds of national and international tourists.
Every Saturday and Sunday, the food festival is held in the central square of the town. Local restaurants offer traditional dishes that include Indian chicken soup, pupusas, yuca with pork, tamales, and many other dishes.
According to many local merchants, the gastronomic festival, with its 19 or more years of existence, has become one of the favorite events for thousands of local Salvadorans and foreigners. At the food festival, these visitors find a variety of dishes to taste and a series of local drinks to try.
Visit Santa Lucia Church
If you visit a colonial town like Juayua, you have to visit the local church, it goes hand in hand. The colonial church, with its amazing architecture and history, represent what the culture of the town is.
Many people visit this church because of faith; the cathedral highlights a colonial-era statue of the Cristo Negro or Black Christ.
Here are some interesting facts for you to know about Santa Lucia Church.
Many Salvadorans refer to the church not by its official name but as the Cristo Negro church or La Iglesia de Cristo Negro in Spanish.
Black Christ was carved by Quirio Cantano in the late 16th century.
The statue of Black Christ in Juyua is a sister statue to that of the revered Basilica of Esquipulas in Guatemala.
The festivities in honor of Cristo Negro are in January, from the 8th to the 15th; during this time Juayua is even more colorful than usual.
If you happen to make it to Juayua, visit this fantastic colonial church. It doesn't matter if you are religious or not, the church will have plenty for you to appreciate and view.
Error, group does not exist! Check your syntax! (ID: 8)
Explore the colorful town and its murals
A sure way to appreciate and enjoy the colorfulness of Juayua is to immerse yourself in the town, simply walk around and see what you can find.
To begin with, you can shop for souvenirs and support the local economy at any of the many small stores in town. Generally, all the shops will have locally made handicrafts that are perfect for giving as gifts.
Also, while exploring the city, you will definitely notice all the murals around town; these murals are painted by local artists, and each has its own story. Surely, these murals convey a narrative, but most of them are about life in small towns like Juayua.
By all means, you can just hang out at any coffee stores or restaurants in town, you can try some local coffee or local dishes and soak in the culture.
Unquestionably, immersing yourself into the town is the best way to explore Juayua.
Los Chorros de la Calera Waterfalls
Visit Los Chorros de La Calera waterfall
A popular activity among visitants to Juayua is visiting Los Chorros de La Calera, a beautiful cascading waterfall just outside the town of Juayua. These charming waterfalls descend through the mountain and reach the area where the pools are.
Evidently, getting to the waterfall is an excellent hike through rough terrains, the walk can take about an hour or more depending on if it's summer or winter. However, if you don't want to walk that much, you can get a moto-taxi that will take you there for a cost of about $3.00.
A few quick tips to keep in mind; go with a guide as this is El Salvador, wear comfortable shoes because of the walk, and wear your swimsuit as there are no changing rooms at the waterfall
Take a Coffee tour
Juayua is located in a mountainous area perfect for growing coffee, you will not have a hard time finding a coffee tour near Juayua. The area around Juayua is part of the touristic coffee route in El Salvador.
Another popular activity in Juayua is to take a coffee tour, you will be able to observe the entire process of making coffee beans. The roasting process involved exact temperatures and measurements, so, crafting the perfect cup of coffee is absolutely not that easy.
Accommodations in Juayua El Salvador
Juayua is a small colonial mountain town with a colder climate. It's a nice town to spend a few days exploring the town itself and the surrounding area. The rest of the La Ruta de Las Flores cities are within 45 minutes or less from Juayua.
Most of the accommodations at Juayua will be in small Hostels or bed and breakfast type of locations, here are a few of them.
Error, group does not exist! Check your syntax! (ID: 9)
How to get to Juayua
If you are taking the bus to Juayua, first you need to make it to Santa Ana, Sonsonate or Ahuachapan.
From Santa Ana, you can take bus route 238 directly to Juayua.
Then from Ahuachapan, take 249 south and disembark at Juayua.
Lastly, from Sonsonate take 249 North and disembark at Juayua.
Now, you can get to Ahuachapan or Sonsonate by one of the following ways.
From the coastal areas of La Libertad, you can take bus route 287 that takes you to Sonsonate.
From San Salvador, you can take bus route 205 to Sonsonate or 249 to Ahuachapan.
As always, please be extra careful when taking the bus.
If you are driving, the best way for you to get there is to input Juyua into your a map application and follow the directions.
Conclusion – Juayua El Salvador
Juayua is a unique colorful town that it's best when experienced firsthand, so, if you happen to be in El Salvador, visit Juayua!