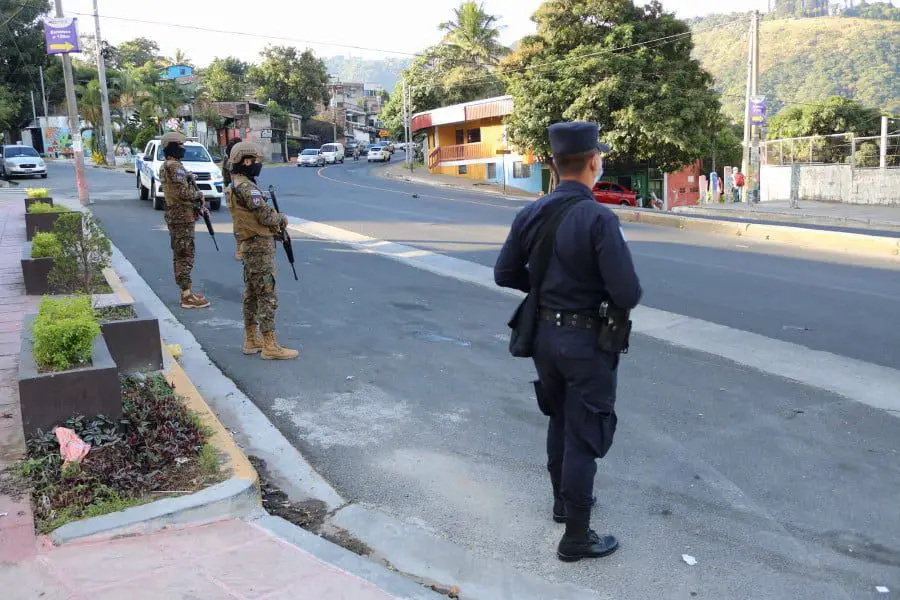 El Salvador's homicide rate in 2021 was 3.1 per day or 18 homicides per 100,000 inhabitants; it is a substantial decline from the previous year. The Murder rate in El Salvador has steadily dropped since its worst year in 2015, which had 103 homicides per 100,000 inhabitants or 18.2 murders per day.
Since taking office, President Nayib Bukele introduced harsh measures to crack down on the country's violence, including the use of lethal force, which has produced good results.
The years 2020 and 2021 have established an unprecedented reduction in homicides in El Salvador compared to previous years or to the notorious 2015.
El Salvador Homicide Rate from 2010 to 2021
Year
Total Homicides
Daily Homicides
Homicides per 100,000 Inhabitants
2022*
(May 9th)
383
3.0
17.1
*Projected
2021
1140
3.1
18
2020
1341
3.7
20
2019
2398
6.6
36
2018
3346
9.2
50
2017
3962
10.9
60
2016
5280
14.5
81
2015
6656
18.2
103
2014
3921
10.7
61
2013
2499
6.8
40
2012
2594
7.1
41
2011
4371
12.0
70
2010
4004
11.0
64
2021 set a low record in the number of homicides in El Salvador. This is the second full year of President Nayib Bukele in office.
This reduction is an immense achievement for the current administration if compared to what the country experienced in the previous 10 years.
2015 Produced a Record High in Homicides in El Salvador
In 2015, El Salvador experienced a surge in violence not seen since the end of the Salvadoran civil war in 1991.
2015 produced a record high in murders in El Salvador, with 103 homicides per 100,000 inhabitants. This year, an average of 18.2 people died daily by homicide.
This record high in homicides was staggering, considering that the population of El Salvador was 6.3 million in 2015. In 2015, El Salvador became known as the "Murder Capital of the World."
United States ABC News reported that "In El Salvador, the Murder Capital of the World, Gang Violence Becomes a Way of Life."
United Kingdon the Guardian reported the following, "One murder every hour: how El Salvador became the homicide capital of the world."
The 2015 spike in violence was due to the falling apart of the 2012 truce between the Mauricio Funes Cartagena government and local gangs, MS13 and Barrio18.
In 2012, the FMLN government of Funes secretly negotiated a truce between the gangs in order to reduce the number of homicides.
The 2012 truce initially drastically reduced murders compared to the previous two years. However, the homicides spiked once the truce was over by late 2014.
"Leaders of five of El Salvador's powerful gangs say they will stop attacking police and military in a bid to re-launch a gang truce agreed two years ago." The gangs want the government to provide "negotiating facilities" and promise to avoid "civilian" attacks."
By increasing murders in 2015 and 2016, the gangs were looking to pressure the government into giving them back the benefits they had during the Funes administration.
Homicide Rate under President Nayib Bukele
President Nayib Bukele took office on June 1st, 2019, one of the first items on his agenda was launching his security plan, the territorial control plan.
2020, the first full year of Nayib Bukele in office, set a low record in homicides; it reduced it to 20 murders per 100,000 inhabitants or 3.7 per day.
The 2020 murder rate was 44.4% less than 2019, a year that Bukele only was in charge for six months. It was also 60.0% less than 2018, the last full year of President Salvador Sanchez Ceren's administration FMLN.
President Bukele and his administration credit the homicide reduction to the Territorial Control Plan. However, members of Bukele's opposition and the US government credit the reduction to a secret truce between gangs and the Bukele administration.
On December 8th, 2021, the U.S. Department of the Treasury issued a press release announcing sanctions against two members of Bukele's cabinet concerning negotiations with gangs.
"Osiris Luna Meza (Luna) and Carlos Amilcar Marroquin Chica (Marroquin) led, facilitated, and organized a number of secret meetings involving incarcerated gang leaders, in which known gang members were allowed to enter the prison facilities and meet with senior gang leadership. These meetings were part of the Government of El Salvador's efforts to negotiate a secret truce with gang leadership." U.S. Department of the Treasury.
President Nayib Bukele has criticized the U.S. accusations against members of his cabinet. As of today, the members of the Bukele cabinet accused have not made any public remarks.
"In other words, our actions against crime do not have the backing of the current US Government. That is why we did not receive recognition for the large drug seizures, nor for the reduction in homicides (recognized even by the opposition media)."