La Ruta de Las Flores or the flower route is a touristic path that includes six picturesque towns; Nahuizalco, Salcoatitan, Juayua, Apaneca, Concepción de Ataco, and Achuachapan. These towns are near each other but have a uniqueness to themselves, visible in their customs, traditions, and history.
This touristic route is located in the departments of Sonsonate and Achuachapán. As of today, its one of the top destinations for foreign and local tourists to visit.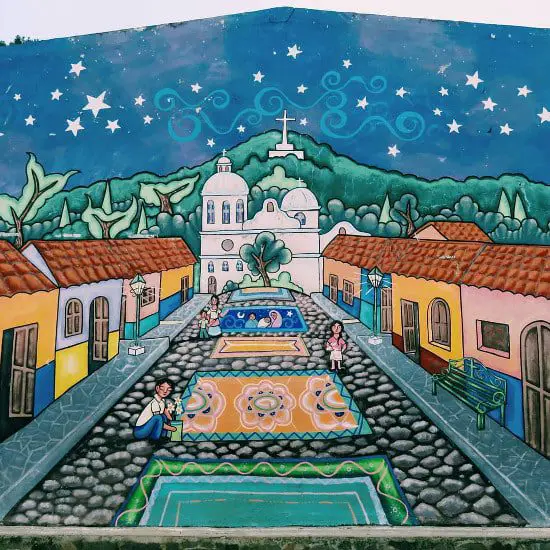 Even though the towns are near each and are small, each one of them has its own unique cultural and historical traditions. Nevertheless, all of them have excellent climate and beautiful landscapes.
In each town on the flower route, you will find excellent cuisine, local shops filled with souvenirs, friendly people, remarkable cultural traditions, and much more.
You can visit the towns at any time; however, it's best to do it during the weekend. Yes, during the weekend it will be crowded, but you will get to see more traditional cultural events than if you visit during the weekdays.
Additionally, towns like Juayua and others hold their food festivals and other events on the weekends; this is done mainly to attract local tourism.
Towns in La Ruta de Las Flores El Salvador.
These are the colorful towns that you will find along the picturesque flower route, Nahuizalco, Salcoatitlan, Juayua, Apaneca, Ataco, and Ahuachapan.
Nahuizalco.
Let the journey start with Nahuizalco, a town that even today has strong indigenous customs and traditions. In this town, you will see women, especially older adults, use traditional huipiles. For those who don´t know; The huipiles are the skirts that indigenous Pipil women wore during colonial times.
Here is a little bit of history for you to know, the name of the town in Nahuatl language means "Four Izalcos." There are two main theories about the source of the name.
One of the opinions says that the city was established by four families from the town ​​of Izalco. The other theory is the the name was given because, at that time, its population was four times that of Izalco. Regardless of how it got its name, Nahuizalco is a town of great indigenous tradition and is home to many talented artisans.
By the way, Izalco is another small town in El Salvador that is not part of this touristic route. This town is famous for its wicker and tule handicrafts such as baskets, floor mats, and even furniture.
Furthermore, if you visit this town stay for the night market, it is one of the traditions that make Nahuizalco a site of great tourist interest.
At night in the center in the city, locals light up the market with candles. During this time, you will find typical items for sale, typical food and drinks to enjoy, and much more. If you want to know more about this town, visit our Nahuizalco page.
Salcoatitan.
The town of Salcoatitan is the second stop in "La Ruta de Las Flores," assuming you started your journey from San Salvador. This city has a variety of traditional mosaics and art galleries for visitors to view and enjoy.
At the entrance of the town, you will find "Plaza La Ceiba" with its main attraction which is the 400-year-old tree "La Ceiba" This tree is over 400 years old and has reached about 30 feet in height with its trunk being about seven meters wide.
Here is a local tradition for you to keep in mind. According to a local tradition; whoever embraces the trunk of "La Ceiba" and says out loud words of gratitude in Nahuatl will receive a gift from the spirit enclosed within the tree.
Near the big tree of "La Ceiba" is the beautiful colonial church, San Miguel Arcángel. This small and beautiful colonial church dates back to the beginning of the 19th century.
I recommend you to visit the colonial town of Salcoatitan during the weekend. In addition to the normal touristic activities, you will be able to enjoy the local gastronomy served in the park in front of the colonial church.
Juayua.
Juayua is a pre-Columbian Pipil town whose name in Nahuatl means "River of the Purple Orchids." This small, vibrant town has plenty of activities for visitors to enjoy, especially on the weekends.
Among the six cities in La Ruta de Las Flores; Juayua has the best food festival which attracts many national and international tourists. Every Saturday and Sunday; Juayua comes alive with its famous food festival which offers a vast array of local dishes and drinks for visitors to enjoy.
Additionally, Los Chorros de La Calera waterfalls are also one of the main attractions of Juayua. These beautiful waterfalls are located about two kilometers from the center of town.
Two ways to get to the waterfalls are, to walk the whole way and enjoy the natural surroundings, or to take a moto-taxi that can bring you directly.
The town has other attractions other than the gastronomy and waterfalls; there is the conga bus, the little trains, the shopping, and the horse-drawn carriages; to name a few. Visit our Juayua page, if you want to know more about this amazing city
"Chorros de la Calera" Waterfall, Juayua
Apaneca – Ruta de Las Flores El Salvador.
Because of its colorful and picturesque landscapes of flowers on the road; Apaneca is one of the main cities of the Ruta de Las Flores. The best months to view this picturesque landscape is from November to February.
Apaneca is located about 1,470 meters above sea level; which makes it the highest city in El Salvador. The name Apaneca in the old Nahuat language means "River of winds." The altitude and win led to the implementation of wind barriers along its mountain chain. These wind barriers are a popular picturesque attraction that can be viewed from the city.
Because of the altitude; some of the best coffee in the country comes from this area. You can sample this coffee at one of the many stores in town.
Furthermore, ecotourism and adventure sports such as buggies, canopy, hiking, and camping are popular in Apaneca.
To sum up, the town of Apaneca is developing a lot in the tourism sector; it offers a wide range of hotels, restaurants and diverse crafts made by the locals.
Concepción de Ataco – Ruta de Las Flores.
Concepcion de Ataco is another beautiful mountain town in La Ruta de las Flores. And just like the other towns in the route, it has plenty of things to do.
Since this town is located in the mountains, the temperature is colder. Therefore, the city is perfect for coffee lovers like me. When visiting, go spend time at one of the coffee farms nearby; see how the process works and at the same time enjoy some brew.
The colorful murals all over town are another top attraction for tourists; these murals describe everyday rural life in Ataco. By the way, you can get a big dose of Salvadoran culture just by looking and understanding these murals.
The viewpoint of the cross or Mirador de La Cruz is also a top thing to do in Ataco; from this viewpoint, you can see the entire town and the surrounding areas.
Obviously, there are many other things to do at Concepcion de Ataco; so, consider visiting this town, it's fantastic!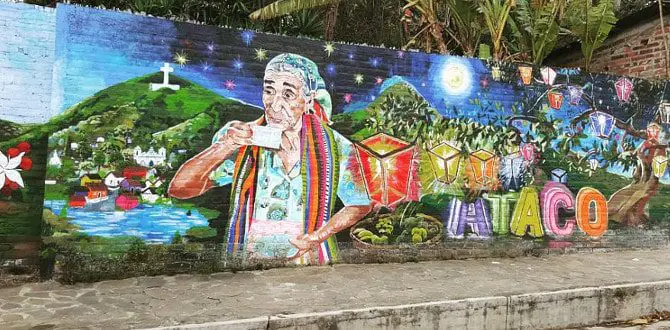 Ahuachapan.
Ahuachapan is the biggest town on La Ruta de las Flores. Some people say that this town is not part of the route and that Tacuba is. I don't know who is right or wrong, but I decided to included Ahuachapan as the sixth town.
Just like the other towns on the route, there are plenty of things to do or see in this city; here are a few for Ahuachapan.
La Parroquia de la Asunción is a beautiful colonial-style building with more than 100 years old history attached to its walls. This is an ideal starting point to explore Ahuachapan and its culture.
Then you can go to La Concordia, a combination of a small passage and a town square located next to the church. This is a beautiful pedestrian area decorated with stunning and colorful murals.
Additionally, El Espino lagoon is a pleasant place to see; this place is of great historical importance to the country; because of the events that transpired here in the eighteenth century.
This is just some of the best things to do and see in Ahuachapan; visit this fantastic, not too small city, in La Ruta de las Flores.
Ruta de La Flores.
Travel to El Salvador, if you want to learn about the country, its history, and culture; visiting the towns of La Ruta de Las Flores is a fantastic way to get it done.
La Ruta de Las Flores has a blend of six incredible towns with an astonishing history.
In addition to learning about the smallest country in Central America; you will get to enjoy some excellent local gastronomy and make some fantastic memories along the way.
Lastly, if you want to know more about other colorful towns in El Salvador, take a look at Suchitoto and Santa Ana.