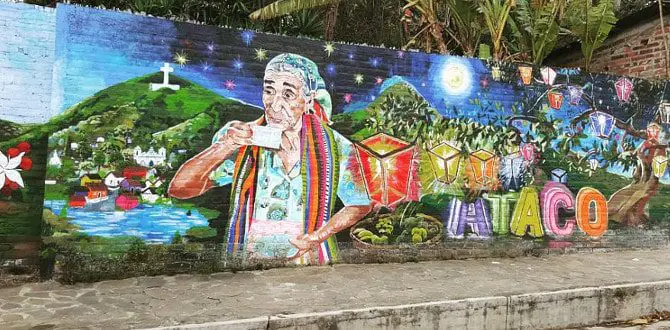 Concepcion de Ataco El Salvador, also known simply as Ataco, is a colorful mountain town located in the department of Ahuachapan. Ataco, for many reasons, is one of the most visited small cities in the country; one of the main reasons is that it is part of the famous Ruta de Las Flores touristic route, which brings lots of visitors.
Concepcion de Ataco is a town founded by pre-Columbian Pipil Indians in the Apaneca mountain range. The name Ataco in the old Nahuatl language translates to "Place of Elevated Springs:"
Ataco is located at a high elevation; therefore, it enjoys a colder climate, it has dense vegetation, and the land is ideal for growing some of the best coffees in El Salvador.
Visiting Concepcion de Ataco.
Let me start by pointing out that Ataco is a small town that is mostly quiet during the weekdays; however, during the weekends, it gets crowded as people from nearby cities, and foreign tourists venture into town.
If you are one of those individuals who like the feel of a quiet small town, then you should plan your visit during the weekdays; don't worry, there will be plenty of things for you to do in a less crowded environment.
Nevertheless, visiting Ataco during the weekend is better. Yes, on the weekends, there are more people in town, but there are activities only available on weekends such as local dances, shows, and food festivals.
There are different ways that you can experience Ataco, you can visit and spend a few days in town, or you can visit for the day; either way, you will be able to enjoy this colorful mountain town.
As previously mentioned, Concepcion de Ataco is a small town; but, I am sure there are enough attractions to keep you busy.
Some of the things that you can do in town are to admire the colorful murals, go shopping, taste the local gastronomy, and stroll around downtown. Furthermore, other activities that can keep you busy include a visit to a coffee plantation or a hike to El Mirador de La Cruz.
The murals in Concepcion de Ataco.
One of the things that make Ataco popular with local and foreign tourists is the colorful murals located all over town. Concepcion de Ataco is well-known for the creative pieces of art decorating most of the homes, shops, restaurants, and businesses in town.
The Ataco murals describe things such as how life is lived in rural communities, how life was during colonial times, religious paintings, and many other types, which include cats.
To sum up, the murals decorating the houses and shops give the town a more colorful look that attracts visitors; but, that is not all, while appreciating these paintings, you will also get a massive dose of Salvadoran culture.
Shopping for crafts and souvenirs.
When visiting Ataco, stop by the arts and crafts shops, spend some money, and support the local economy.
At the many colorful craft stores, you will find things such as sculptures, ornaments, clothes, antiques, and many other items; these crafts are great as presents for family and friends or for personal use.
Most of the artisan objects that you will find in Ataco are made locally; nonetheless, some of these stores will carry crafts made in other parts of the country, and even from other countries such as Guatemala or Honduras.
Taste the local gastronomy.
Concepcion de Ataco has a vast array of restaurants that serve some of the best Salvadoran foods; but, they also offer their own local dishes, which are tasty.
Ataco takes pride in its gastronomy, you can experience it on the weekends at the food festival that takes place at the local park in front of the church. Now, if you are visiting during the weekdays, you can taste it at the many local restaurants. The gastronomy of this town alone is a good reason to visit.
Stroll around downtown Concepcion de Ataco.
Ataco, just like many small towns in El Salvador, has the same layout; the downtown area has a church, in front of the church is the municipal park, and around the park are some of the local governmental offices.
You can enjoy and appreciate this town just by strolling around the downtown area. Here, you can visit the church, shop at the small stores, or hang out at the local park with the locals.
If you can, visit the downtown area late and the afternoon, and see how the locals relax after a working day. You can just sit a local coffee shop, taste the local brew with a locally made dessert, and soak in the local culture.
The Coffee industry in Concepcion de Ataco.
Ataco is right in the middle of the best coffee-growing areas in the country. Some of the best types of coffee in El Salvador come from the mountain areas around Concepcion de Ataco.
Here, you can visit one of the coffee farms located nearby and see what it takes to make a cup of coffee; most of these coffee farms have tours that will let you explore the plantations, view the coffee-making process, and taste the product.
Now, if you cannot make it to a coffee farm, you can try a cup of locally grown coffee at the many small restaurants of coffee shops in town.
El Mirador de la Cruz. Concepcion de Ataco El Salvador.
El Mirador de La Cruz's viewpoint is located on the outskirts of the town of Ataco. From here, you will get a birdseye view of the colorful city and the surrounding area.
Other attractions nearby.
One of the advantages of Concepcion de Ataco is that it is centrally located to other small touristic towns in the area. Many people visit the area, stay in Ataco, and take day trips to explore other locations.
This city is a great location to make it your base of operations; and visit nearby towns such as Juayua, Apaneca, and Salcoatitan. Each of the cities located nearby has plenty of activities that visitors can enjoy.
Concepcion de Ataco El Salvador.
The best way to get to Concepcion de Ataco is to drive yourself or to drive with a Salvadoran tour company. There is public transportation that goes to Ataco; however, I recommend it as a last resource.
To sum up, Concepcion de Ataco El Salvador is a colorful mountain town; it has a great climate and plenty of activities to keep anyone busy. So, if you ever get the chance, visit this town and enjoy everything it has to offer.