El Salvador coffee is and has been a big part of the nation's history and culture. Since its introduction in 1779, the cultivation of these beans has impacted the history and economy of the country.
El Salvador's coffee production is vital to the Salvadoran economy; it creates jobs and produces export revenue. Traditionally, a large percentage of Salvadoran coffee is exported, but there is plenty to drink in the country.
Since 2009, over 80% of the coffee grown in El Salvador has been exported mainly to the United States, Germany, Japan, Italy, and Singapore.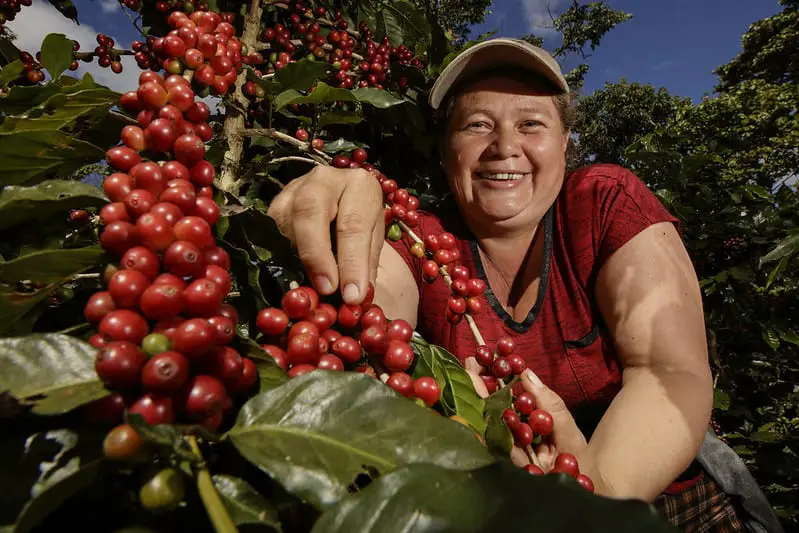 El Salvador produces high-quality coffee beans grown in rich volcanic soil at high altitudes. The Country has the ideal soil and climate to harvest the varieties of Salvadoran coffee such as Bourbon, Pacas, Pacamara, Catimor, Catuaí, Catisic, Caturra, and Cuscatleco.
These coffee beans are grown in the six production areas; Alotecpec-Metapan, El Balsamo -Quezaltepec, Apaneca-Ilamatepec, Chichontepec, Tecapa-Chinameca, and Cacahuatique.
El Salvador Coffee Production and Exports
Coffee production in El Salvador has declined since 2010. And even though the country produces less coffee, Salvadoran coffee beans are still in high demand internationally.
Since 2010, nearly 80% of the coffee produced in El Salvador has been exported. Salvadoran coffee is exported because it sells for almost triple the amount in the international markets than the local market.
Coffee Season
Production
Quintals
Exports
Quintals
Export
Percentage
2020/2021
*Aug 31st
762,080
581,988
76.37%
2019/2020
740,100
604,742
81.71%
2018/2019
955,115
742,913
77.78%
2017/2018
905,425
760,778
84.02%
2016/2017
845,600
669,318
79.15%
2015/2016
748,740
633,489
80.73%
2014/2015
925,160
780,211
84.33%
2013/2014
700,025
650,896
92.98%
2012/2013
1,730,000
1,531,779
88.54%
2011/2012
1,624,211
1,384,505
85.24%
2010/2011
2,614,000
2,270,241
86.85%
El Salvador Coffee History
According to historians, El Salvador's coffee introduction began between 1779 and 1796. The first coffee plants were found on the lands of two Salvadoran farmers from Ahuachapan; they had obtained the seeds in Guatemala.
By the mid-1800s, the government implemented measures to support the harvesting of coffee beans. To begin with, a Decree was put into effect in 1846; it established benefits to all farmers who dedicate themselves to the cultivation of coffee.
For instance, anyone who worked on coffee farms was exempted from military service for ten years. Also, coffee harvested was not taxed for seven years.
Also, the signing of the first commercial treaty with the United States of 1853 helped increase coffee harvesting in the country. Additionally, the foundation of the International Bank in 1880 and the installation of the telegraph contributed to coffee harvesting increase.
Around the 1950s, El Salvador began modernizing its coffee-growing system. One of the most important steps was the creation of the Salvadoran Coffee Research Institute (ISIC).
This institute made an enormous contribution to increasing coffee productivity and quality. The newly formed institution started to develop new variations of coffee plants, which began to bear fruit in the 1960s.
By the late '70s and early '80s, El Salvador was in the top 10 coffee-producing countries in the world.
Then came the Salvadoran civil war of the 1980s, which heavily impacted the country's coffee production. It is estimated that coffee production fell by 19% during this period. Many coffee farms were located in highly conflicted areas.
Once the civil war ended, the country found it hard to return to the international market. El Salvador coffee production had lost grown, and there was more competition.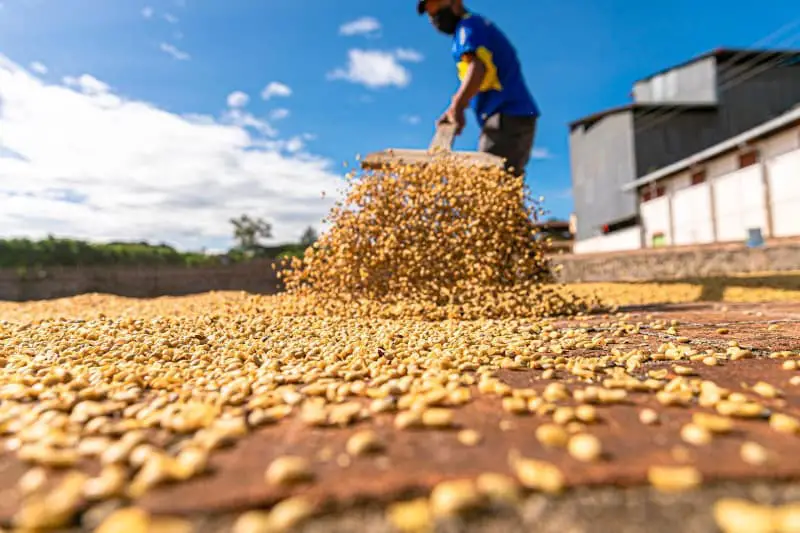 Coffee production in El Salvador has declined since the highest levels of the 1970s. However, coffee production is still a big part of the Salvadoran economy in 2021.
Types of Salvadoran Coffee
The types of coffee produced in El Salvador are of the Arabica species. Bourbon is the predominant coffee grown in El Salvador; it is followed by Pacas and other variations of unique Salvadoran coffee.
Here are some of the types of coffee cultivated in El Salvador.
Bourbon Coffee
The Bourbon Cultivar coffee plant is set apart from the rest; it is a tall plant with long branches that produce deep red berries. This type of coffee plant grows better at high altitudes.
The Bourbon has a rich aroma with floral overtones; the taste is sweet and chocolate-like. Bourbon coffee is well-balanced, sweet, and pleasant: it has unique chocolate-like characteristics.
Pacas Coffee
Pacas is the second most popular coffee type in El Salvador; it is considered to be a mutation of the Bourbon coffee plant. It is short with long branches and well-developed roots.
Because of its roots, this type of coffee plant has a high tolerance for wind, sun, and drought. Similar to Bourbon coffee, it grows better at higher altitudes.
Pacas coffee has a medium body with a mild aroma and fragrance. It leaves a great after-taste and medium acidity.
Tekisic Coffee.
Tekisic or Salvadoran Bourbon Coffee is a tall, slow-growing plant that thrives in high altitudes. This type of coffee plant is a variation of the Bourbon class.
In 1949 the Salvadoran Institute for Coffee Research began a process called "Mass Selection." It involved selecting seeds from superior performance Bourbon plants to create a new generation of coffee seeds.
The mass selection process was repeated until around 1973 when the new type of coffee plant began production. The new resulting coffee seeds began to be distributed in 1976 under the commercial variety denomination Tekisic,
Pacamara Coffee.
Pacamara is a Coffea Arabica hybrid achieved by crossing Pacas with Red Maragogype; this type of coffee is a mid-size coffee plant with large berries. And just like most Salvadoran coffee plants, Pacamara grows at high altitudes.
This coffee has a very pronounced floral aroma and sweetness with persistent chocolate flavor. It has a full body and a great after-taste.
Catuai Coffee
This variety is a hybrid originally from Brazil; it was introduced in El Salvador in the 1970s. Catuai's optimal altitude for its cultivation is from 600 to 1,200 meters above sea level.
Catuai coffee is the result of crossing the compact Caturra coffee with high-productivity Mundo Novo seeds.
Catisic Coffee
This coffee type was introduced to El Salvador in 1978 by the Salvadoran Institute for Coffee Research (ISIC). It is a hybrid of the Caturra Rojo bean and the Timor Hybrid; it is known as Catimor.
Cuzcatleco Coffee
The Cuzcatleco coffee plant originates from the cross between the Timor hybrid and the Villa Sarchi variety. The plant has a strong and deep root system, which allows it to be win and rain-resistant.
Icatu Coffee
The Icatu coffee variety was obtained from the artificial duplication of the canephora coffee species crossed with the Bourbon variety; it was first called "Arabusta."
The Arabusta coffee variety was later crossed with the Mundo Novo variety, which resulted in the current Icatu coffee variety.
Maragogype Coffee.
Maragogype is a rather large variety of Arabica coffee, also known as the Elephant or giant coffee beans, this is because they are so large.
The quality of this type of coffee is not as good as the other type of coffee grown in El Salvador. Therefore, production tends to be low, which makes this bean scarce and hard to find.
El Salvador Coffee Producing Regions
The coffee producing areas in El Salvador are located in six regions, the Apaneca-Ilamatepec, the Quetzaltepec-Balsamo, the Chichontepec, the Tecapa-Chinameca, the Cacahuatique, and the Alotepec-Metapan region.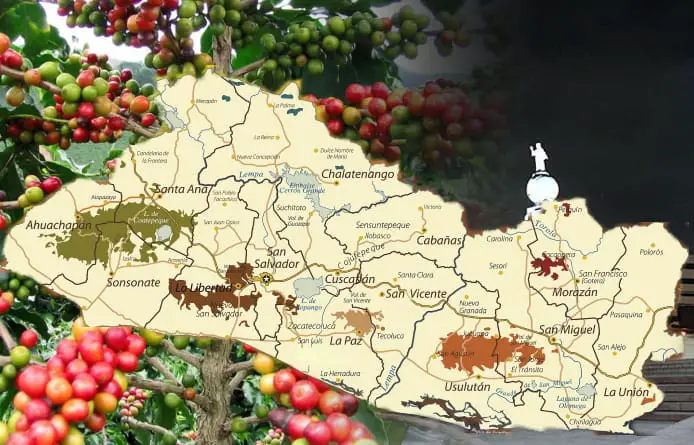 Apaneca-Ilamatepec
The Apaneca Ilamatepec mountain range includes the departments of Santa Ana, Sonsonate, and Ahuachapan; it is located in the western part of the country. It is estimated that approximately 50% of the area is cultivated with coffee. The varieties of coffee grown in this area are Bourbon, Pacas, and Pacamara. This coffee-producing region is well-known internationally.
Coffee from this region is grown at altitudes ranging from 500 to 2,365 meters above sea level. This region includes some of the country's more well-known coffee farms.
Quetzaltepec-Balsamo
The Balsamo Quetzaltepec mountain range includes the departments of La Libertad, San Salvador, and some municipalities of Sonsonate. It is located in the center part of the country.
This region includes San Salvador Volcano and its rich, volcanic soils. The coffee from this region is grown at altitudes of 500 to 1,900 meters above sea level.
Chichontepec
The Chichontepec mountain range includes the departments of La Paz, San Vicente, and Cuscatlan; it is located in the center part of El Salvador.
This area composes approximately 5% of the total cultivated area of the country. It produces Bourbon, Pacas, Pacamara, Catisic, and Cuscatleco coffee.
Tecapa-Chinameca
The Chinameca Tecapa mountain range is in the eastern part of the country; it includes the departments of Usulután and San Miguel.
About 12% of the total coffee cultivated area is in this region. Bourbon, Pacas, and Pacamara are the most cultivated variety in this mountain range.
The Chinameca Tecapa altitude ranges from 500 to 2,000 meters; it includes the famous San Miguel or Chaparrastique Volcano.
Cacahuatique
The Cacahuatique coffee cultivated area is located in the eastern part of El Salvador in the departments of San Miguel and Morazan. It is estimated that 4% of the total coffee cultivated area is located here.
Alotepec-Metapan Mountain Range
The Alotepec-Metapan mountain range includes the departments of Santa Ana and Chalatenango in the northwest part of the country.
The three most popular types of coffee grown in this region are Pacas, Bourbon, and Pacamara. Most of the coffee produced in the area is made up of small producers.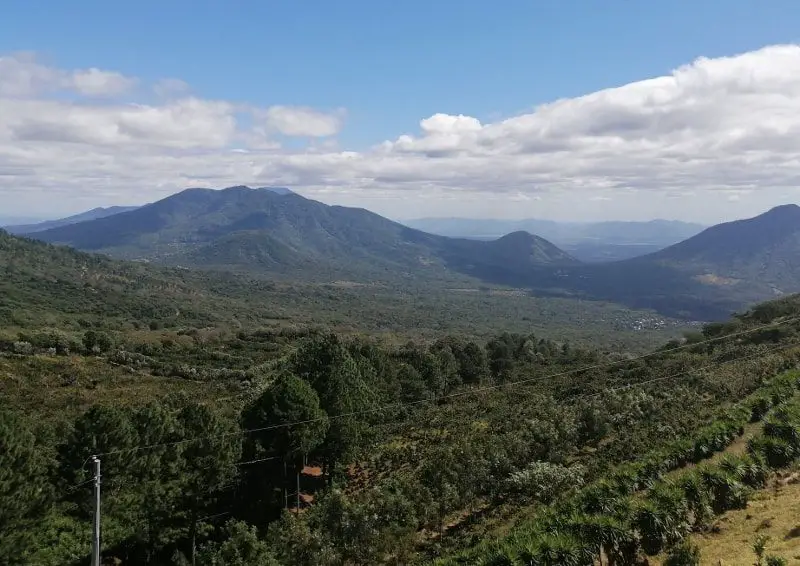 El Salvador Coffee Quality
Salvadoran coffee beans have an excellent reputation worldwide. The distinction has been obtained and maintained by years of harvesting high-quality coffee beans.
El Salvador is known for producing high-quality Arabic coffee beans, which is good news for such a small country. This Central American nation is a top coffee exporter; it is home to some of the world's most sought-after coffee varieties. Almost 90% of gourmet coffee in El Salvador is of Bourbon varieties, Pacamara and Maragogipe.
The Salvadoran Coffee Council has established a demanding classification system for its coffee. It is done to position the country's coffee in the best gourmet markets in the world.
Some of the most strict requirements are that the coffee must be cleaned by hand, processed with freshwater, picked red (ripe), and have 0% defective beans. This coffee is only exported if it meets these standards and has received the gourmet designation.
Over 90% of the coffee produced in El Salvador is shade-grown and from a high altitude. The vast Salvadoran highlands and volcanoes provide fertile soil great for growing high-quality coffee beans.
In 2021, El Salvador is producing fewer coffee beans but is harvesting a higher coffee quality, such as organic.
El Salvador Coffee exports
In 2021, the principal buyer of Salvadoran coffee continues to be the United States. It is followed by Germany and Japan.
Other nations that buy a smaller percentage of Salvadoran coffee are Italy, Belgium, Norway, Singapore, Canada, and the United Kingdom.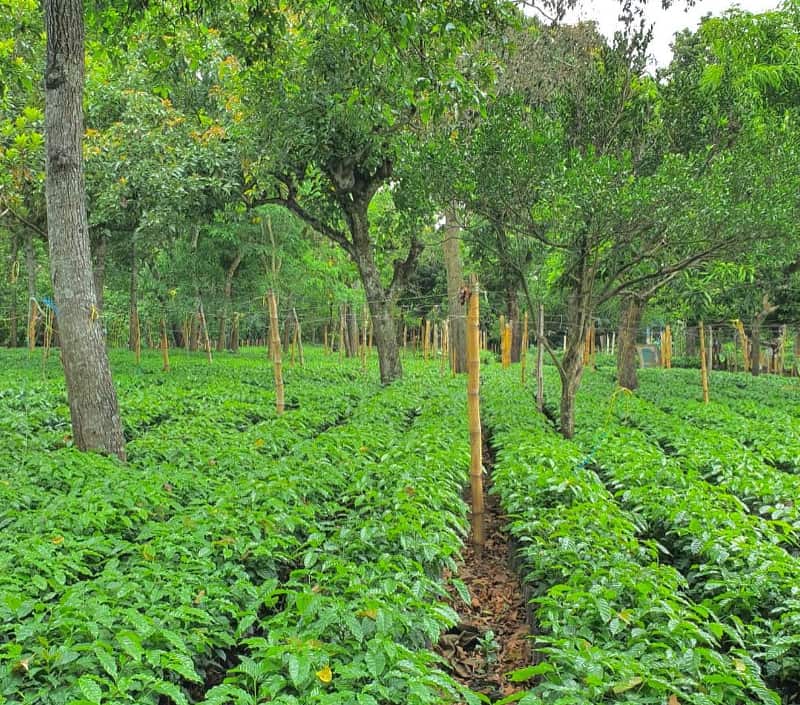 Importance of Coffee to El Salvador
Coffee is of great importance to El Salvador; a big part of Salvadoran history and culture is tied to coffee production. Also, coffee production helps with the economy, creates jobs, and protects the environment.
El Salvador is a top producer of high-quality coffee that is imported worldwide. Coffee exports help increase the country's revenue and increase the country's GDP.
Also, Coffee production is an integral part of creating jobs, especially in rural areas. In these areas, coffee-related jobs are the only ones available.
Lastly, coffee production helps the country's environment. Salvadoran coffee is grown at high altitudes under shade in heavily forested areas.
The densely forested coffee-producing areas have to be protected and maintained. This will ensure the continued production of high-quality beans and the protection of the ecosystem.
If the coffee plantations disappear, the nearby primary forests would be in danger of disappearing as well.
Coffee Tourism
El Salvador's coffee production is becoming a top attraction for local and foreign tourists.
Today, in addition to visiting top tourist attractions such as the beaches, volcanoes, and small colorful towns. Travelers can visit coffee farms and experience firsthand the country's world-renowned coffee beans.
Coffee farms that offer fantastic coffee tours where visitors can learn the process involve in creating a quality cup of coffee.
Most of these coffee plantations are located near other tourists locations. Visitors can visit top tourists spots and visit a coffee farm on the same trip.
El Salvador Coffee
If you are in El Salvador, visit one of the towns of the Flowers route or Ruta de Las Flores. These colorful towns are near numerous coffee plantations where you can try outstanding Salvadoran coffee.