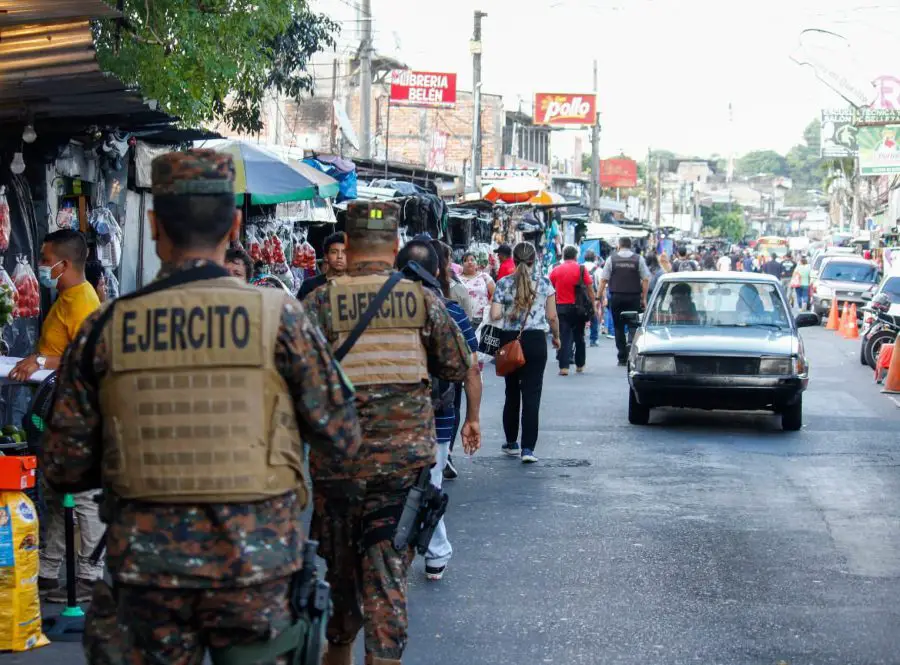 El Salvador state of exception is a security plan implemented by the Salvadoran Government to attack criminal gangs directly. The state of exception that restricts some constitutional guarantees has resulted in the arrest of over 66,000 alleged gang members.
The Salvadoran state of exception was initially approved in late March in response to a spike in homicides. This increase in violence left 87 people dead and was attributed to the MS13 and 18 Street gangs.
On March 27, 2022, the Salvadoran Legislature approved the security measure for 30 days at the request of the security cabinet. Since then, the state of exception has been extended in 30-day increments consecutively over 11 times.
The decree, approved March 15, entered into force on March 18, 2023, after publication in the Official Gazette, and will last thirty days until April 16, 2023.
The extension approved on March 15, 2023, suspends the constitutional guarantees established in the following articles.
Article 12, paragraph 2

Suspends the right of people to be informed of their detention and to the assistance of a defense attorney in legal terms.
Article 13, paragraph 2

Suspends the right of people to have a detention that does not exceed 72 hours within which to appear before a judge. (It is now extended to 15 days)
Article 24, all paragraphs

Suspends the right to privacy of telecommunications. Security forces can access communications without the need for a warrant.
Salvadorans approve of the State of Exception
Based on surveys, most Salvadorans approve of the State of Exception being implemented by Salvadoran Authorities. In fact, a large percentage of the population wants more rigorous security measures.
A CIDGallup survey released on the security measure's first anniversary shows that 92% approve of the actions against gang members by the Bukele administration under an emergency regime; in actuality, 81% would want tougher measures against gang members.
The University Institute of Public Opinion (IUDOP) also released a survey on the State of Exception anniversary. According to the IUDOP survey, 82.4% of Salvadorans approve of the State of Exception. 53.4 are very satisfied, and 29.0 are Somewhat Satisfied. Also, 59.4% stated that the exception regime should be extended longer.
Salvadorans gave the State of Exception a 7.92 scores out of 10. Lastly, according to the survey, 74.4% agree with the statement made by President Bukele that El Salvador has become the safest country in Latin America.
Lastly, the Fundaungo survey released March 27, 2023, shows that 85.6% of the population approves the implementation of the State of Exception regime (42.8% strongly agree and 42.8% agree), a percentage slightly lower than in November 2022, which was 89.8%.
Additionally, when asked: How much do you agree that the exception regime has been extended for eleven months? 82.2% of the population agreed or strongly agreed with the extensions.
Salvadorans State of Exception Surveys
Date
Entity
Rating/Score
March 27, 2023
CID Gallup
State of Exception
92% Approval
View Survey
March 27, 2023
IUDOP
State of Exception
82.4% Approval
View Survey
March 27, 2023
FundaUngo
State of Exception
85.6% Approval.
View Survey
December 12, 2022
FundaUngo
State of Exception
89.8% Approval.
View Survey
September, 2022
CID Gallup
State of Exception
91% Approval
View Survey
May, 2022
LPG Datos
State of Exception
73.9% Approval
View Survey
May 2022
IUDOP
State of Exception
7.99 score out of 10
View Survey
April 2022
CID Gallup
State of Exception
91% Approval
View Survey
Reactions to El Salvador State of Exception
International and local organizations have condemned the Salvadoran State of Exception because, according to them, it has violated many fundamental individual human rights.
Humanitarian organizations, such as Cristosal, Human Rights Watch (HRW), and Amnesty International, have produced reports attacking the security strategy for alleged human rights violations.
Even though the State of Exception has produced good results, such as lowering the homicide rate, these organizations want the Salvadoran Government to stop the measure completely. However, most Salvadorans are happy with the security measure and want to continue its implementation.
On the first anniversary of the State of Exception, Tamara Taraciuk, the acting director at Human Rights Watch for the Americas, has intensified her remarks condemning the Bukele administration's security policies.
She wants Latin American leaders to implement pressure on the Bukele administration to respect human rights in El Salvador.
Salvadoran State of Exception
The Salvadoran State of Exception is part of Nayib Bukele's Territorial Control Plan that aims to reduce crime and violence in El Salvador.
According to the Government and survey results, the security measure is producing excellent results, and people want the government to continue to extend it. However, there is plenty of evidence that some people not associated with gangs have been wrongfully arrested.