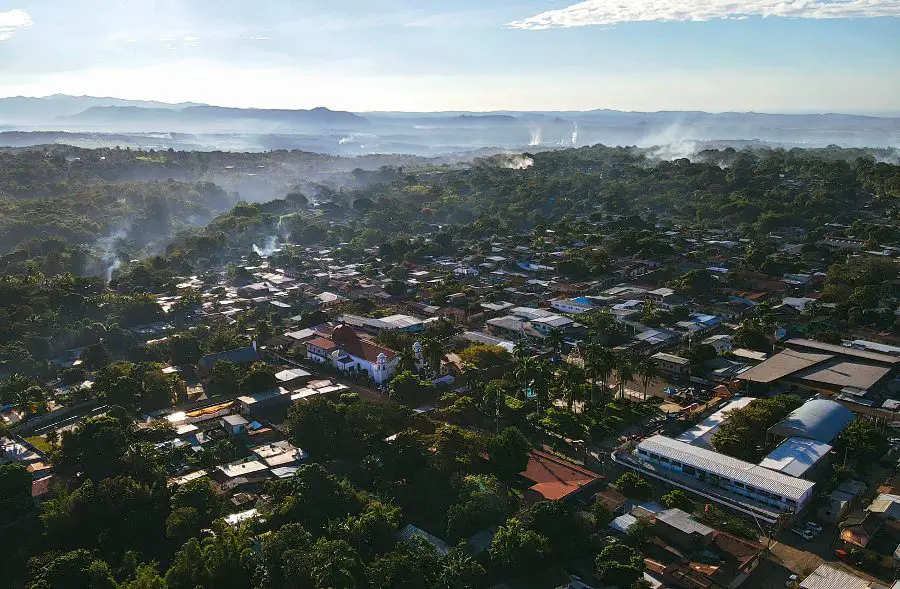 Nahuizalco in El Salvador is a remarkable small colonial town full of indigenous traditions and customs; it has an unbelievable history imprinted all over the city. Nahuizalco is a charming city with a vibrant culture and customs passed down for generations.
Nahuizalco is a small town of Pre-Hispanic origin in the western part of El Salvador; it is known for its rich cultural heritage and traditional crafts.
With a population of approximately 59,000, this is a municipality ideal for visiting and exploring; the community of Pre-Hispanic origins welcomes visitors with open arms and smiles.
This region, during colonial times, was part of the Izalco territory. It was populated by the Pipil indigenous; some of their customs and traditions are still visible in today's Nahuizalco.
Of all the towns in El Salvador with ties to colonial times, Nahuizalco stands out among the rest. Indigenous traditions and customs that are visible today make this colorful town one of the best to visit.
SEE ALSO: 10 of the best small towns in El Salvador to visit anytime
Here is some information about this colorful town you might want to know before visiting.
The name of the town in Nahuatl means "Four Izalcos."
The town was founded by four families from the nearby town of Izalco.
Nahuizalco is one of the six towns in La Ruta de Las Flores, one of the most popular touristic routes in the country.
The town is well known for its crafts, especially the ones made up of Wicker and Tule.
Some people in town speak Nahuat.
In the municipality, some locals wear traditional Pipil attire.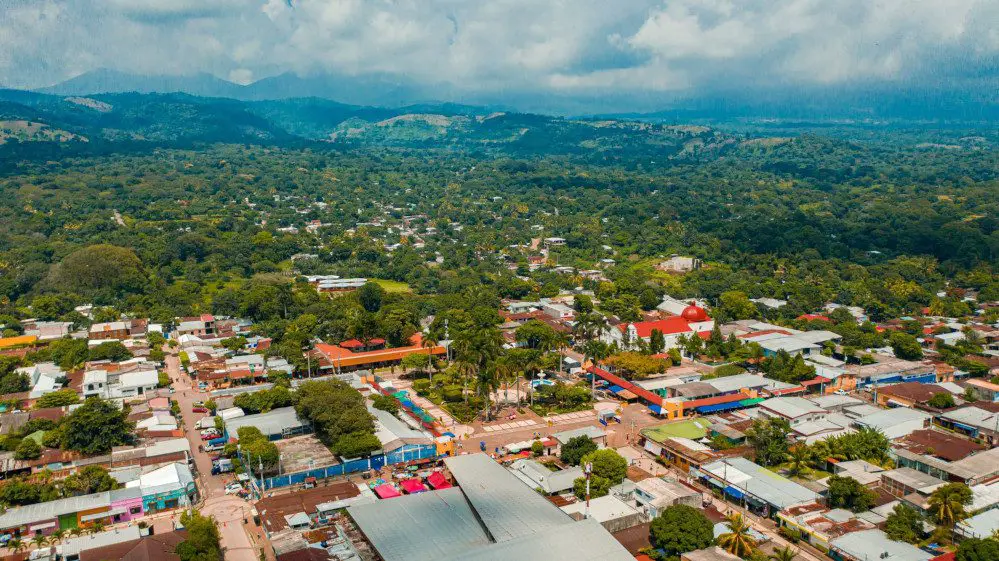 What to do in Nahuizalco El Salvador
The best things to do in Nahuizalco in El Salvador are to get to know everything about Wicker and Tule handicrafts and experience the night market; also to visit the colonial church, try the local gastronomy, explore the Nahuat Pipil community museum, and explore the town.
Wicker and Tule Handicrafts in Nahuizalco El Salvador
One of the most popular attractions in Nahuizalco is its vibrant artisan crafts, especially the ones made out of wicker and Tule. So, if you ever make it to this colorful town, support the local economy by purchasing some of these items.
Visitors can browse the many small colorful shops and look at colorful handmade crafts, including woven baskets, pottery, floor mats, hats, and handcrafted wooden furniture.
Another way to enjoy this town is to see and experience how the Wicker and Tule crafts are made. In the city, you will find workshops to achieve this experience.
You can take a class where they will demonstrate and teach you how the process works from beginning to end. Who knows, they might even let you make your own crafts.
Creating these stunning crafts by hand takes a lot of creativity and is one of the great things about Nahuizalco. Nahuizalco's craft products are sold in different markets in El Salvador and abroad. You can buy the articles for personal use or as souvenirs for family or friends.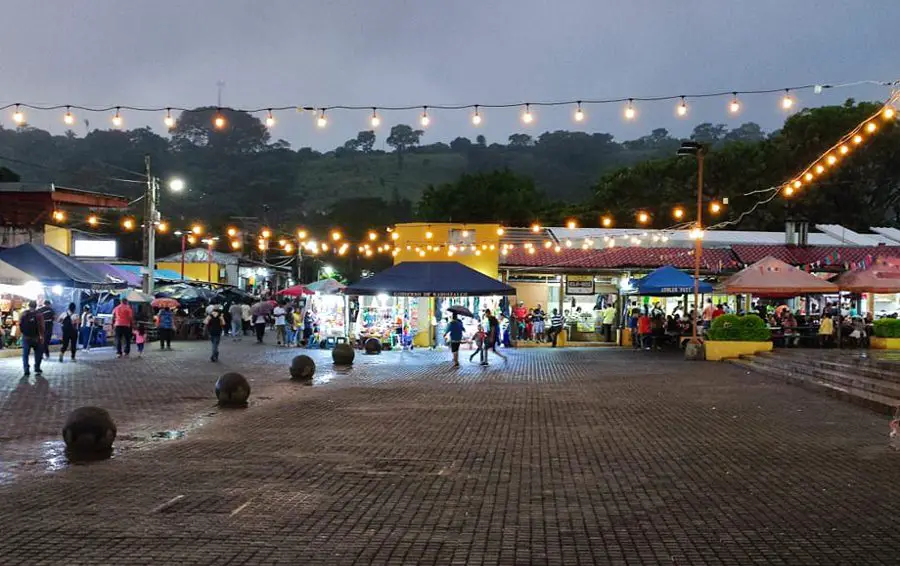 Experience the Night Market
Here is an interesting question! Do you want to experience shopping at night, under candlelight, and in a town with a vast Pre-Hispanic colonial history? If yes, here is your chance to get it done.
The Nahuizalco night market is a fun experience; at night and until around 10 pm, the streets and stores around the central plaza are illuminated by candles and lanterns, creating a magical atmosphere.
During this time, local vendors sell food, drinks, and handmade crafts; visitors can enjoy traditional Salvadoran music and dance performances while experiencing the unique features of the Town's nighttime market.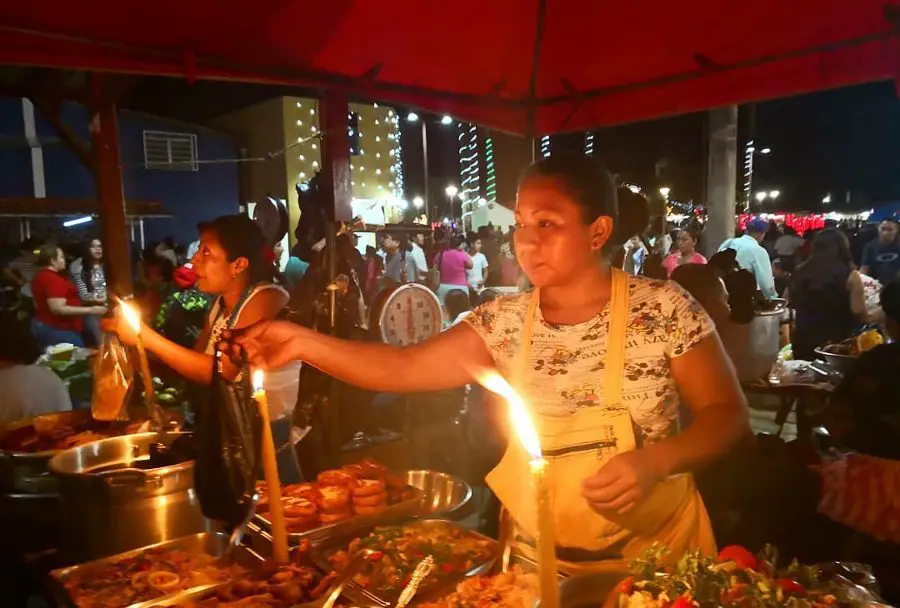 Visit the Colonial Church
El Salvador's history and the catholic religion go hand in hand. Most small Salvadoran towns with a history going back to colonial times have beautiful churches; Nahuizalco is one of these towns. The San Juan Bautista Parish is a magnificent colonial-style church adorning the center of town.
The San Juan Bautista Church, built in the 17th century, is one of the finest examples of colonial architecture in El Salvador. The church's white façade is decorated similarly to other Salvadoran colonial-style churches, and the interior is beautifully adorned.
The municipality celebrates its festivities every year towards the end of June. The celebrations honor Saint John the Baptist. So, if you visit during this time, you will see a more colorful colonial town.
Visitors come to this church because of their spirituality and fate or to appreciate its history and beauty.
If you make it to this colonial-style town, make sure to include this seventeenth-century colonial church in your must-see list.
SEE ALSO: 10 Churches in El Salvador you Definitely Should Visit
SEE ALSO: El Salvador street foods. Best Salvadoran Street Foods to try!
Gastronomy in Nahuizalco.
Nahuizalco is not known for its gastronomy; nevertheless, the town has restaurants that serve all the typical Salvadoran dishes; the town also has all the tasty customary Salvadoran street foods. Furthermore, if you visit during the weekends, there will be more local food options for you to try.
Nahuizalco Nahuat Pipil Community Museum
The Nahuat Pipil Community Museum is located next to the central park. The small museum seeks to visualize and educate about the products forged from Wicker, Tule, Indigo, and other materials created by different communities in the area.
Within its permanent exhibition, they have a collection of ancient grinding stones and archaeological pieces found in the surrounding communities.
For example, the Nahuat Pipil Museum has distinct types of Petates (floor or bed mats), woven articles based on different materials from the region, and products dyed with indigo.
Explore the Colorful Nahuizalco Town
One of the best ways to enjoy and experience Nahuizalco is to walk around and explore the town; it's not that big.
This town, just like all small towns in El Salvador, has the same design; in the middle of town, you will find the central park, the church, and the city hall.
The best way to see and experience the local culture is to walk around and mingle with the locals. Also, go shopping for souvenirs at one of the many local stores, try the local cuisine, or visit a workshop and witness how the local crafts are made.
Weekends are the best time to visit and explore the town! There will be more people visiting; However, there will also be more local activities for you to see and enjoy.
Where to Stay at Nahuizalco El Salvador?
Nahuizalco is a small town where you experience everything in a day. For that reason, most people come on day trips from nearby cities like Juayua, Santa Ana, La Libertad, or even San Salvador.
In other words, accommodations in town do exist but are limited. As a matter of fact, Nahui Hostal, near the city center, was the only hotel I found online.
Talk to a local touring company if you are looking to spend the night at Nahuizalco; I am sure they will be able to find or recommend some accommodations.
Nahuizalco in El Salvador.
To sum up, the Pre-Hispanic colonial town of Nahuizalco is one of the best to visit in El Salvador; it is full of traditions and history dating back to pre-colonial times. Visit Nahuizalco. You will love it!
This vibrant town in El Salvador, full of culture and tradition, offers an artisan market, a unique night market, a historic church, outdoor activities, and delicious cuisine.
It's a must-visit destination for anyone interested in experiencing the rich culture and traditions of El Salvador.