Lake Coatepeque in El Salvador is a volcanic caldera created over time by fierce volcanic eruptions; it is in the El Congo district in the Santa Ana east municipality, west of the Capital City, San Salvador.
Coatepeque Lake is surrounded by hills with dense forests, which results in a beautiful landscape. This stunning lake is a popular destination for local and foreign tourists looking for a great place to relax and enjoy with family or friends.
Undoubtedly, known as the land of volcanoes, El Salvador has impressive volcanoes ranging from towering stratovolcanoes such as Izalco, Santa Ana, and Chaparrastique; to eroded volcanoes resembling mountains such as Guazapa and Cerro Verde.
SEE ALSO: Lakes in El Salvador. Explore these natural wonders.
However, the country also has volcano calderas, such as Coatepeque Lake; this beautiful caldera is an excellent location and the perfect spot to visit and relax.
Activities at Lake Coatepeque
Lake Coatepeque is an ideal location for spending time with family or friends in a relaxed atmosphere. Here, you can take a boat trip and explore the lake, go swimming, kayaking, fishing, Scuba Diving, or merely enjoy the scenery.
Taking a boat trip and exploring the lake and its surroundings is a good start; you will see the magnificent landscapes that encircle the caldera. Furthermore, you can enjoy other exploring activities such as kayaking, swimming, or fishing.
Now, if you don't want to spend time in a boat exploring the lake, you can stay at the shore and go swimming or relax at one of the local restaurants. The small restaurants offer excellent local cuisine as well as exotic drinks.
Scuba Diving is also an activity that can be done at this caldera; however, there is no diving shop at this lake. So, you will need to make arrangements with a diving company beforehand. El Salvador Divers is a diving company with great reviews that offers diving services at this lake.
SEE ALSO: El Salvador's Ecotourism. 10 Incredible Salvadoran Natural Wonders Worth Exploring!
Lastly, Coatepeque Lake has astonishing scenery that can be viewed and appreciated from the lake shore or one of the lookout points around the caldera.
The activities at this lake are limited; nonetheless, this remarkable volcanic caldera is one of the most popular attractions in El Salvador.
Accommodations at Lake Coatepeque
Staying at Lake Coatepeque is a viable option as you can relax and enjoy what the area offers day and night. But keep in mind that night activities might be limited.
Here are some of the hotels and hostels available in the area: Cardedeu Hotel, Rancho Alegre, Equinoccio Hotel, and Captain Morgan Hostel.
Additionally, the lake is surrounded by private homes, some of which are for rent. So, you can also look for vacation rentals by owners (VRBO) and see what is available in this area.
Accommodations at Lake Coatepeque are not as vast as other lake locations; nevertheless, there are plenty of great options.
Gastronomy
At this lake, you will have plenty of restaurants to choose from; all of them serve different variations of typical Salvadoran dishes and dishes with fresh fish extracted from the lake. There are also street food options available near the lake.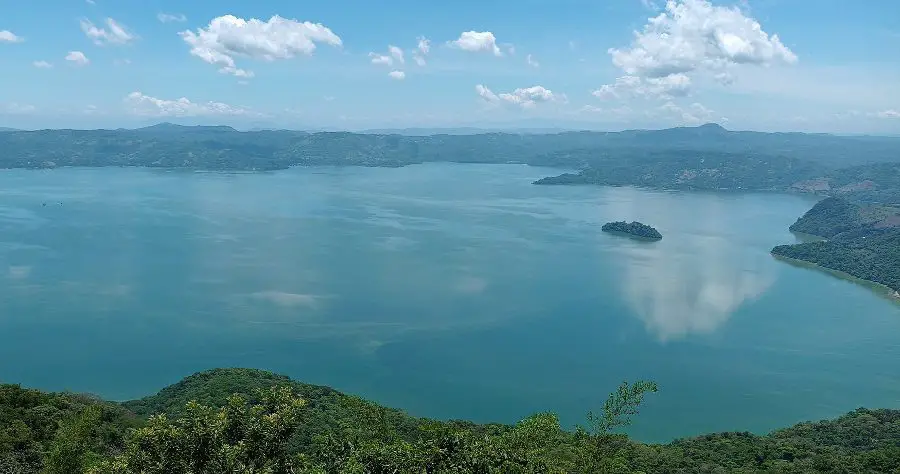 Lake Coatepeque location
Lake Coatepeque is near the small town of El Congo in the Santa Ana east municipality; the largest city near this lake is Santa Ana. Click here to see the location on Google Maps.
If you are planning to visit Lake Coatepeque for the day and you have never been there before, I recommend you use a guide or a touring company to get around; it will be a bit more expensive, but you will get to see and enjoy more than in you do it by yourself.
Now, if you are going to stay for more than a day, you can take the bus from Santa Ana, El Congo, or other towns nearby. It's best to check with the hotel you are staying at to see if they offer free transportation or for them to tell you the best way to get to the hotel.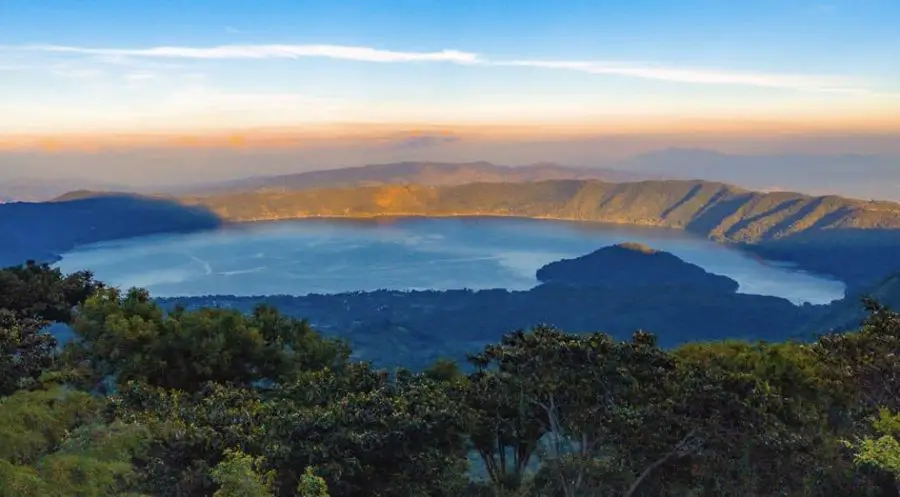 Coatepeque Volcano Caldera in El Salvador
To sum up, this volcanic caldera is a fantastic location to spend a day or a few days relaxing. Activities such as boating, kayaking, swimming, or relaxing at the shore will make your visit unforgettable.
Stay at one of the local hotels and enjoy some fantastic local gastronomy. I am sure you will enjoy your time at this lake!