Lakes in El Salvador, such as Coatepeque, Ilopango, Guija, and Suchitlan, are a combination of astonishing volcanic calderas and a magnificent man-made lake. Visiting and exploring these lakes is a top thing to do in the country, either by locals or foreigners looking for fun activities to enjoy and experience.
The most well-known lakes in El Salvador are Coatepeque, Ilopango, Suchitlan, and Guija. From this list, the most visited are Ilopango and Coatepeque, mostly because they are centrally located and near the largest cities in the country, Santa Ana and San Salvador.
The country, in addition to the four lakes mentioned above, has other smaller, less well-known lakes and lagoons scatter all over the territory. Here is more information about each of the most well-known lakes in El Salvador.
Coatepeque Lake, one of the most beautiful lakes in El Salvador
Coatepeque Lake is an astonishing caldera volcano located near one of the best National Parks in El Salvador, Cerro Verde National Park. Because of its location and what it offers; this caldera is one of the most visited in the country.
Activities
Some of the most popular activities are kayaking, boat trips, fishing, scuba diving, jet skis, and swimming. It's necessary to mention that this area is considered a quiet area; therefore, the vast majority of activities involve families or groups of friends enjoying the lake.
Diving this waters is an option and a fun activity; however, there is no diving school in here, so arraignments need to be made before visiting the lake.
Accommodations
Accommodations at Coatepeque Lake are great but limited to a small number of hotels or hostels. Most visitors to this lake come for day trips from the nearby cities like Santa Ana or San Salvador.
How to get there
Coatepeque lake is centrally located near the cities of Santa Ana and San Salvador. Getting to the lake is not difficult, but depending on your starting location, the route might change. If you are driving, just enter the directions into the phone application and follow the instructions. Now, if you are with a tour group or shuttle company, then just enjoy the ride.
As you can see, this fantastic caldera is a great option when it comes to visiting lakes in El Salvador. It has plenty of relaxing activities and great hotels for your comfort. Click here to know more about this lake.
Ilopango, one of the most fascinating lakes in El Salvador.
Ilopango lake is an exceptional crater volcano located near the Capital, San Salvador. This crater volcano, with its 28 square miles of pristine water touches three different departments, San Salvador, La Paz, and Cuscatlan, is one of the most popular in the country.
Activities.
Activities at the lake include swimming, fishing, kayaking, boating, and much more. All these activities can be enjoyed at any of the most popular beaches in the caldera, areas such as Apulo, Asino, and Amatitán are the most visited. There are also plenty of activities at Apulo Family Recreation Park, located on the banks of Ilopango lake.
A more extreme activity at Ilopango is diving to the active volcano crater, there you will see and appreciate all the volcanic activity happening at the bottom of the lake. Additionally, the lake has other excellent diving spots for divers to explore.
Just like the Coatepeque lake, if you want to do some diving here, you will need to make arraignments beforehand with a diving company. El Salvador Divers is the company I recommend if you are planning to dive at Ilopango.
Accommodations and location
Ilopango lake doesn't have much when it comes to accommodations; there are options available but are limited.
Locals who visit the lake do it on a day trip. Foreigners who visit the caldera prefer to stay at hotels in San Salvador; which is about 16 miles from the lake.
To sum up, Ilopango lake is a great option when it comes to visiting and exploring lakes in El Salvador. If you want to know more about Ilopango lake, click here!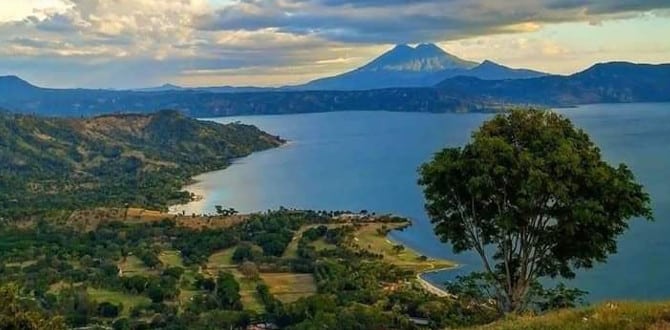 Ilopango Lake
Lake Suchitlan
Lake Suchitlan, located near the small town of Suchitoto, is the largest artificial lake in El Salvador and one of my favorites to visit. The lake or reservoir was formed during the construction of the nearby Cerron Grande Hydroelectric power plant around 1976.
Things to do
The most common and popular activity for visiting tourist is to go to the port of San Juan near Suchitoto. At the port, you will find a touristic center with a vast number of small restaurants, souvenir shops, and a swimming pool.
Furthermore, from the port of San Juan, you can take boat rides through the lake and also visit the small islands like bird island, El Chaparral, El Leon, El Burro, Trinidad, etc.
Fishing, kayaking, and bird watching are also some of the activities that can be done at Suchitlan lake.
Accommodations
I was not able to find any type of accommodations in the lake area; this is due in large part to the lake being in an underdeveloped rural area.
The best option is to stay at Suchitoto, which is about two miles from the lake. The vast majority of travelers who want to spend the night, choose the stay at Suchitoto.
Getting to the lake
The lake can be accessed from many different locations from the following departments, Cuscatlan, Chalatenango, and Cabañas. There are way too many access points to list here, the most popular is by way of Suchitoto. If you decide to visit Lake Suchitlan, I recommend you do it with a tour company and let them show you the best way to get there.
To sum up, visiting Lake Suchitlan is a top thing to do for locals and foreigners. In a day you can visit and explore the beautiful town of Suchitoto and on the same day enjoy the lake activities. Click here to learn more about this man-made lake.
Suchitlan Lake
Lake Guija, one of the best lakes in el salvador for ecotourism.
Lake Guija is a natural lake of volcanic origin shared between Guatemala and El Salvador. The lake is about 45 square kilometers, of which, 32 square kilometers belong to El Salvador. Additionally, this Lake and its wetlands were added to the UNESCO World Heritage tentative list in 1992.
On the Salvadoran part of the lake are three islands, islands of Teotipa, Cerro de Tule, and Iguatepec. Also, three volcanoes surround this lake Mita, San Diego, and Cerro Quemado. If you want to know more about this lake, visit our Lake Guija El Salvador page,
Why is this lake popular?
This lake is popular for two reasons, the first is the wetlands where you can see and admire fantastic flora and fauna. Secondly, because of Mayan history; this lake was one of the primary centers of the Maya before the pre-classic period.
Activities
The main activities for tourist at this lake are exploring the wetlands and visiting the island of Iguatepec.
Iguatepec is a peninsula and sometimes an island during the wet season. This island has ancient carved stones on its shores.
To sum up, the lake of Guija is an excellent option for those looking to explore nature and learn some Mayan history. Guija is not as popular as the others mentioned in this article, but for sure, it can stand on its own.
Conclusion – Lakes in El Salvador
Visiting and exploring these fantastic lakes in El Salvador is a fantastic activity that can be enjoyed with family or friends. When in El Salvador, take a chance and visit one of these lakes. You will love it!