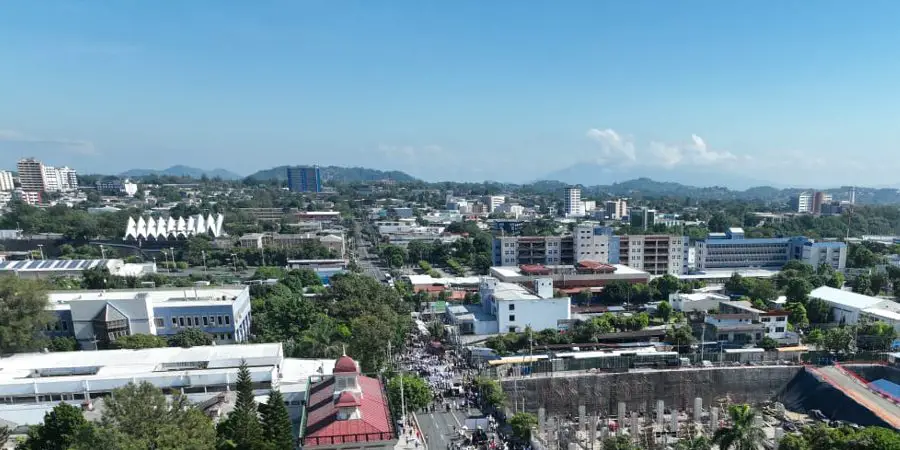 Over the last 25 years, extortion in El Salvador has been a formidable and pervasive problem that has cast a shadow of fear and instability over many Salvadorans and businesses. The extortion problem executed by these criminal groups has had profound social, economic, and security implications in the country.
This extortion activity has been directed by the two principal gangs in El Salvador (MS13 and 18th street).
The good news for this Central American nation in 2023 is that extorsions in El Salvador have dropped to levels not seen in a long time. In 2022, the Bukele administration declared and began conducting a direct attack on gangs, which resulted in a lower Gang Presence in the Salvadoran territory.
El Salvador's Extortion Epidemic
El Salvador has grappled with high levels of violence and gang-related crime for a long time. Since the end of the 1980s Civil War, El Salvador has had high levels of violence and homicides. Many of these murders that happened during this time transpired because of extortion.
Gangs such as MS-13 and 18th street have their original roots in the United States; however, due to the country's poverty and lack of opportunities, they found fertile ground for expansion in El Salvador, which they took advantage of.
Extortion became and was one of the gang's most profitable endeavors; it generated substantial income for these criminal organizations.
According to a 2022 study by Global Financial Integrity (GFI), proceeds from extortion in Guatemala, Honduras, and El Salvador amounted to more than US$1.1 billion annually. The study estimated that Salvadorans paid between $190 million to $245 million per year in extortion.
Terrorizing the Vulnerable
Extortion in El Salvador typically involved threatening individuals and businesses with violence or death if they refused to pay protection money.
Nonetheless, people living in gang-controlled territories were forced by gangs to pay money for things such as the right to live in the neighborhoods, to park their cars there, to transit freely, and for their kids to attend school.
Those targeted often include small shop owners, public transportation operators, big businesses, families, and even schoolchildren.
Such intimidation created a climate of fear among the Salvadoran population; victims were constantly worrying about reprisals by these criminal organizations if they refused to pay or contacted authorities.
Economic Consequences of Extortion in El Salvador
The economic consequences of extortion in El Salvador are alarming. The Salvadoran Central Reserve Bank estimated that before 2020, the extortion figure reached 756 million dollars per year.
Many small business owners were forced to shut down their operations, unable to sustain the extortionist's demands. Also, mid-size to large businesses accounted for extortion money as a cost of doing business in El Salvador.
Furthermore, because of extortions, families were forced to leave their homes, lose their assets, and their children dropped out of school to save themselves.
Extortions deprived many individuals of their livelihoods and suppressed economic growth and investment in the country.
Past Government Response to Extortion
Previous Salvadoran governments (Before 2019) took various steps to combat extortion. Specialized police units were formed to investigate and prosecute extortion cases. However, their efforts and tactics were unsuccessful.
From 1992 to 2019, El Salvador had the disgraceful tag of being one of the most violent countries in the world, not a war.
El Salvador's homicide rate during the FMLN administrations (2009 to 2019) was over 30 murders per 100,000 inhabitants. As previously stated, many of these murders happened because of extortion.
None of the FMLN and ARENA administrations were able to get rid of gangs or solve the extortion problem faced by most Salvadorans.
The Bukele Administration Response to Gangs and Extortion
President Nayib Bukele took office in June 2019. One of his principal campaign promises was to tackle the country's violence and reduce crime; he immediately launched the Territorial Control Security Plan.
The security plan was successful as the country's crime and homicides were reduced; however, criminal gangs remained in the territory, controlling and conducting extortion in many communities.
In March 2023, the Bukele administration began implementing a drastic plan to attack these criminal groups. The government started the State of Exception, a security measure intended to go after members of these gangs.
The State of Exception is a proactive measure that involves the country's security forces going into the territory and arresting gang members and those suspected of helping them.
The security measure has resulted in the arrest of over 71,000 suspected gang members and collaborators. Taking these criminals off the streets has helped lower the country's extortion levels.
Although Human Rights organizations argue that the State of Exception has violated individual's human rights, they can't argue against the success of this security measure.
The country is on pace to set a new low homicide rate; this year's homicide rate is 0.41 per day, and in 2019, it was 6.6 per day. The drop is clearly visible.
Furthermore, El Salvador has achieved over 440 days with zero homicides during the Bukele administration; 176 of those were achieved in 2023 alone.
Even the US Ambassador to El Salvador, William Duncan, has praised the level of security the country is experiencing despite accusations of human rights violations. He recently said:
I travel widely in El Salvador. I talk to people in the government, and I talk to farmers in the field… I haven't met anybody yet who is not happy about the current state of public security in the country. Even those people who have reservations about the way is being done recognize that this has been a game changer for El Salvador.
Improved security signifies that Salvadorans and businesses are not forced to pay extortion!
Challenges Ahead
Even with all the gains achieved during the current administration, the fight against extortion remains a problem in El Salvador that needs to be dealt with quickly; there is plenty to improve.
For instance, El Salvador has a big problem with social and economic inequality, lack of employment opportunities, and limited access to social services.
These underlying factors contributed to the rise of criminal organizations and perpetuated the extortion crisis. If they are not solved, crime and extortion issues can rapidly return!
The Salvadoran Government should work with civil society and the international community to eradicate the problems that enable gangs to gain control of communities.
Lastly, the Salvadoran Government must continue the efforts to eradicate the extortion problem; doing this would provide hope for a safer, more prosperous future for the people of El Salvador.