Grand Alliance for National Unity, GANA is a right-wing Salvadoran political party established in May 2010. It was created by ex-members of the right-wing political party ARENA. GANA is the political party that took Nayib Bukele to the Salvadoran presidency in 2019.
As of today, 2020, the Grand Alliance political party is the third influential political party at the Legislative Assembly. Of the 84 Deputies at the General Assembly, GANA has 11 of them, which puts them in third place, behind the FMLN and ARENA.
| Name | Department |
| --- | --- |
| Guillermo Gallegos | San Salvador |
| Francisco Zablah | La Libertad |
| Guadalupe Vazquez | Morazan |
| Mario Tenorio | La Paz |
| Manuel Soto | Usulutan |
| Numan Salgado | San Miguel |
| Abilio Rodríguez | La Union |
| Santos Adelmo Rivas | Sonsonate |
| Lorenzo Rivas | Cabañas |
| Juan Mendoza | Santa Ana |
| Juan Herrera | San Vicente |
Officially, GANA is the political party that controls the Executive branch or presidency. Nayib Bukele, the current president, won the election under the Grand Alliance political party flag, even though he is the New Ideas political party's founder.
Nayib Bukele was not allowed to run for president under the New Ideas party, so he was forced to run under a different flag, in this case, under the Grand Alliance.
The political party GANA in 2020.
Since Nayib Bukele won the Salvadoran presidential elections. GANA has position itself as a full supporter of all the president's new policies.
The support the political party has given Bukele has gained them popularity. All the significant pools predict that after the 2021 elections, GANA will be the second political force in the country. Only Nuevas Ideas' political party is more popular than the Grand Alliance political party.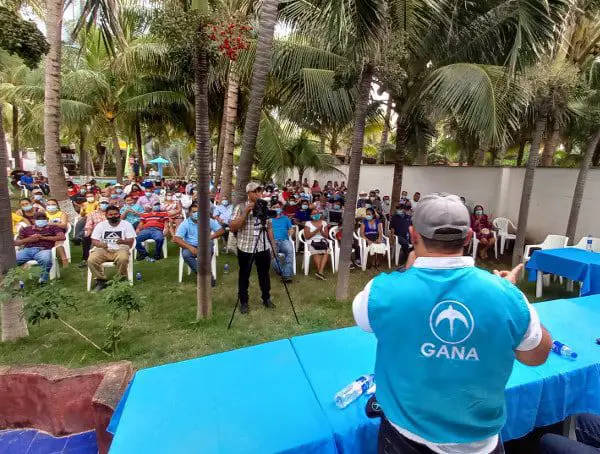 The creation of the political party.
GANA began its formation after ARENA lost the presidential elections of 2009. The right-wing political party ARENA lost the presidency to the FMLN Mauricio Funes Cartagena. ARENA has controlled the executive branch since 1999.
After the 2009 elections, fightings and blaming for the loss began within the party. Some of the members of ARENA decided to break away and start their own political movement.
The GANA political party charter was enacted on January 16, 2010, and the Supreme Electoral Tribunal legalized GANA on May 18, 2010.