El Salvador Legislative Assembly is one of the three branches of government in El Salvadoran; the other two are the Judicial branch and Executive branch. In short, the Legislative Assembly is in charge of making the country's laws.
The Legislative branch has a total of 84 public elected legislators or Diputados, which are elected for a term of three years; the current Diputados or legislators will be serving from 2018 to 2021.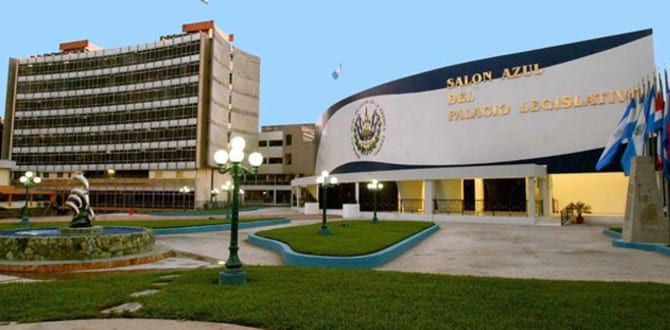 Western Zone legislators or Diputados.
Representative
#
Santa Ana
Mario Marroquín Mejia ARENA
Jose Javier Palomo ARENA
Jorge Adalberto Josue Godoy ARENA
Hortensia Margarita Lopez FMLN
Jorge Uriel Mazariego PDC
Jose Francisco Merino PCN
Juan Carlos Mendoza GANA
7
Sonsonate
Silvia Estela Ostorga de Escobar ARENA
Maytee Gabriela Iraheta ARENA
Javier Antonio Valdez FMLN
Jaime Orlando Sandoval FMLN
Jose Antonio Almendariz PCN
Santos Adelmo Rivas GANA
6
Ahuachapan
Arturo Simeon Magaña ARENA
Ricardo Ernesto Godoy ARENA
Jose Serafín Orantes PCN
Norma Guisela Herrera de Portillo FMLN
4
Central Zone legislators or Diputados.
Representative
#
San Salvador
Carmen Milena Mayorga ARENA
David Ernesto Reyes ARENA
Jose Andres Hernandez ARENA
Marcela Villatoro ARENA
Margarita Escobar ARENA
Marta Evelyn Batres ARENA
Mauricio Ernesto Vargas ARENA
Norman Quijano ARENA
Patricia Elena Valdivieso ARENA
Rene Portillo Cuadra ARENA
Silvia Alejandrina Castro ARENA
Emilio Coreas ARENA
Carlos Alberto Garcia FMLN
Damian Alegria FMLN
Karina Sosa de Rodas FMLN
Nidia Diaz FMLN
Yanci Guadalupe Urbina FMLN
Anabel Belloso FMLN
Guillermo Gallegos GANA
Osiris Luna Meza GANA
Eeileen Auxiliadora Romero PCN
Juan Jose Martel CD
Leonardo Bonilla NONE
Rodolfo Parquer PDC
24
La Libertad
Felissa Cristales ARENA
Karla Hernandez ARENA
Gustavo Escalante ARENA
Ricardo Andres Velasquez Parker ARENA
Rodrigo Avila ARENA
Juan Manuel de Jesus Flores FMLN
Cristina Cornejo FMLN
Rina Araujo FMLN
Francisco Zablah GANA
Raul Beltrhan PCN
10
La Paz
Bonner Jimenez ARENA
Rosa Maria Romero ARENA
Mario Alberto Tenorio GANA
Rosa Alma Cruz FMLN
4
Chalatenango
Julio Cesar Fabian ARENA
Audelia Guadalupe Lopez FMLN
Reynaldo Antonio Lopez Cardoza PCN
3
Cuscatlan
Alberto Armando Romero ARENA
Mario Antonio Ponce PCN
Milton Ricardo Ramirez Garay FMLN
3
Cabañas
Carlos Reyes ARENA
Luis Urias PCN
Lorenzo Rivas GANA
3
San Vicente
Donato Vaquerano ARENA
Luis Roberto Angulo PCN
Maria Elizabeth Gomez FMLN
3
Eastern Zone legislators or Diputados.
Representative
#
San Miguel
Lucia del Carmen Ayala ARENA
Jose Edgar Escolan ARENA
Dina Argueta FMLN
Rodolfo Antonio Martinez FMLN
Numan Salgado GANA
Reinaldo Carballo PDC
6
Usulutan
Ana Lucia Baires FMLN
Jorge Schafik Handal FMLN
Manuel Orlando Cabrera ARENA
Mauricio Linares ARENA
Manuel Rigoberto Soto GANA
5
La Union
Jorge Luis Rosales ARENA
Mario Martinez ARENA
Daniel Reyes FMLN
3
Morazan
Guadalupe Vasquez GANA
Catalino Castillo FMLN
Mariano Dagoberto Blanco ARENA
3
2018 to 2021 Legislative term.
The 2018 election brought change to the El Salvador Legislative Assembly. The FMLN political party, who had over 30 legislators dropped to 23, and ARENA increased its members to 37.
After the 2018 election, the makeup of legislators by political parties is as follows, ARENA 37, FMLN 23, GANA 10, PCN 9, PDC 3, CD 1, and 1 independent.
El Salvador Legislative Assembly.
In Summary, the Legislative Assembly of the Republic of El Salvador is a collegiate body, made up of 84 legislators, who have been elected by citizens through voting.
As of today, April 22nd, 2020, the Salvadoran General Assembly has one of the worst approval rates in history. Click here if you want to visit the official page for the General Assembly.