Alexia Rivas is a deputy representing the department of San Salvador at the Salvadoran congress; her legislative period is from 2021 to 2024. Alexia Rivas is a member of New Ideas, the political party created by President Nayib Bukele; she won her seat in the February 28, 2021 elections.
Rivas has a degree in International Relations from El Salvador University and is currently studying Legal Sciences at the Jose Matías Delgado University.
I have strengthened my professional training with studies in Political Economy, International Business, and Linguistics. I also have specialized studies in International conflict management, labor rights by the International Labor Organization (ILO), and Diplomatic and Official matters," Alexia Rivas.
Alexia Rivas at the Legislative Assembly.
Rivas is one of 23 women from different political parties that will be part of the 2021-24 Salvadoran legislature.
In addition to being a high member of the New Ideas political party, Rivas is also part of numerous commissions.
President of Special Commission.
Alexia Rivas is the president of the Special Commission created to investigate the final destination of funds approved by previous legislatures to Non-Governmental Organizations NGOs.
President of Commission for Women and Gender Equality
Rivas is the president of the Commission for Women and Gender Equality.
This legislative commission is dedicated solely and exclusively to the study of Motions and Files related to Women and Gender Equality.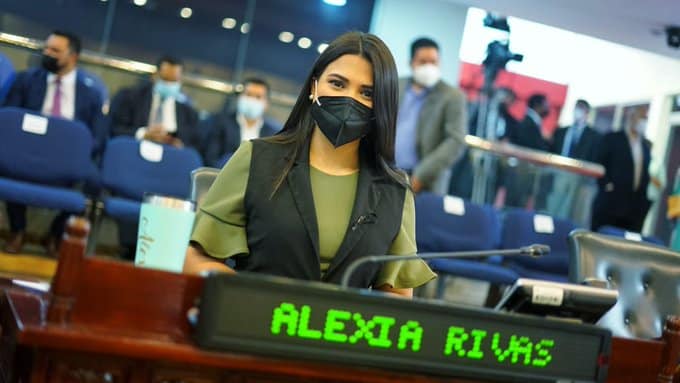 Member of of other Commissions.
In addition to being president of the NGO's special commission and the women and gender equality commission. Rivas is a member of the policy or politic commission and the Electoral and Constitutional Reform Commission.
Deputy Alexia Rivas, El Salvador.
According to her website, Alexia's vision at the Legislative Assembly is to work hard and create or develop better conditions for all Salvadorans. Her emphasis will be on the most vulnerable in the country.