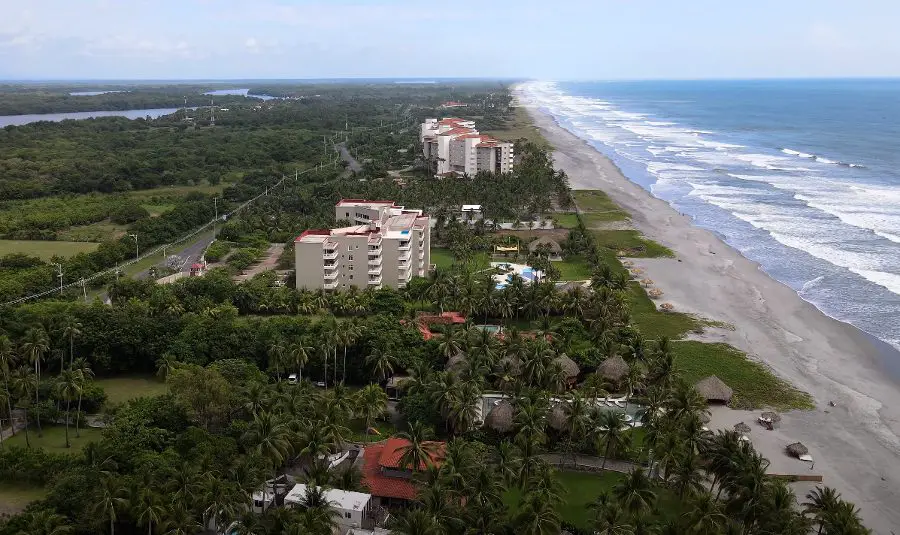 La Costa del Sol El Salvador is a beach area located in the department of La Paz; it has an extension of 15 square kilometers. La Costa del Sol has exceptional beaches, vast cuisine options, a relaxing atmosphere, and plenty of activities to enjoy.
This Pacific Ocean beach zone is one of the most visited in the country, and for good reasons; it has pristine beaches with vast activities for all types of visitors to enjoy.
In this area, visitants can savor the tasty gastronomy, go souvenir shopping, go swimming, relax, and enjoy the fun atmosphere.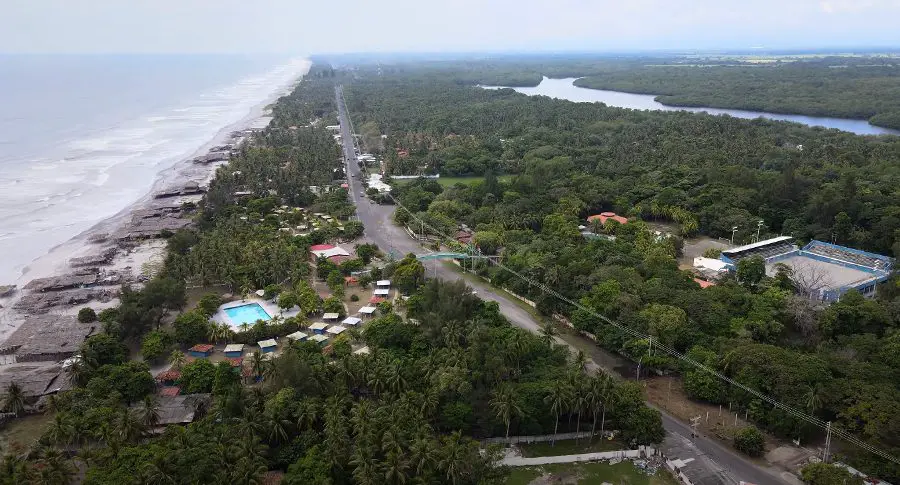 La Costa del Sol beach is famous for holding special celebrations such as weddings, anniversaries, and Quinceañeras. You can even order flowers at La Costa del Sol El Salvador here and have them catered at one of the local venues.
La Costa del Sol area is popular because of its proximity to the capital and the international airport; also, it is the most developed tourist beach location in the country.
The area has beaches, lagoons, a bay, mangroves, and other natural attractions. San Marcelino Beach, Los Whites beach, Costa del Sol Beach, Jaltepeque Estuary, Tasajera Island, Bocana, and La Puntilla are some of the most popular destinations in the area.
La Costa del Sol caters to all visitors, from backpackers looking for low-cost accommodations to those looking for more luxurious amenities!
What to do at La Costa del Sol?
Some of the most popular activities in this beach area are boating in the bay, swimming the smooth waters, and sunbathing on the beaches. Nevertheless, there are many other activities available, here are some of them.
Horseback riding
Boat trips at the mangroves and in the ocean
Fishing expeditions
Jet sky and stand up paddle rentals
Watch beautiful sunsets or sunrises
Enjoy fresh seafood
Taking long walks
Navigate through the mangroves on the estuary of Jaltepeque
Visit Montecristo island
Without a doubt, in la Costa del Sol El Salvador, you will have plenty of activities to enjoy with family or friends.
La Costa del Sol Gastronomy
Eating options at La Costa del Sol are vast and all over the place. Here, you will be able to find upscale establishments, regular restaurants, and other types of food options.
Upscale Establishments
If you are looking for upscale dining options, head to las Pampas or La Joya del Pacifico restaurant, to name a few. Obviously, there are more than these two options. There is not much to say about these restaurants other than they serve excellent food in a more upscale setting.
More Restaurants and Bars
All over La Costa del Sol, you will find smaller restaurants that serve tasty local dishes. These restaurants serve, for the most part, fresh seafood and typical Salvadoran foods.
When it comes to the menu for these restaurants, they all seem similar as they serve the same type of dishes, such as fried fish, roasted meats, and Mariscadas. Nevertheless, each restaurant will have a variation of these dishes that can set them apart from the rest.
Other Food Options at La Costa del Sol
If you are on a budget, you can find great tasty food at a low cost at the beach or on the side of the road.
Here you will see vendors walking up and down the beach or food trucks parked on the streets. This food is less expensive than restaurants and is sold mostly at lunchtime.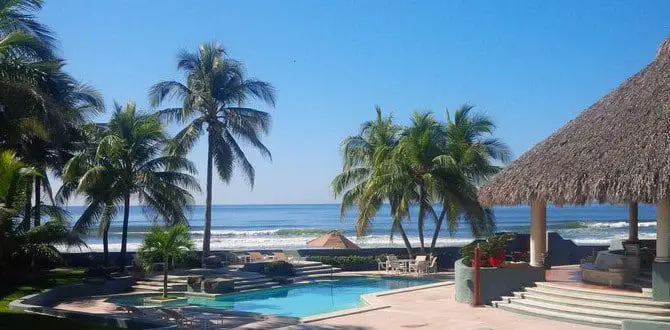 Some people don't like eating this food for many different reasons, but the principal one is cleanliness.
La Costa del Sol Recreational Park
A great location to spend time at La Costa del Sol is the recreational center. This touristic center is run by ITSU or the "Salvadoran Institute of Tourism" as it is locally known.
The park has two swimming pools for adults and two for children. Additionally, it has cabins available to the public for relaxation and comfort.
This park is a top destination for locals; therefore, it gets busy, especially on the weekends and national holidays.
How Safe is La Costa del Sol El Salvador?
La Costa del Beach area is safe. However, just like any other public beach in the country or Central America, you need to take precautions and protect your belongings.
Since La Costa del Sol is the most developed and most visited beach area in the country, safety is a top priority for local authorities. Police and security personnel are consistently patrolling the area.
If you need more information about staying safe in El Salvador, read the following, Is El Salvador safe; it will give an overview of safety in El Salvador.
Where to Stay at La Costa del Sol El Salvador?
The Costa del Sol is the most developed beach area in the country; therefore, finding the right accommodation that fits your needs will not be an issue. However, the cost per night will depend on what type of accommodation you are looking for.
Here are some hotels for you to consider; they have great reviews online: Hotel Tortuga Village, Izalco Hotel & Beach Resort, Hotel Rancho Estero y Mar, and Hotel Pacific Paradise.
In addition to the hotels mentioned above, La Costa del Sol has other accommodations such as villas, hostels, and private vacation homes for rent by owners (VRBO).
The Beach Area Location
La Costa del Sol is centrally located in the department of La Paz. The El Salvador International Airport is about 22 miles away, and San Salvador, the nation's capital, is about 40 miles away.
I am not going to tell you what the best way to get there is since depending on your starting location, it can change. Obviously, you can get to the area by driving, taking the bus, taxi, or a shuttle; it's up to you to decide how to get there.
If this is your first time visiting La Costa del Sol or El Salvador, I recommend you take a private shuttle. Taking a shuttle will be convenient and safer at the same time.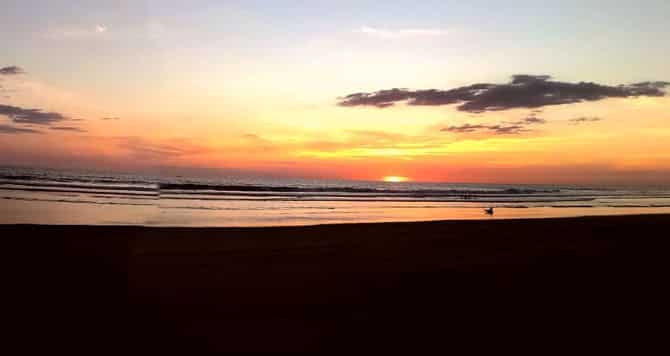 Recommendations
This beach area gets really congested, especially during the weekends and national holidays; for that reason, I recommend the following.
Avoid visiting during the weekends and national holidays.
If you want an area that is less crowded, stay away from the area around the recreational center.
Get a day pass for one of the hotels or beach resorts; it will give you access to their pool and other amenities.
These recommendations are mostly for people visiting for the day.
La Costa del Sol El Salvador
Undoubtedly, this location is one of the most visited beach areas in El Salvador; and it is also a top-notch destination in Central America.
La Costa del Sol is the perfect place to enjoy the sun during the day and also have fun with the night activities. The soft sand, the sun, the warm breeze, and the charming landscapes will make your visit to this particular area unforgettable.
Travel to El Salvador and visit La Costa del Sol, it is a spectacular area to enjoy by yourself, with family, or with friends.
Lastly, if you are not sure which beach is the best for you, take a look at this article, beaches in El Salvador. Also, if surfing is your thing, look at the following, surfing spots in El Salvador. Visit El Salvador and spend time at La Cost del Sol or one of the beautiful beaches in the country!