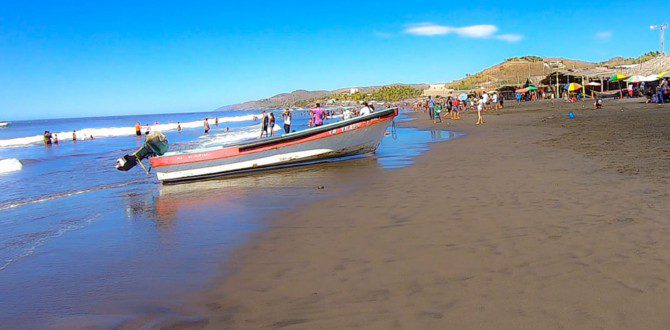 El Majahual El Salvador is one of the most visited beaches in the country. It's located in the department of La Libertad, about 23 miles from San Salvador and the same distance from the international airport. This beach is popular with Salvadorans looking for an inexpensive fun way to relax.
About El Majahual.
This excellent tropical beach is visited by local Salvadorans from the nearby cities looking to unwind and relax with family or friends. Furthermore, the beach is crowded, especially on the weekends and holidays; so, if you don't like crowds, this beach might not be for you.
The shores are filled with small stores made out of wood and palm trees selling all types of handmade souvenirs.
Is El Majahual safe to visit?
Yes, El Majahual is safe to visit, but you need to be aware of your surroundings. This is a beach that gets really crowded; therefore, petty theft is not uncommon.
Some of the safety concerns at El Majahual can be addressed when planning your visit; even if you are visiting for a day or a few days.
What to do at El Majahual beach?
At El Majahual beach, you can surf, take surf lessons, go swimming, play sports at the beach, or relax at the beach.
Surfing or taking surf lessons are a fun activity to do, but, keep in mind that this is not a top surf spot in the country; therefore the waves will be optimal for surfers with a low skill level or no skill at all.
The top activity at El Majahual is simply to spend time with family or friends. Groups or family or friends hang out talking to each other, swimming together, or relaxing at the beach. It's a family atmosphere!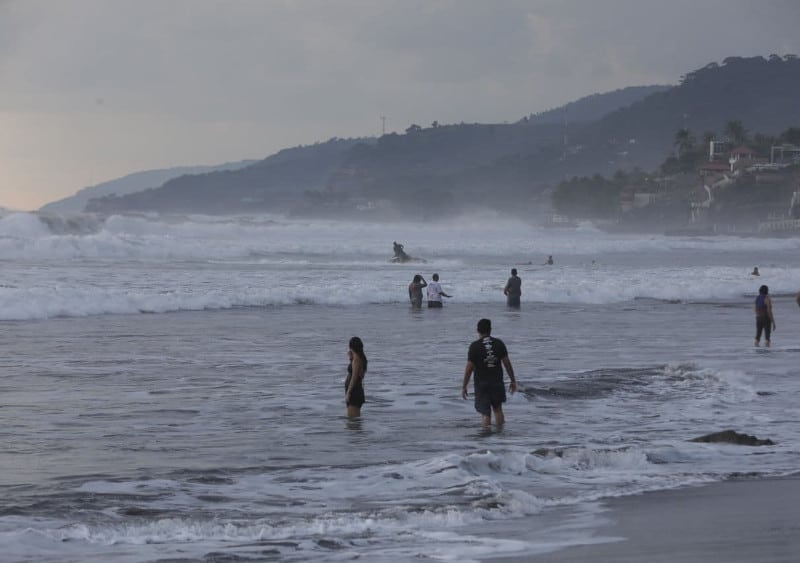 Accommodations.
There are accommodations at El Majahual or nearby. The vast majority are small family-owned hotels or hostels that offer excellent services and accommodations.
Another option is to spend the night at one of the Ranchos or palm huts along the shore. You will be sleeping in the open, in a hammock right at the beach; it's a fun thing to do!
Food options.
Whenever you get hungry, you can venture into one of the many huts along the shore and try some fresh seafood or local dishes.
They are also more formal restaurants, they are located inside the hotels or hostels. I am sure you will be able to find one that fits your needs.
And if you don't want to leave your spot in the sand, you can just buy a plate from one of the vendors walking up and down the beach; you can buy a small plate for one dollar.
Getting to El Majahual.
El Majahual is centrally located; therefore, there are different ways to get there.
Traveling by car is the quickest way, take the Coastal highway heading west, and 10 minutes past the city of La Libertad, you will be there. Better yet, just input the location into Google Maps and follow the directions.
Furthermore, there are bus routes available from nearby cities that will get you to this beach. However, I am not going to give you bus routes or the cost per trip as they might change. If you plan to take the bus, ask anyone local, about what your options are.
If this is your first time at El Majahual or El Salvador for that matter, I highly recommend you book a shuttle to get you there.
Conclusion
To sum up, El Majahual beach is a top touristic destination for Salvadorans who want a family-oriented relaxing atmosphere, at a low cost. Furthermore, everyone is welcome to this beach, it doesn't matter if you are a local or foreigner.