Los Cobanos El Salvador is a beach located in the western part of the country in the department of Sonsonate. Los Cobanos beach has a protected coral reef area that is popular for diving and snorkeling.
Playa Los Cobanos El Salvador is not your typical Salvadoran beach. This is the only coral reef of volcanic origin in the Central American Pacific Coast.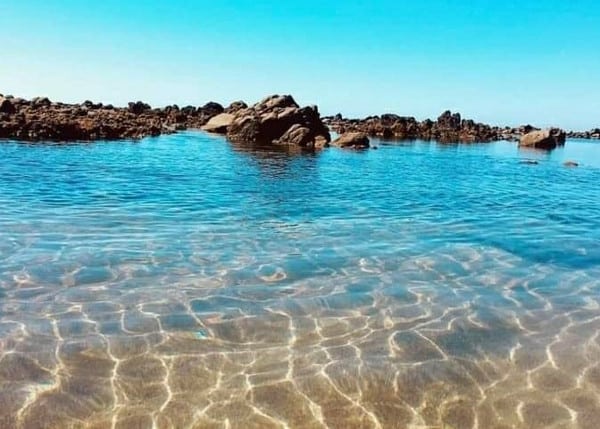 Los Cobanos Beach
Los Cobanos beach has gold-colored sand due to its coral reef, which gives it a unique look. The beach, especially during the low tide, is full of large volcanic rocks, which breaks the waves. The stones create water ponds with calm water ideal for enjoyment by all types of visitors.
Activities at Los Cobanos Beach El Salvador.
Los Cobanos beach is located in a remote area in a small fishing village; nonetheless, you can find plenty of activities to keep you busy. Snorkeling, diving, and fishing are some of the most popular options.
The biodiversity of fish and other sea life found in these rock formations makes this place ideal for snorkeling. You will not have to venture deep into the ocean to find colorful marine life.
Diving is an excellent option at Los Cobanos beach; this is the spot were most recreational diving gets done. You can dive deeper into the coral reef and see the variety of sea life. Furthermore, this beach has different shipwrecks for divers to explore.
By the way, if you are looking to go diving at Playa Los Cobanos, you need to make prior arrangements with a diving company. There is no diving company based at this location. Visit our page on diving in El Salvador to get more information about Diving in El Salvador.
This beach is located in a fishing village; therefore, fishing is an option. You can rent one of the many fishing boats found at the shore and spend as much time fishing as you want to.
Another activity at this beach is humpback whale watching; this option is best available December and January. You can contact a Salvadoran Touring company to find out is whale watching is an option during your visit.

Accommodations.
There is a variety of accommodations available in the area. They range from small privately own hotels to vacation rentals by owners. Here are some options for you to consider.
Los Cobanos beach area has accommodations for all types of visitors, from backpackers to those looking for more luxurious amenities.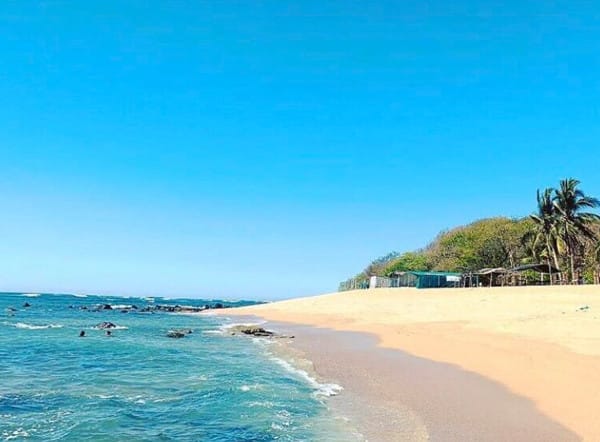 Los Cobanos beach El Salvador
Gastronomy.
In the village of Los Cobanos, you will find plenty of small restaurants that will offer excellent fresh seafood options and some typical Salvadoran dishes. If you stay at one of the all-inclusive resorts, meals will be included in the daily package.
Playa Los Cobanos El Salvador.
Los Cobanos beach is a charming stretch of golden sand, enclosed by a fringe of palm trees, that makes it perfect for relaxation. The colorful reef, protected by the government, is famous for snorkeling and scuba diving.
Even though this beach is located in a remote area, the combination of the beach, the volcanic coral reef, the gastronomy, the activities, and the people, make it one of the best beaches in El Salvador to visit.