El Tunco El Salvador is one of the most famous beaches in the country; and also one of the top surfing spots in El Salvador and all of Central America. This surf village, with only two streets, is famous for its excellent surfing, striking sunsets, and weekend parties.
Year after year, surfers and non-surfers from many countries visit El Tunco to take advantage of the excellent waves and everything else it has to offer.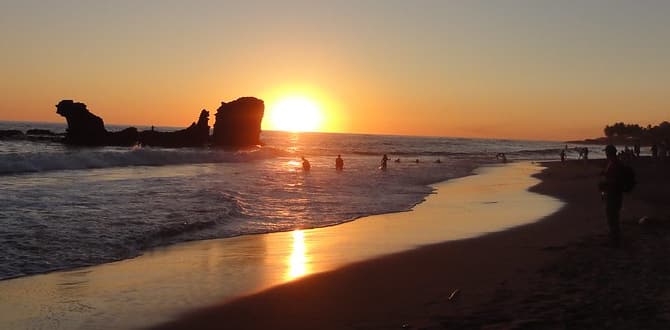 About El Tunco
For those of you who don't know, El Tunco beach in El Salvador is a small beachside town in the department of La Libertad, located about 40 kilometers from the international airport and about 45 kilometers from San Salvador.
As I previously mentioned, this beach is one of the top surf spots in El Salvador and in Central America. Most people in Central America who like surf knows about El Tunco beach.
Year after year, the total of international surfers visiting El Tunco increases. Furthermore in 2019, with the launch of Surf City, the beach will become even more popular.
When deciding to visit El Tunco, keep in mind that it is a small surf town after all. El Tunco beach is not a gorgeous beach with soft sand and long shores like Costa del Sol or El Cuco Beach. Instead, it's a black sand beach covered in dull grey rocks that move with the tide. This is a beach for surfing!
The Surfing at El Tunco El Salvador.
Yes, surfing is the top activity at this beach, there is no question about that. As I previously mention, people come from all over the world to ride the El Tunco surf, take surf lessons, or watch others surf.
El Tunco Beach has two main surf spots; Sunzal and Bocana. Sunzal is a right-hand point break with long lines that seem perfect for those who want to improve their skills or are at an intermediate level.
Bocana, on the other hand, is a stronger fast wave with tubular sections perfect for experienced surfers. This surfing spot has a stronger wave during hight tide; nonetheless, experienced surfers surf this spot all the time because it has consistent swells. Furthermore, Bocana has both right-hand and left-hand breaks.
In addition to the two main surf spots, El Tunco has two less popular breaks, La Bocanita, and El Sunzalito. At La Bocanita, you will find surfers of all skill levels enjoying the waves. On the other hand, El Sunzalito is a softer wave with sandy bottom perfect for beginners, this is the spot where most of the surf lessons take place.
Because of everything, it has to offer when it comes to surfing; El Tunco is one of the top surf spots in El Salvador and also in Central America. Stop by this excellent surf spot and ride some awesome waves.
Sunsets at El Tunco
Before I get to the awesome sunsets, let me tell you about the name of the beach. El Tunco is the name of both the town and the beach.
The name originates from the huge rock sitting in the ocean entrance that looks like a pig. El Tunco is a nickname given to pigs in El Salvador; so El Tunco means "The pig."
Another popular activity at El Tunco is watching the sunset. Right before the evening, people hang around the local bars or the beach enjoying local drinks and looking at the fantastic sunset.
The sunsets at this beach are extremely popular, a lot of people come to El Tunco, not for the surf, but to take photos of the sunset. The big rock in front and the sun setting in the background is an iconic image of El Tunco and the country.
The scene of foreigners and Salvadorans hanging around talking, and enjoying a Salvadoran sunset, is exceptional. Travel to El Salvador and experience the sunsets at El Tunco!
The Atmosphere.
The best way to describe the atmosphere at El Tunco is to split it into weekdays and weekends. The town seems totally different during the weekends as opposed to weekdays.
During the weekdays, the town is quieter; most of the people there are local surfers and foreigners enjoying the surf and relaxing. Of course, there is nightlife, but the nightlife is mostly calm.
However, on the weekend's things change as the area becomes a party town. It gets Crowded with local Salvadorans from the nearby cities looking to party and mingle among themselves and the foreigners.
The beach is well known for its weekend parties; there is live music on almost all the bars. Additionally, some visitors also choose to turn bonfires on the beach and spend the night partying under the stars.
As you can see, El Tunco is a different town on the weekdays than on the weekends, keep that in mind when deciding to venture into this beach town.
More about El Tunco beach in El Salvador
Just to recap, El Tunco is popular and well known for surfing, the sunsets, and the weekend parties. Now, as I previously mentioned, even if you don't like surfing, you should visit and experience El Tunco. Here is some more information about this village.
Accommodations.
El Tunco has plenty of accommodations for all types of visitors, from backpackers to those looking for more amenities. Here you will find plenty of accommodations for a single night to a few months.
At El Tunco, you will be able to find hostels at a low cost, such as Tunco Lodge or Hostal Casa Makoi. On the other hand, if your budget allows you to spend more in boutique hotels, look at Hotel Tekuani Kal or Boca Olas Resort Villas.
At El Tunco, you will be able to find accommodations that fit all of your needs. Click here to see a full list of Hotels available in the area.
Location and Transportation
El Tunco is conveniently located in the department of La Libertad. It is 25 miles away from the international airport and San Salvador, the nation's capital.
There are different ways to get to El Tunco; your starting location and mode of transportation will be de deciding factor on which route to take.
If you are in the neighboring countries of Guatemala, Honduras, or Nicaragua, you can now take a shuttle directly to El Tunco.
The shuttle runs from Guatemala almost every day, from Honduras about three times a week and from Nicaragua once a week.
To find out the best way to get to El Tunco, check with the hostel or hotel you are staying at, or contact Tunco Life, a well-known touring company. They will be able to tell you the best route and mode of transportation for you to take.
Best time to visit El Tunco
If you are visiting El Tunco for surfing, the best time to visit is during the wet season, from May to October. During these months, the swells are bigger, therefore ideal for surfing.
If you are visiting for the sunsets or just to see the beach, you can visit at any time. If you want to know more about when to visit El Salvador, read the following, the Best time to travel to El Salvador.
To sum up, El Tunco beach is one of the top surf spots in El Salvador and Central America. It has waves for all types of surfers from beginners to experienced.
You can visit El Tunco for surfing, the sunsets, or the parties, it's up to you. Regardless of your reason for visiting, I am sure you will have a great time.
El Tunco is a top surf spot in the country and I am sure you will enjoy it; but, If you are considering other beaches to visit, take a look at the page "Beaches in El Salvador." It will give you some ideas on what beaches to visit!
El Salvador Surfing