It is not a secret that most people that visit El Salvador do it because of its excellent beaches, the colorful small towns, and natural spots like volcanoes. Only a few people venture to the smallest country in Latin America specifically to visit the nation's capital. But should you visit El Salvador's capital city?
Yes, you should visit San Salvador, El Salvador's capital city, because it is safer, cleaner, and more organized than before. Also, because it is the historic cultural center of the country and it has plenty of things to do and sites to see.
Let me begin by dealing with the most prominent reason people avoided the nation's capital, security. Not long ago, San Salvador was considered a dangerous place to visit; the city had high levels of violence, was not clean, and was disorganized. However, that is not the case anymore!
Over the last few years, El Salvador's capital city has received a makeover; security has improved, and the city has become more organized, therefore, is cleaner and safer than before.
Is San Salvador, El Salvador's Capital city, safe to visit?
Yes, the Capital city of El Salvador is safe for visitors to stay in and explore. The government security measures implemented since 2019 have improved the city's safety; in fact, San Salvador is not as dangerous as it used to be!
Also, Crime in El Salvador has reached its lowest level since the civil war ended, which includes the capital city; this fact can be proved by reviewing crime statistics and reviews from people that have ventured into the capital city or the country.
Let's not forget that not long ago, due to the city's high levels of crime and violence, it was highly recommended to travelers visiting the country to avoid the capital city. But things are different now!
A clear example of how security in the capital city has improved is that San Salvador was usually in the top 50 most dangerous cities in the world and for many years in the top five; however, now the capital city is not even in the top ten most dangerous places in El Salvador.
This happened to my family: my mother is a devoted catholic! So, we always wanted to take it to San Salvador to visit the three churches around the San Salvador historic district (the national cathedral, El Rosario, and El Calvario); however, she always refused to go because of safety concerns.

In late 2021, she finally gave in and allowed us to take her to see these iconic churches. At first, she seemed concerned about being in what the news for years described as a dangerous place; however, about 30 minutes into exploring the national cathedral, her demeanor changed.

She realized that the area was not dangerous and happily spent over six hours walking around, exploring the churches and the plazas. We took her back to the churches in 2022, and she is already looking forward to visiting in 2023.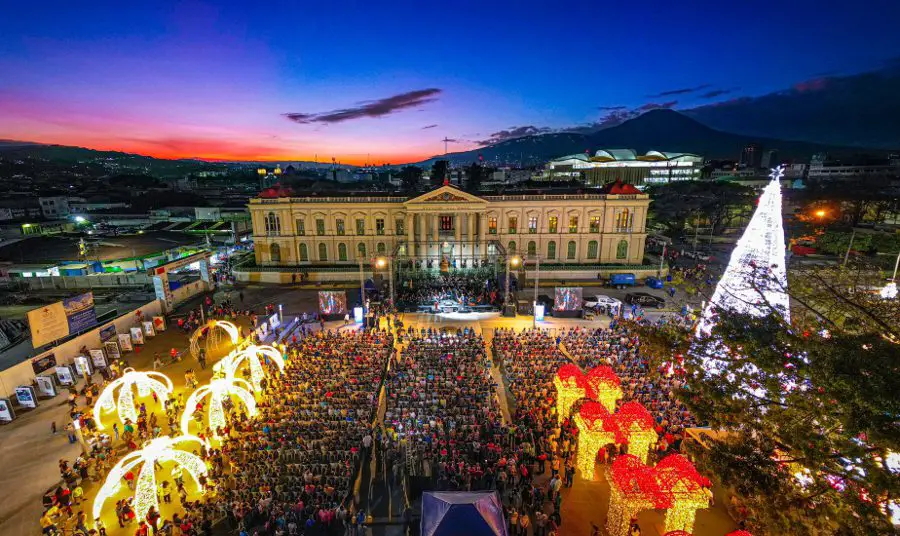 The city of San Salvador is now cleaner and more organized!
There is no secret that in the past, Salvadorans and foreigners avoided the capital city due to its uncleanliness and disorganization. It was challenging to walk around the city, especially near the landmarks, with all the street vendors and the disorganization.
But now, San Salvador is cleaner and more organized! It is not yet, at the level that a capital city needs to be to attract tourists and investors; however, it is way better than before.
Authorities have removed informal street vendors and moved them into proper markets; this has helped immensely with cleanliness and organization. Now there is ample space to walk around the landmarks and plazas.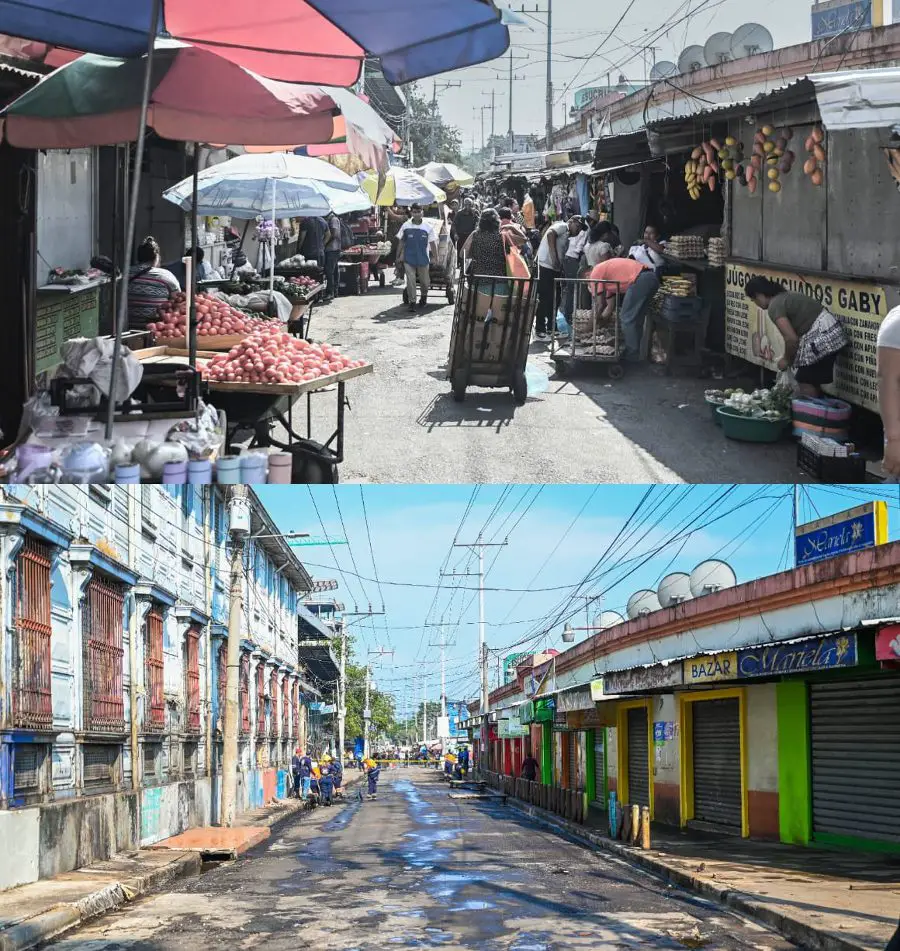 The reorganization of the city is continuing in 2023. "It is impressive to see the streets of the Historic Center that were previously hampered by informal vendors," stated deputy Edgardo Mulato while visiting the newly reorganized area around El Calvario church.
Now the citizens of the capital can walk freely through these streets that for more than 50 years did not see the light and that are now part of a historical and cultural legacy. We are recovering the heart of El Salvador [San Salvador] and giving it back to the people.
Mario Duran, Mayor of San Salvador.
The capital city is the historic cultural center of the country
El Salvador's capital city is worth visiting because it is the historic cultural center of the country. This city has iconic buildings and plazas, which have been at the forefront of the country's cultural history. Most of these are located in the San Salvador historic district.
These buildings and plazas have been part of the country's history; for example, liberty Plaza (Plaza Libertad) is where the Central American independence was announced. Then, there is the National Cathedral, which has been rebuilt numerous times and is the resting place of Saint Oscar Arnulfo Romero.
SEE ALSO: Top 15 things to do in San Salvador, the capital city of El Salvador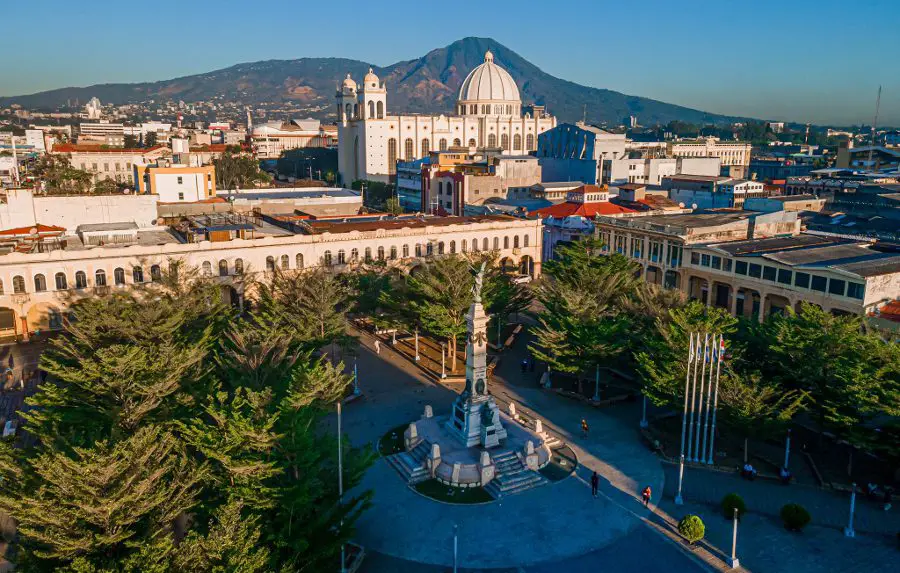 Plenty of things to do and see in San Salvador
The capital city of El Salvador has plenty of things for you to do and sites for you to explore! There are plenty of activities to keep families or singles busy for days. Also, San Salvador is near other top tourist destinations.
Anyone that wants to spend time outdoors in the capital can visit the downtown areas and stroll around the iconic plazas and colorful streets.
Those wanting to learn about El Salvador's history can visit the many iconic building, churches, plazas, and museums and get to know their fascinating history.
The capital city also has vibrant nightlife; for example, the pink zone (La Zona Rosa) has bars, restaurants, and dancing clubs. This area is excellent for relaxing, having a few drinks, and socializing with foreigners and locals.
All in all, the capital city of El Salvador has plenty of activities and places to see and explore. San Salvador is a fantastic city to spend time with family and friends!
Visit San Salvador, El Salvador's capital city
If you haven't done it yet, or haven't visited the capital city in a long time, it is time to take the plunge and visit the capital city of El Salvador! San Salvador has changed and is changing for the better even more; the municipality is spending a lot of money on making it a must-see city in El Salvador.