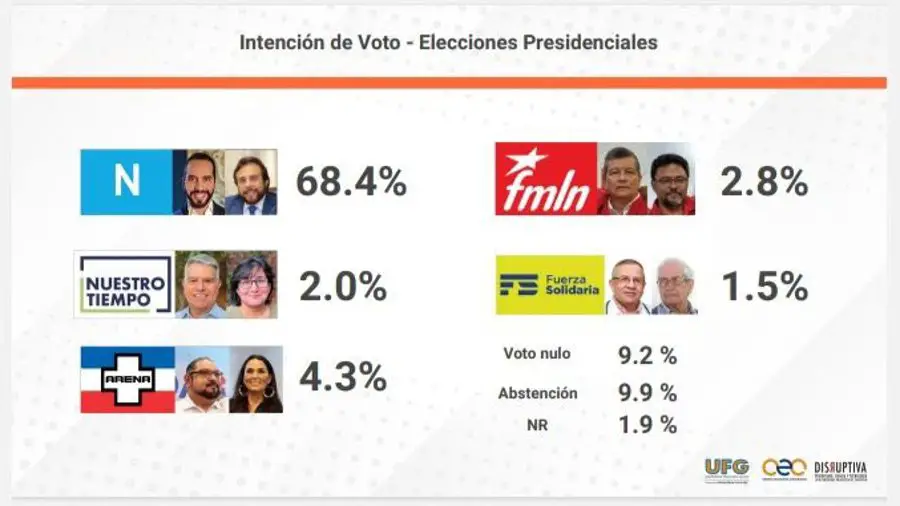 President Nayib Bukele would obtain 68.4% of the votes in next year's presidential election, according to the latest survey by Francisco Gavidia University (UFG).
Oscar Picardo, director of the Institute of Science, Technology and Innovation of the Francisco Gavidia University (UFG), presented the information in today's Frente a Frente TV interview.
If we add all the abstentions, the invalid votes, and the results themselves [of all opposing candidates]. Not even in this context, and at this time, a second round could be reached. It is a clear picture of how the campaign process begins." Oscar Picardo.
Abstentionism, with 9.9%, is in second place, followed by null voting with 9.2%, a 19.1% total between the two.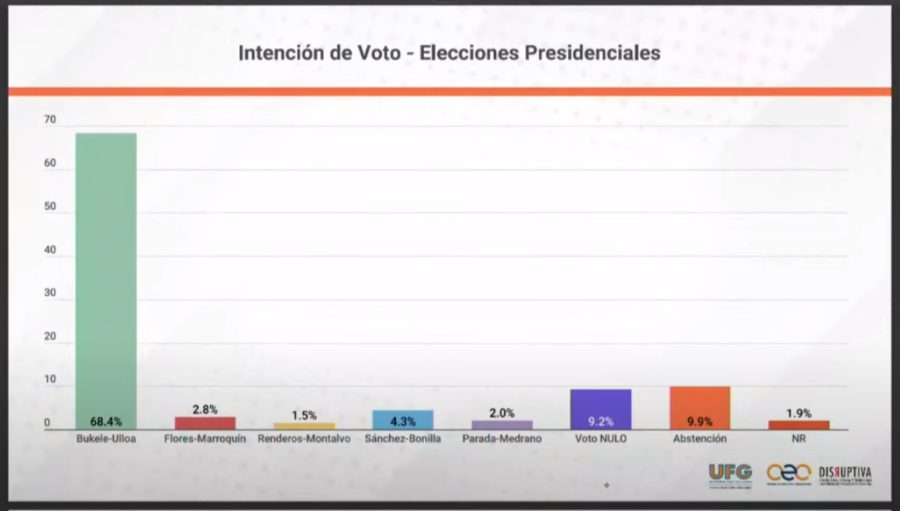 SEE ALSO: Nayib Bukele with an easy path to a second presidential term in El Salvador
The Nationalist Republican Alliance (ARENA) party, with 4.3% of the votes, is in fourth place; with 2.8%, the Farabundo Martí National Liberation Front (FMLN) gets the fifth place. The last two spots belong to Nuestro Tiempo, with 2% of the votes, and Solidarity Force, with 1.5%.
According to Picardo, 1,920 people from San Miguel, Santa Ana, San Salvador, and Santa Tecla were interviewed for the survey. The interviews were conducted from August 15 to 21, 2023.
SEE ALSO: President Bukele's possible re-election continues to be a hot topic of discussion
Picardo also noted that the results could be affected by the electoral campaign that has not officially started yet and also by the vote of Salvadorans living abroad.
The presidential election will be held on February 4, and a second-round presidential runoff is scheduled for March 3, 2024. Salvadorans abroad will have the option to vote via the Internet and face-to-face at specific locations.
Bukele's popular security policies, which have reduced homicides in El Salvador, and mediatic power will give him an easy path to a second presidential term. President Bukele is the most popular leader in Latin America, maintaining an approval rate above 75 percent during his entire presidential term.