Holy week in El Salvador or Eastern in El Salvador s one of the most celebrated cultural traditions of the country. This holy week, for many Salvadorans, is the time for prayer and reflection. But also, a time to get together with family and enjoy the celebration together.
Eastern in El Salvador is celebrated similarly to other nations in Central America. Basically, this holiday is a Catholic celebration, were churches all over the country celebrate the passion, death, and resurrection of Jesus Christ.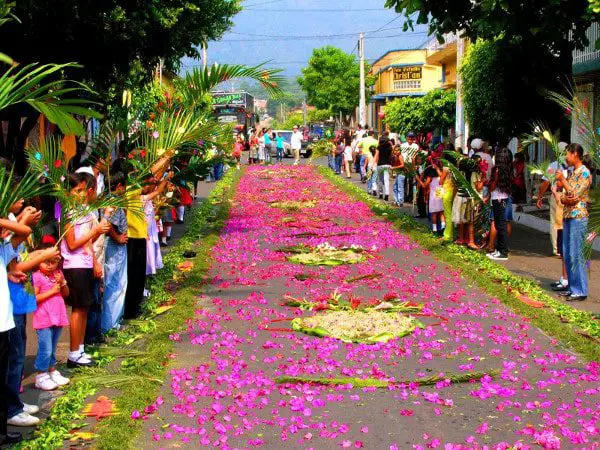 The overall aspect of Eastern in El Salvador is religious, every municipality all over the country has the same daily celebrations, which are established by the Salvadoran archdiocese.
Nevertheless, Holy week in El Salvador is celebrated a bit differently in some cities or municipalities; the religious part remains the same, but they add unique things to the overall celebration of this national religious holiday.
In towns such as Sensuntepeque, Suchitoto, Juayua, Santa Ana, or San Salvador, to name a few, the holy week has a distinctive feel to it.
So, if you want to get a more unique look and feel to the Holy week in El Salvador, I recommend you visit one of these towns during the eastern celebrations.
When is Holy Week in El Salvador 2021?
The religious celebrations start on Ash Wednesday, which is on February 17th and ends on Easter Sunday, which is April 4th.
| Day | Date |
| --- | --- |
| Ash Wednesday | February 17th |
| Palm Sunday | March 28th |
| Holy Monday | March 29th |
| Holy Tuesday | March 30th |
| Holy Wednesday | March 31st |
| Holy Thursday | April 1th |
| Holy Friday | April 2nd |
| Holy Saturday | April 3rd |
| Easter Sunday | April 4th |
Celebrating Eastern in El Salvador.
Holy week in El Salvador gets celebrated differently than other countries, not the religious aspects, but almost everything else.
For example, unlike in the US. El Salvador does not have Easter Bunny or egg hunts, the entire atmosphere is that of religion and family.
Without a doubt, Holy Week in El Salvador, just like Christmas week, is one of the most important celebrations for the Roman Catholic Church and the majority of Salvadorans.
Street carpets. A beautiful tradition during good Friday.
The street carpets on Holy Friday, or Alfombras, are a colorful tradition that is better appreciated in towns that take pride in this tradition.
On Holy Friday, each town or municipality tries to put their best foot forward by creating unique street carpets. These carpets are used during the procession of the holy burial or Procesión Del Santo Entierro.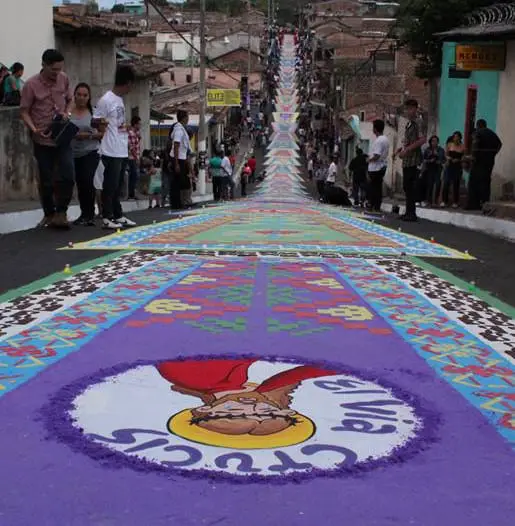 The colorful street carpets are made out of colored salt or sawdust, and they show a vast array of unique designs.
One thing is for sure, making these carpets has become a sense of pride for many municipalities like Sensuntepeque, who claims that one of their street carpets is the largest in El Salvador.
The community that makes the largest street carpet in Sensuntepeque has a committee that is responsible for collecting and managing the carpet's fund. Throughout the year, events and fundraisers are held to raise funds for a street carpet that will last one day.
Holy Week in El Salvador. Facts and things to know.
This is a list of things that you might find interesting about this week!
Schools close the entire week.
Banks close starting on Thursday and open the following Monday.
All governmental offices close starting on Wednesday, and in some municipalities, they close the entire week.
On Easter Sunday, public beaches and popular touristic spots get really crowded.
On Holy Friday, Salvadorans don eat meat, this is a time when many families cook their own dishes made with dried fish.
A large number of towns ban alcoholic drinks on Holy Friday, and in some municipalities, the entire weekend.
Some Municipalities close streets starting on Thursday, so locals can make their street carpets without having to worry about traffic.
During this week, you will notice the color purple all over; for Catholics, purple is the color of repentance. However, on Holy Friday all of the purple turn into black as is a sad day because Jesus is dead.
On a sad note, the weekend that ends on Easter Sunday is known for having a lot of car accidents involving drunk drivers, so be careful if you are on the road.
Tourism during Eastern in El Salvador.
During eastern in El Salvador, local and international tourism increases, especially to the most popular vacation spots in the country. Many local families use this time off to visit the beach or other popular destinations.
Additionally, many Salvadorans who live abroad use this time to return to the country and spend time with family and friends. Most of these Salvadorans who are visiting, spend the eastern weekend at the beach or other familiar vacation spots.
During Easter Sunday, the most popular beaches in El Salvador for local families get really crowded. Public beaches such as El Majahual, La Costa del Sol, El Cuco, and La Libertad, get more visitants than usual.
For many Salvadorans, visiting a beach during Easter Sunday is a traditional thing to do.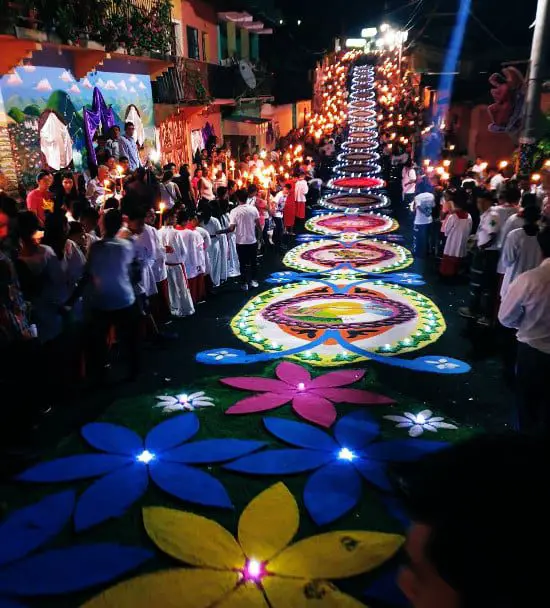 Sensuntepeque Street carpet.
Holy week in El Salvador.
Even though the country does not have an official religion, Roman Catholic traditions are the most commonly practiced in the nation, especially the Holy Week or Semana Santa.
If you are in the country during this time, seeing and experiencing this celebration should be one of the top things to. Get to know first hand how Easter in El Salvador is celebrated.