Holy week in El Salvador is one of the most celebrated cultural traditions of the country; it is a time that Salvadorans use for prayer, reflection, and gratitude. Easter week in El Salvador is also a time to get together with family and friends to enjoy the celebrations.
Easter in El Salvador is celebrated similarly to other nations in Central America; churches all over El Salvador commemorate the passion, death, and resurrection of Jesus Christ with processions and masses.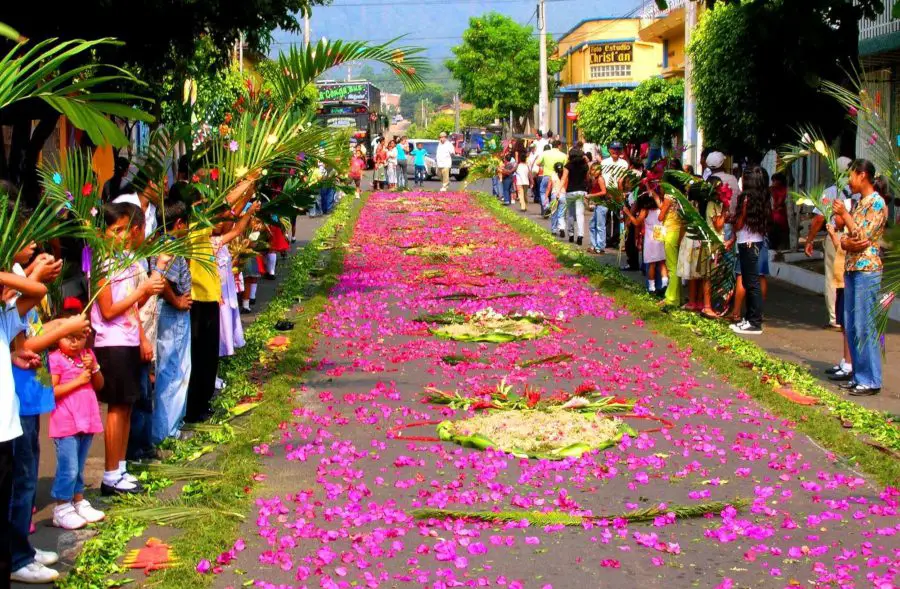 Easter Week in El Salvador
The catholic celebrations begin on Palm Sunday and conclude on Easter Sunday. Celebrating the 40 days of Lent or Cuaresma is one of the most important traditions celebrated in El Salvador; Salvadoran Christians use them to strengthen their faith and prepare for the Holy Week.
The 40 days of lent or Cuaresma period starts on the Monday before Ash Wednesday and ends on Holy Thursday, before the Lord's Last Supper mass. The lent period does not include Sundays.
The holy week revolves around Roman Catholic traditions and festivities; it celebrates the passion and death of Jesus Christ and his victorious resurrection.
Holy Week in El Salvador 2023 Dates
Holy Week in El Salvador, just like Christmas, is one of the most important celebrations for the Roman Catholic Church and most Salvadorans.
2023 Holy Week in El Salvador Dates

| Day | Date |
| --- | --- |
| First day of lent or Cuaresma | February 22nd |
| Palm Sunday | April 2nd |
| Holy Thursday | April 6th |
| Holy Friday | April 7th |
| Holy Saturday | April 8th |
| Easter Sunday | April 9th |
Lent or Cuaresma
During the 40 days of lent or Cuaresma, faithful Christians are called to strengthen their faith. During the six Sundays that make up Lent, the themes at mass speak of spiritual conversion, penance, sin, and forgiveness.
Palm Sunday
Palm Sunday recalls and celebrates Jesus Christ entering Jerusalem and being welcomed by the people waving palm branches. For Christians is a reminder to accept Jesus into their hearts. During this Sunday, Christians take palms to masses and get them blessed with holy water. Then take the palms home and use them to reverence a crucifix or decorate a statue, image, or sacred object.
Holy Thursday
Holy Thursday is the remembrance of the Last Supper of Jesus Christ; it is when he established the sacrament of Holy Communion before his arrest and crucifixion.
This day celebrates the Last Supper or the final meal Jesus shared with his disciples in Jerusalem. It is also the last day of Lent or Cuaresma.
Good Friday
Good Friday is the celebration of Jesus Christ's passion; it is a sad day that commemorates the Crucifixion of Jesus Christ and culminates with the holy burial.
In El Salvador, Good Friday is observed as a day of sorrow, penance, and fasting. It is common for most Salvadorans not to eat meat, only fish. Also, one crucifix is prominently displayed in most Salvadoran homes.
Holy Saturday
Holy Saturday is also called Easter Vigil; it celebrates the 40-hour-long vigil that Jesus Christ's followers held after his death and burial on Good Friday and before his resurrection on Easter Sunday.
Easter Sunday
Easter Sunday is also known as Ressurection Sunday. Christians believe that God raised Jesus from the dead as a sign that he accepted his sacrifice for the redemption of mankind.
Catholic Churches across El Salvador are festively decorated with an Easter Cross, a plain cross without a corpus draped in flowing white or gold materials.
Easter Week Colors
Another big part of El Salvador's traditions during easter is the colors Christians use to symbolize different moments in celebrations.
Purple: It is the religious color used until the third Sunday of Lent and is associated with mourning, penance, and sacrifice.
Pink: It is the color used on the fourth Sunday of Lent. It is worn to remind us that the preparation season is coming to a close; it is meant to give us hope and encouragement.
Red: It is the color used on Palm Sunday, and it symbolizes the Passion of the Lord.
Holy Week in El Salvador Celebrations
The overall aspect of Easter in El Salvador is religious; every municipality all over the country has the same daily celebrations, which are established by the Salvadoran archdiocese.
Nevertheless, Holy week in El Salvador is celebrated differently in some cities or municipalities; the religious part remains the same, but they add unique things to the overall celebration to make it more memorable.
In towns such as Sensuntepeque, Suchitoto, Juayua, Santa Ana, or San Salvador, to name a few, the holy week has a distinctive feel to it.
So, if you want to get a different look and feel for the Holy week in El Salvador, I recommend you visit one of these towns during the Easter week celebrations.
Holy week in El Salvador gets celebrated differently than in other countries, not in the religious aspects, but almost everything else. For example, unlike in the U.S., El Salvador does not have Easter Bunny or egg hunts; the entire atmosphere is of religion.
Good Friday Street Carpets
The street carpets on Holy Friday or Alfombras de Semana Santa are a colorful tradition. This ritual is better in small towns that pride themselves on this beautiful tradition.
On Holy Friday, each town or municipality tries to put its best foot forward by creating unique street carpets. These carpets are used during the procession of the holy burial or Procesión Del Santo Entierro.
The colorful street carpets are made out of colored salt or sawdust, and they show a vast array of unique designs. Making these carpets has become a sense of pride for many municipalities like Sensuntepeque, which claims that one of its street carpets is the largest in El Salvador.
The community that makes the largest street carpet in Sensuntepeque has a committee responsible for collecting and managing the carpet fund. Throughout the year, events and fundraisers are held to raise funds for a street carpet that will last one day.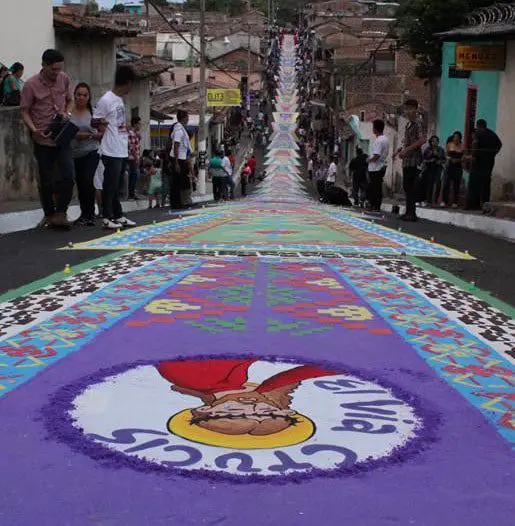 Things to Know About Easter in El Salvador
This is a list of things that you might find interesting about this week!
Schools close the entire week.
Banks close starting on Thursday and open the following Monday.
All governmental offices close beginning on Wednesday, and in some municipalities, they close the entire week.
On Easter Sunday, public beaches and popular touristic spots get crowded.
On Holy Friday, Salvadorans don't eat meat; this is when many families cook their dried fish dishes.
Many towns ban alcoholic drinks on Holy Friday, and in some municipalities, the entire weekend.
Some Municipalities close streets starting on Thursday; this is so locals can make their street carpets without worrying about traffic.
During this week, you will notice the color purple all over; for Catholics, purple is the color of repentance. However, on Holy Friday, all purple turns into black which is a sad day because Jesus is dead.
On a sad note, the weekend that ends on Easter Sunday is known for having many car accidents involving drunk drivers, so be careful if you are on the road.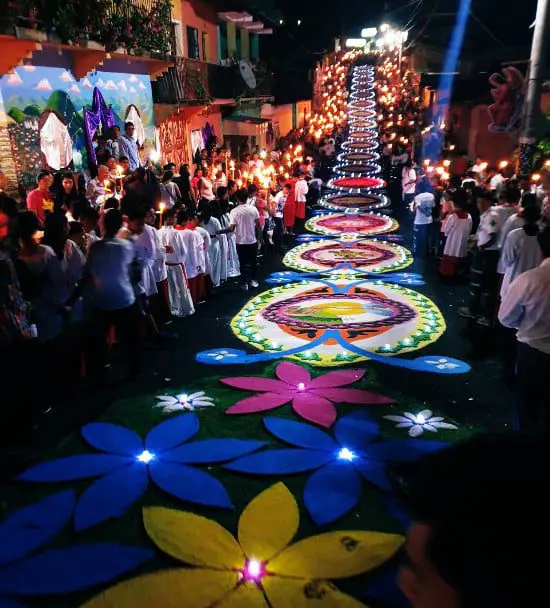 Tourism During Easter Celebrations
During Easter in El Salvador, local and international tourism increases, especially to the country's most popular vacation spots. Many families use this time off to visit the beach or other popular destinations.
Additionally, many Salvadorans who live abroad use this time to return to the country and spend time with family and friends.
During Easter Sunday, the most popular beaches in El Salvador get crowded. Public beaches such as El Majahual, La Costa del Sol, El Cuco, and La Libertad get more visitors than usual. For many Salvadorans, visiting a beach during Easter Sunday is a traditional thing to do.
Holy Week in El Salvador
Even though the country does not have an official religion, Roman Catholic traditions are the most commonly practiced in the nation, especially Holy Week or Semana Santa. Seeing and experiencing these celebrations is the top thing to do in El Salvador.