The city of La Palma in Chalatenango is a colorful small town known for its handcrafted objects made out of wood or Copinol Seeds. These crafts are made in numerous shops all over town and sold all over the country. Furthermore, La Palma is one of six cities in the picturesque artisan route or Ruta Artesanal.
The city is located at an elevation of about 1000 feet above sea level; therefore, it enjoys a colder mountainous climate almost the entire year. The city is located in the department of Chalatenango, about 80 kilometers from San Salvador and about 10 kilometers from the Honduran border.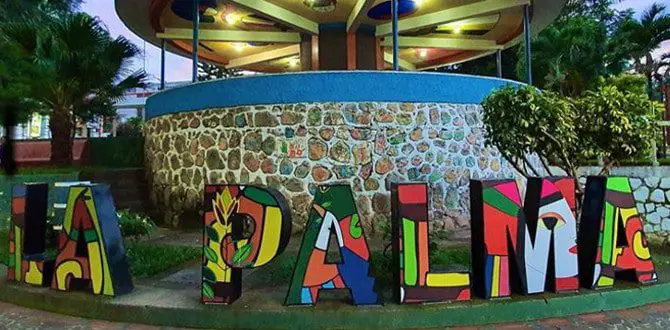 Artisan Route or Ruta Artesanal.
The colorful city is part of the colorful Artisan Route or Ruta Artesanal. It is an enjoyable route that combines various types of attractions that revolve around local arts and history. The other charming towns on this route are San Ignacio, Citala, San Sebastian, Ilobasco, and Suchitoto.
Fernando Llort and Naif Art.
Renowned Salvadoran painter Fernando Llort moved to the city of La Palma in the early '60s. Llort is credited with the creation of Naif art, a type of art design recognized all over the country.
Naif art is a technique that consists of representing moments of everyday rural life, as well as typical flora and fauna into Copinol Seeds or wood. These types of crafts are the most recognizable from this colorful town.
Llort came to La Palma in the 1960s, at which point he worked on developing Naif Art. A technique that he shared with others in the city.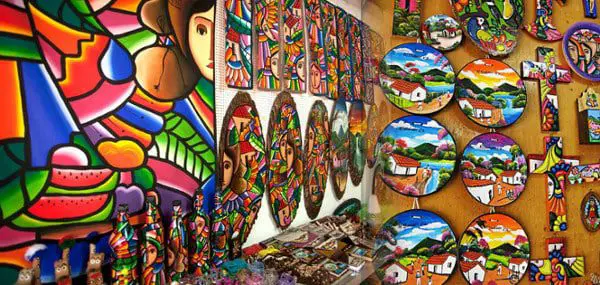 Local Handicrafts
Activities in La Palma.
These are some activities that you can do while visiting La Palma. They are recommendations that can help you enjoy your visit to this colorful town.
Even though La Palma is a small town, there are plenty of activities that can be done.
Other Activities near La Palma.
These are some activities that are available to do near the city of La Palma.
The area around La Palma is perfect for doing outdoor activities.
La Palma, the cradle of peace.
The city is also known as the cradle of peace. Because in 1984, President Napoleon Duarte met in this city with rebel guerrilla leaders in an attempt to end the civil war. This was the first time both sides agreed to peace talks since the civil conflict started around 1980.
La Palma
Accommodations in La Palma Chalatenango.
The city and surrounded areas have numerous hotels where you can enjoy a quiet weekend with family or friends. These are some popular accommodations in the city and its surroundings.
There are other options available in addition to the ones listed above. Furthermore, in this area, you will find fantastic camping options.
To sum up, the colorful and unique city of La Palma is a fantastic place to get away from the hustle of city life or hot weather.
At La Palma in Chalatenango, you will find a relaxed atmosphere with plenty of character, great handmade crafts, and a fantastic cup of coffee to keep you warm. Additionally, the views from this town high up in the mountains are just astonishing.
So, Travel to El Salvador and visit the colorful city of La Palma, the weather is fantastic, the people are amazing, and the scenery is even better!