Lake Suchitlan is an artificial lake part of Rio Lempa, one of the most recognizable rivers in El Salvador. Suchitlan Lake is a natural habitat for many species of birds and fish; additionally, it has extensive flora and fauna growing and living in and around the lake.
Suchitlan Lake is a hidden gem nestled amidst the breathtaking landscapes of El Salvador, near San Salvador, El Salvador's Capital city. This expansive freshwater lake captivates visitors with its serene beauty and is significant to the country's cultural heritage.
Lake Suchitlan in El Salvador is a spectacular artificial lake created in the 1970s; it resulted from the construction of the Cerron Grande Hydroelectric Power Plant.
The lake covers an impressive surface area of approximately 135 square kilometers and is surrounded by lush green hills and volcanic landscapes; the lake's scenic beauty is nothing short of mesmerizing.
SEE ALSO: El Salvador's Ecotourism. 10 Incredible Salvadoran Natural Parks Worth Exploring!
From its ecological importance to the country and the excellent recreational activities it offers, Lake Suchitlan provides a unique experience for travelers seeking to explore the wonders of El Salvador.
Adventure and Recreation
For adventure enthusiasts, Lake Suchitlan offers an array of outdoor activities. The lake's calm waters are perfect for kayaking and paddleboarding, allowing visitors to soak in the tranquility of the surroundings while engaging in recreational pursuits.
Fishing trips are also a choice and can be set up at various points along the lake; these trips provide a unique opportunity to observe the local way of life and savor the thrill of catching fish.
Taking a boat ride and venturing into Lake Suchitlan is another option available for recreation. Boat rides are available for visitors to see all the flora and fauna that live along the banks of the lake; the boat ride can also be taken to explore the small islands in the lake.
Another option is to spend time at the visitors center near Suchitoto; it is a perfect area for relaxing. The center has some small restaurants and shops where visitors can witness all the splendor of the lake and, at the same time, buy souvenirs made locally.
Lastly, visitors can take the La Luna Ferri and visit other small towns located around Suchitlan Lake.
Explore Lake Suchitlan Surroundings, especially Suchitoto
Embarking on a journey around Lake Suchitlan unveils a multitude of exploration opportunities, especially the colorful towns. However, Suchitoto, known as the cultural capital of El Salvador, is the best option.
Suchitito offers a charming colonial atmosphere with its cobbled streets, vibrant art galleries, and stunning architecture. Visitors can immerse themselves in the town's rich history by visiting the Santa Lucia Church and the Casa del Teatro. The lake is a short distance from the city center!
SEE ALSO: Visit Suchitoto El Salvador. Extraordinary colonial town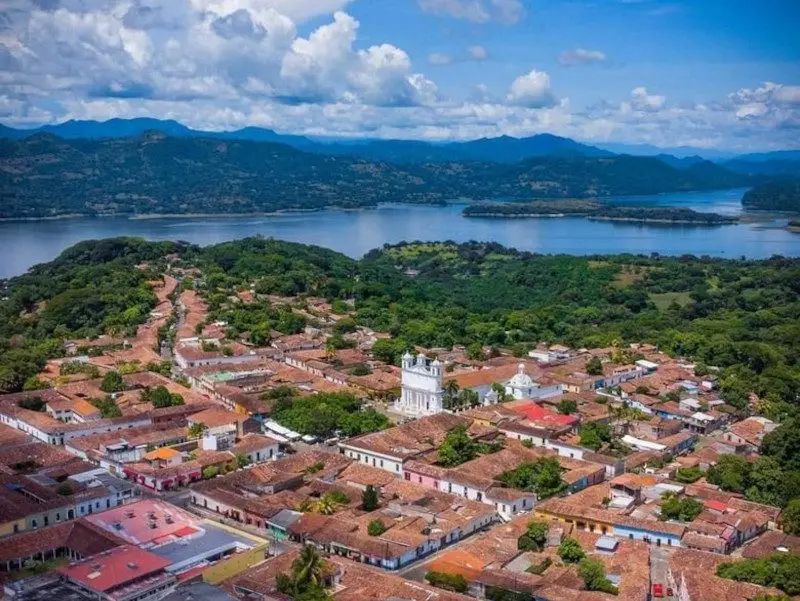 Lake Suchitlan is a Haven for Biodiversity
Lake Suchitlan serves as an ecological hub, supporting a diverse collection of plant and animal species. Its pristine waters are home to various fish species, including tilapia and mojarra, attracting avid anglers and providing a source of livelihood for local communities.
Furthermore, bird enthusiasts can indulge in the lake's rich avian life, as migratory birds such as herons, cormorants, and egrets find solace in its tranquil surroundings.
The lake is vital to the country's natural water and energy reserves; therefore, efforts are underway to preserve the natural beauty and ecological balance of Lake Suchitlan.
Local organizations and government agencies work together to promote sustainable tourism practices and protect the lake's fragile ecosystem.
Travelers can support these initiatives by respecting the environment, adhering to responsible tourism guidelines, and engaging in activities that minimize negative impacts on the surroundings