After a dramatic increase in homicides over three days in late March 2022 that left 87 Salvadorans dead, President Nayib Bukele and his security cabinet took swift action to stop the violence and start a gang crackdown; they requested the Legislative Assembly the approval of the State of Exception.
President Bukele asked Congress to immediately approve the state of exception to deal with the increased violence and gang activity. As expected, the Salvadoran legislature approved Bukele's security cabinet request.
The State of Exception, which stops some constitutional rights, was approved on March 27, 2022, for 30 days. Since then, the Salvadoran legislative branch has extended the state of exception over 18 times; each extension is for 30 days.
The gang crackdown measures taken by the president and his security cabinet have pleased most Salvadorans as the violence has decreased; however, many local and international organizations consider this security measure too extreme as it violates individuals' human rights.
El Salvador's gang crackdown using the State of Exception continues, and some of the questions to analyze are as follows: Has the plan produced good results so far? Are individual human rights being violated? Can this approach produce positive long-term results?
Has the plan produced good results so far?
Yes, the gang crackdown has produced positive results! Since the state of exception began at the end of March, the country's homicides have drastically dropped; also, El Salvador has achieved over 150 days with zero homicides.
What we can inform the Salvadoran population is that, in reality, for almost one year since the Exception Regime was requested from this honorable Legislative Assembly, the results are irrefutable." Mauricio Arriaza Chicas.
Furthermore, 2022 ended as the safest year in El Salvador in over 30 years. 2022 ended with 496 homicides for a daily rate of 1.4 and an annual rate of 7.8 murders per 100,000 people.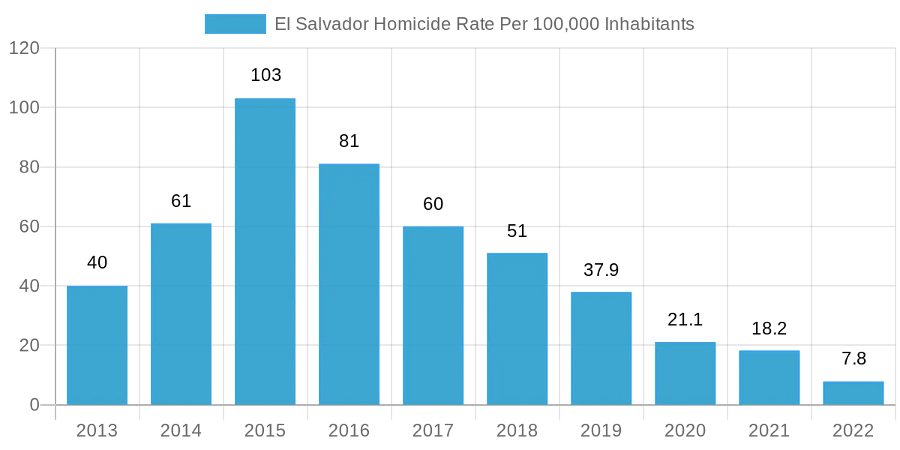 2023 is on pace to shatter the 2022 murder numbers! As of September, El Salvador's Homicide Rate for the year is 0.41 Per Day or 2.3 Murders Per 100,000 Inhabitants. El Salvador could close the year with 148 homicides.
According to the government, the gang crackdown has taken over 71,000 presumed gang members off the streets, which has helped reduce crime. It also has made communities that were previously dangerous safe.
The sense of security in these communities, previously controlled by these criminal groups, is now excellent. Even media outlets critics of the Bukele administration acknowledge that the gangs lost control of these communities.
The Salvadoran legislature also made changes to the penal code! The changes do not allow gang members the option of bail or house arrest. Also, if convicted, they will be sentenced under the new guidelines, which have longer jail sentences.
El Salvador's gang crackdown has produced good results so far! And even though these results are in a short period, Salvadorans hope they can be maintained or improved even more. However, some Salvadorans are also worried about the issue of Human Rights Violations.
Are individual's human rights being violated?
local and international human rights organizations have regularly criticized the State of Exception developed by the Bukele administration; their argument is that the security measure has and continues to violate individual human rights.
Have some individuals' human rights been violated during the state of exception? The answer is a definite Yes! There is plenty of information available on cases that have already happened.
Human Rights Watch and CRISTOSAL released two articles (in May 2022 and January 2023) claiming the vast evidence that Salvadoran authorities have committed grave human rights violations since adopting a state of emergency.
We have documented on the ground that some of the people detained have nothing to do with gangs, and are innocent Salvadorians, working people, and children who have been arrested and now face Kafkian legal proceedings." Juan Pappier, Human Rights Watch.
Tamara Taraciuk, America's acting director at Human Rights Watch, wants the Salvadoran government to stop the State of Exception and asks that Latin American leaders speak against President Bukele.
Democratic leaders from across the ideological spectrum should speak up against Bukele's repressive policies. But if leaders don't speak out, it may well be impossible to curb the dangerous democratic backsliding in the region, of which Bukele is a blunt example." Tamara Taraciuk and Noah Bullock.
The latest organization to ask for the Salvadoran State of Exception to end is the European Union; they requested in September of this year.
Even though the measures implemented by the Bukele administration have been heavily criticized, Salvadorans seem to approve of them and want them to continue.
Can this approach produce positive long-term results?
Yes, it can; however, the Bukele administration needs to implement a plan to help kids and families living in impoverished communities. These kids need options that can keep them away from gangs.
Many people believe this gang crackdown is a bigger version of past failed policies, such as the "Mano Dura" of the Paco Flores presidency and the "Super Mano Dura" of the Tony Saca administration.
The Bukele administration's policies will have a better result than the harsh approaches used during the ARENA administrations! This is why it will happen!
First, during the Mano Dura and Super Mano Dura, most of the gang members arrested were released within weeks or months of their arrest, but that will most likely not occur this time. House arrest or bail is not available to gang members.
Second, convicted gang members will not have the luxury of going into prisons controlled by their gangs as was the standard before the Bukele administration. Gang members will go into the CECOT maximum security jail.
Not having the option of bail or house arrest, facing long sentences, and being forced to be in cells with members of opposing gangs is why this harsh measure will have positive results in the long run.
My Point of View
I believe the actions taken by the Bukele administration were necessary and will produce positive results in the short and long term. However, I am not naive to think individual rights will not be violated and that incarcerating these gang members will solve everything.
The hope is that this state of exception could serve as a stepping stone to help communities deal with the gang problem and move forward; time will tell if that is the case.