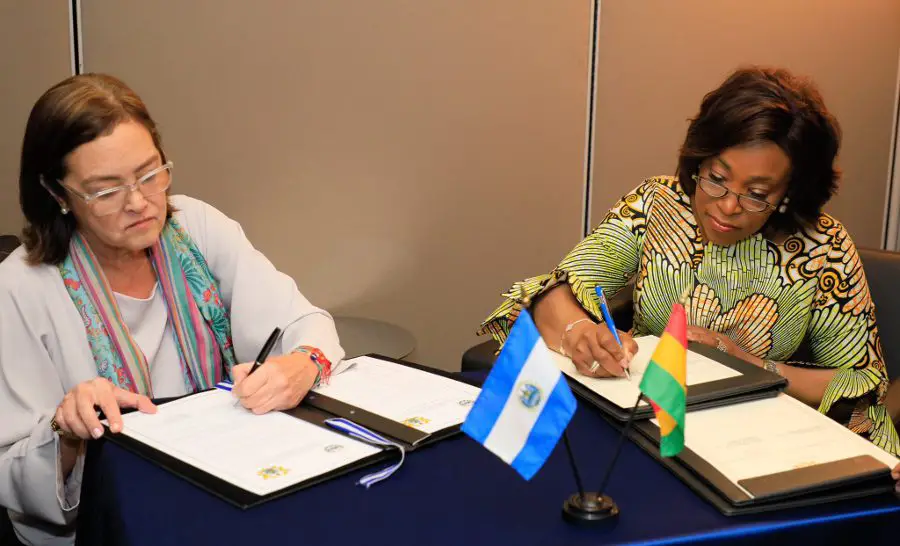 El Salvador has fostered diverse diplomatic ties with nations worldwide. These diplomatic relations, spanning across continents, underscore the country's significance in global politics and its commitment to promoting international cooperation and development. Based on that, El Salvador opened diplomatic relations with 6 African countries.
The Salvadoran Foreign Minister, Alexandra Hill Tinoco, informed that El Salvador had opened diplomatic relations with six African countries: Angola, Burundi, Ghana, Equatorial Guinea, Rwanda, and Sierra Leone.
Hill Tinoco made the announcement yesterday in New York at the 78th Session of the United Nations (UN) General Assembly.
It is a historic milestone. El Salvador continues to open up to the world. And on this occasion, we are establishing diplomatic ties with six important nations on the African continent, countries with which we are going to work for development. We are thrilled with this unprecedented achievement. Foreign Ministry, Alexandra Hill Tinoco.
SEE ALSO: U.S. Peace Corps volunteers return to El Salvador. The organization left the country in 2016
Establishing diplomatic relations with these six African nations will help advance bilateral cooperation in education, health, medicine, and agriculture.
In the economic and commercial sphere, El Salvador intends to export its flagship products, such as coffee, seafood, textiles, preserves, and oils.
Yesterday, the Minister of Foreign Affairs, Alexandra Hill, held important meetings with her counterparts from Equatorial Guinea, Ghana, Rwanda, Sierra Leone, Burundi, and Angola to sign the diplomatic agreements between the nations.
It is with real pleasure that I signed this September 18, 2023 on the eve of the 78th ordinary session of the United Nations General Assembly with my colleague Alexandra Hill Tinoco, a joint communiqué establishing diplomatic relations between Burundi and El Savador. Albert SHINGIRO, Burundi's Minister of Foreign Affairs.
SEE ALSO: US Ambassador Duncan: "The Salvadoran government has the responsibility to respect the due process.
Last year, El Salvador opened its first embassy in Africa; it was in Morocco, a nation bordering the Atlantic Ocean and the Mediterranean Sea.