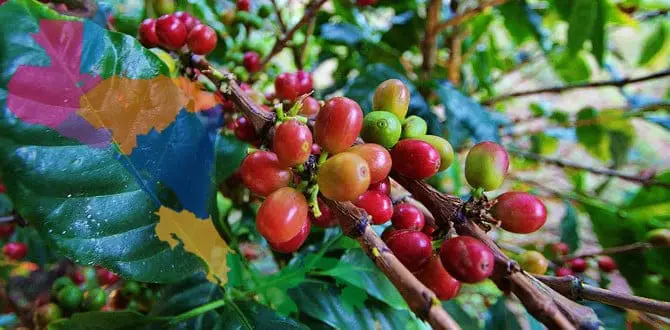 Central American coffee beans are some of the most popular in the world. The region, from Guatemala to Panama, has areas perfect for growing coffee plants. These countries have mountains with rich volcanic soil ideal for producing some of the best coffee beans in the world.
It is necessary to point out that flavor and type of coffee can change from region to region and farm to farm within a single country in Central America. It is all about their culture and traditions.
Central America is renowned for its diverse and delicious coffee drinks. From the robust and aromatic espresso shots of Guatemala to the creamy horchata-infused coffee of Honduras, the region offers a wide range of flavors and brewing techniques that cater to coffee lovers worldwide.
Guatemalan coffee beans.
Guatemalan coffees have a lighter body with crisp acidity and noticeable sweetness; they have a very distinct, spicy, and display a unique smoky flavor, especially when dark roasted.
The vast majority of Guatemalan coffee beans are produced in the country's Western regions. These coffee-growing regions have active volcanoes that deliver high amounts of nutrients that help produce savory coffee beans.
Additionally, what helps this country produce great coffee is its diverse climate, which is pretty impressive, considering that Guatemala is not very large.
To sum up, the Guatemalan coffee flavor can be very complex; nevertheless, it is one of the best in Central America.
Salvadoran coffee beans.
Despite being the smallest country on the American continent, El Salvador ranks high up in world coffee production; it produces a variety of Arabica coffee species such as Bourbon, Pacas, Tekisic, Pacamara, and Maragogype.
Arabica coffees from El Salvador are generally smoother and less acidic than coffee from other Central American regions. The best high-quality Salvadoran coffees are from trees from Bourbon and Pacamara.
Visit the following webpage, "El Salvador coffee route," if you want to know more details about Salvadoran coffee beans.
Honduran coffee beans.
Honduras is one of the largest coffee producers in Central America; most of the country's departments grow coffee, which reveals how widespread production is.
The country's regions that grow the most coffee are Copan, El Paraiso, Lempira, La Paz, Ocotepeque, and Santa Barbara.
Honduran coffees generally have a medium to low acidity and a medium to full body. Honduras's dominant flavor is a smooth nut and rich bittersweet chocolate with hints of tropical fruits and berries.
To sum up, if you like mild and full-bodied coffees with distinct sweet caramel flavors, then you will definitely enjoy the coffee beans from Honduras.
Nicaraguan coffee beans.
Nicaragua is located in a prime coffee-growing region of Central America. In the 1970s, Nicaragua was producing over a million pounds of coffee beans a year.
However, many coffee growers fled the country and abandoned their farms during the armed conflict of the 1980s.
Today, the country still produces large amounts of coffee beans; but, not as much as it should due to the political situation of the country.
The coffees from Nicaragua have a medium to low acidity and a medium to full body. The flavor is balanced with a delicate mouthful, rich berry and chocolate tones, and a lovely floral scent.
The most well-known coffee varieties from Nicaragua are Typica, Caturra, Bourbon, Java Cultivar, Pacamara, and Maragogype.
Costa Rican coffee beans.
Costa Rica, with its rich volcanic soil, was the first Central American country to grow coffee on a commercial basis.
The country only produces high-quality Arabica coffee that reveals a full body and clean, robust acidity, which makes it among the most respected of all Central American coffees.
Coffee producers in the country have to meet strict standards before their product goes to the marketplace. This control of the production and the process educate coffee farmers on how to enhance the unique characteristics of the coffee they produce.
Understanding what coffee buyers are looking for, helps coffee growers continually improve their coffees to create a better end product.
To maintain the high standard of coffee beans from Costa Rica, only Arabica coffee beans are grown. In fact, the growth of some types of coffee beans has been made illegal.
One of the best Costa Rican coffee-producing areas is the area surrounding the capital of San Jose, which is volcanic soil above 3000 feet.
Costa Rica produces an excellent coffee with medium acidity and body. The flavor is a wonderfully full mouthfeel and creamy, chocolaty base overlaid with some gentle subtly sweet taste.
Panamanian coffee beans.
At the southern tip of Central America, with great labor laws and a thriving economy, lies Panama, a country that produces some fantastic coffee beans.
The most productive coffee regions in Panama are Boquete, Renacimiento, and Volcan. The variety of coffee beans from Panama are Bourbon, Caturra, Cataui, Geisha, Pache, and Typica.
Panamanian coffees are some of the most complex of all Central American coffee beans; also, they are one of the most expensive in the region.
The coffee beans generally feature medium to high acidity and full body with delicate citrus, deep berry, fruit, and rich chocolate flavor; it's rare to find such a well-balanced variety in a single coffee cup!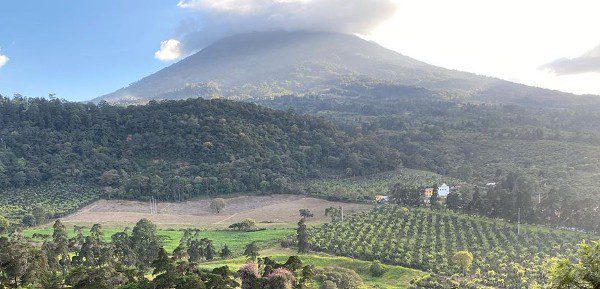 Guatemala coffee farm – Volcan de Agua.
Central American coffee beans.
To sum up, you can taste great Central American coffee beans from any of the counties in Central America all over the world. Even if these beans are not sold locally in your country, you can order them online.
Given that Central America has near-perfect conditions for growing coffee plants. It is no surprise that coffee from Central America consistently ranks among the world's top coffees.
Over the last many years, coffee farmers have experienced crop losses due to disease and weather variation. USAID is an organization that is helping farmers overcome this.
Here, you can read the article from USAID about helping coffee farmers in the most affected countries.
So, if you are a coffee drinker; give the Central American Coffees a try, I am sure you will like them.
Travel to any of the countries in Central America and enjoy everything the country has to offer, especially the fantastic coffee.