El Salvador International Airport Oscar Arnulfo Romero y Galdámez (SAL), previously known as Comalapa International Airport is the only international airport in El Salvador. It is located in San Luis Talpa, Department of La Paz, about 40 kilometers from the country's capital, San Salvador.
El Salvador airport contact information.
Getting in touch directly with the airport is not easy to do. The Oscar Arnulfo Romaro Airport does not provide a direct phone number to call or has its own website.
If you need information about departing or incoming flights, you can visit the CEPA information page, click here. However, I don't know how reliable the information provided here is. Therefore, it is better to get the information directly from the airline.
El Salvador Airport reopening began on September 19th.
Starting on September 19th, 2020, El Salvador airport opened its doors to commercial flights. One of the requirements to enter the Salvadoran territory is for travelers to have a negative PCR test.
Before booking your flight, make sure you contact your airline and ask for any additional requirements that you must have. You can also get more information on the CEPA website.
El Salvador International Airport.
According to SkyTrax, in 2019, the El Salvador airport in El Salvador is in the top 5 of the best airports in Central America and the Caribbean. In Central America, only the following airports, Tocumen in Panama, and Juan Santamaría in Costa Rica ranks better than Oscar Arnulfo Romero's international airport.
Arnulfo Romero international airport is one of the most modern in Central America, it has direct flights to major cities in the US, Central America, and some locations in South America and Europe.
This airport is the central hub for Avianca Airlines, formally known as TACA Airlines, considered the official airline of El Salvador.
The airport facilities at the terminal include restaurants, coffee shops, bars, duty-free shops, handicraft stores, tourist information offices, hotel booths, car rentals, and taxi services. Additionally, Wi-Fi connectivity is available throughout the terminal building.
Airlines that fly to El Salvador.
The following are the airlines that offer services to El Salvador; by far, Avianca airlines is the largest provider to the country, followed by Delta, American, and Volaris.
* Avianca El Salvador used to be TACA airlines, the official airline of El Salvador. Avianca is the flagship name for a group of Latin American airlines, whose operations are linked to function as one airline.
** Spirit Airlines will start its services to El Salvador around May 2020.
Busiest international routes
The following are the busiest international routes linked to El Salvador's International Airport.
| Rank | Destination | Airlines |
| --- | --- | --- |
| #1 | Los Angeles CA, USA | Avianca, Delta, Volaris |
| #2 | Houston TX, USA | Avianca, Spirit, United |
| #3 | Washington DC, USA | Avianca, Volaris |
| #4 | Panama City, Panama | Avianca, Copa |
| #5 | Miami FL, USA | Avianca, American |
| #6 | San Jose Costa Rica | Avianca, Volaris |
| #7 | New York NY, USA | Avianca, Volaris |
| #8 | Mexico city, Mexico | Avianca, Aeromexico, Interjet |
| #9 | Atlanta GA, USA | Delta |
| #10 | San Francisco CA, USA | Avianca |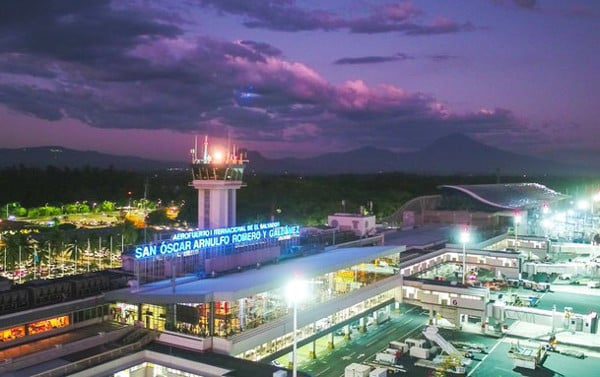 El Salvador airport.
Arnulfo Romero airport was built in the late 1970s to replace Ilopango International Airport. The old airport near lake Ilopango is currently being used as a regional air taxi, military, and charter aviation.
The airport was built on the initiative and request of President Arturo Armando Molina. Funding for this airport was provided through the Government of Japan.
The Airport started running in January 1980 as Cuscatlan International Airport, the first flight was a TACA airliner bound for Guatemala City.
In March 2014, former President Mauricio Funes requested the name change for the El Salvador airport. The Legislature of El Salvador approved the name change of the airport to Oscar Arnulfo Romero y Galdamez.
Who manages the airport?
The Autonomous Executive Port Commission or CEPA is the principal governmental institution in charge of managing the El Salvador airport. If you need to, you can get in touch with them at (503)2537-1300 or email them at [email protected].