El Salvador surfing. The best surf spots in El Salvador are El Tunco, El Zonte, Punta Roca, El Sunzal, Las Flores, Punta Mango, and Mizata. Year after year, these fantastic surf spots are visited by many local and foreign surfers looking to ride some of the best right-hand point breaks in the region.
El Salvador is home to some of the best surf spots in Central America, that is a fact! When it comes to surfing, El Salvador is known for its fantastic right-hand point breaks.
As you probably already know, El Salvador is the smallest country in Central America and also one of the most underdeveloped when it comes to tourism. However, this nation has a vast Pacific coastline with some of the best surf spots in the region.
Over the last few years, El Salvador surf spots have been getting the attention that they deserve. Consequently, more and more surfers from many different countries are visiting this small nation and taking advantage of the fantastic waves.
Without further ado, here are the best surf spots in El Salvador.
El Tunco Beach – El Salvador surfing at its best.
El Tunco beach is the most well-known surf spot in El Salvador! It's popular because of three things, the excellent surfing, the awesome sunsets, and the weekend parties.
Let us start with the most common and popular activity at El Tunco, which of course is surfing. This surf spot has ideal waves for all types of surfers and all level types. The four surf breaks at El Tunco are La Bocana, El Sunzal, La Bocanita, and El Sunzalito.
La Bocana.
La Bocana pointbreak has both left-hand and right-hand breaks with fast tubular waves. This river mouth break is mostly for surfers at an advanced level and is not recommended for beginners or surfers at a lower intermediate level. This wave is surfable at any time, however, is better at the mid or high tide.
El Sunzal.
El Sunzal is a right-hand surf break with consistent waves almost the entire year perfect for surfers who want to improve their abilities. This wave is gentle over deep water ideal for learning or enhancing surfing skills at any level.
One of the only bad things about El Sunzal is getting there, you need to walk on the beach over rocks for about 15 minutes before arriving at the point break, not fun at all!
La Bocanita and El Sunzalito.
At La Bocanita, you will see a lot of surfers, especially locals riding and enjoying the surf break. El Sunzalito, with its sandy bottom and soft waves, is where most of the surf lessons are taught.
Other activities.
In addition to the exceptional surfing, this surf spot is one of the best for watching picturesque sunsets.
Furthermore, this is a party town, during the week is quiet; but on the weekend it gets crowded with local non-surfers from the nearby cities looking to hang out and party.
It does not matter if you like surfing or not, El Tunco beach is a must-see surf spot in El Salvador. Visit El Tunco El Salvador page, if you want to know more about this fantastic beach in La Libertad.
El Zonte Beach.
Playa El Zonte is a popular surf spot in El Salvador; at this beach, you will be surrounded by locals and foreigners either surfing or enjoying the beach.
Every year, surfers from many countries venture into this fantastic beach; some of them plan to visit for a short time. However, once they get a taste of EL Zonte surfing, they end up staying for weeks or even months.
As you already know, the main activity at Playa El Zonte is surfing. So, if you are a non-surfer who happens to be at El Zonte; take the time and arrange a personalized surf lesson, they are affordable and fun.
El Zonte beach, just like El Tunco, is popular among backpackers and budget travelers. However, it is more laid back that El Tunco, which is more of a party surf spot.
Adding to the allure of El Zonte is the extensive range of restaurants and bar options; they will meet any expectation, from the simplest to the most sophisticated ones.
This beautiful surf spot is located at kilometer 53 on the Coastal Highway, department of La Libertad; about 50 kilometers or 31 miles from the international airport and 85 kilometers or 52 miles from the capital of San Salvador.
If you like surfing or want to learn, visit El Zonte beach. An incredible surfing village in La Libertad and one of the Best Surf Spots in El Salvador.
Punta Roca Beach, one of the best surf spots in El Salvador.
Any surf trip to El Salvador is not complete without at least one visit to Punta Roca beach. This famously fast, hollow point break located in La Libertad is a world-class right point break perfect for intermediate and advanced surfers.
The waves at Punta Roca beach are not as consistent as the waves at other surf spots in El Salvador. For the most part, it stays flat during the dry season; however, during the rainy season and when the swell begins to arrive, this beach wakes up with surfers all over.
Punta Roca beach is a rocky area right next to Playa La Paz in La Libertad, is one of the most representative tourist destinations in El Salvador. This beach is located in a more populated area, and it includes a boardwalk, restaurants, seafood markets, and craft shops.
El Sunzal beach.
The El Sunzal beach is one of the best surf beaches in El Salvador and in Central America. A combination of warm weather with spectacular waves almost the entire year makes it one of the most popular in the country.
El Sunzal is considered by surfers as of the best surf breaks in the world; the continuous and well-defined waves are always ideal for surfing, bodyboarding, or paddleboarding.
The surf beach is located on kilometer 44 along the coastal road; it's about 47 kilometers from El Salvador International Airport.
If you are a lover of water sports, you have found the right beach; at El Sunzal beach, the excellent waves will keep you busy all the time.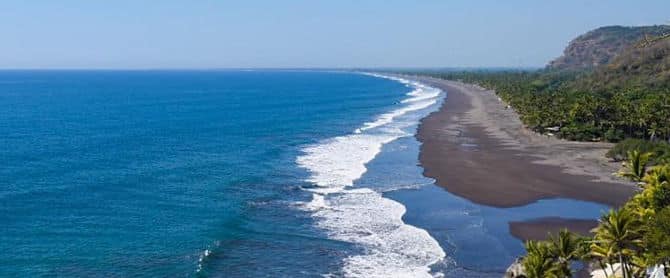 Best surf spots in El Salvador.
Las Flores Beach.
The fantastic surf spot Las Flores beach is located in the eastern part of El Salvador, in the department of San Miguel near one of the best beaches in the country, El Cuco El Salvador.
What makes this beach more special than others in the same area and with the same type of beachfront is the extraordinary surf waves of Las Flores point.
The surf spot is amazing, and the point break almost always breaks in the same place. The currents sometimes can be strong, nonetheless, is an excellent spot for all types of surfers.
One of the only bad things about Las Flores beach is that it is in an under-developed area, and far from any major city; for that reason making reservations at one of the local resorts beforehand is highly recommended.
Punta Mango, the best remote surf spot in El Salvador.
Punta Mango is a fantastic surf spot located near Las Flores and Playa El Cuco. This spot is one of the best in El Salvador and Central America. Many professional surfers visit this surf spot each year.
Undoubtedly, any hardcore surfer in El Salvador and Central America knows about the waves at Punta Mango, they are that excellent.
Surfing at Punta Mango is an adventure; but, getting to this surf spot is an adventure on its own. The beach is located in a remote area near El Cuco and Las Flores. There are two ways you can enjoy the waves at Punta Mango.
The first option is driving, taking a taxi or a chicken bus that will take you there. Punta Mango is located about 8 miles from El Cuco or Las Flores beach. It can take between 30 minutes to 45 minutes to reach Punta Mango from El Cuco.
The second option to surf Punta Mango is to rent a boat from the nearby cities. You can surf Punta Mango without stepping into the land.
Accommodations at Punta Mango are almost non-existing, most people visiting Punta Mango stay at Las Flores or El Cuco, which are about 8 miles away.
Mizata Beach.
If you are looking for the most consistent and uncrowded waves in El Salvador, you need to head on to Mizata beach. This beach is located in the department of Sonsonate; El Salvador Airport is about 90 minutes from this excellent beach.
One of the things that makes this surf spot different is the consistency of the waves, it has swell almost the entire year. If the waves are flat anywhere else, go to Mizata beach; I am sure you will find waves to ride.
The surf spot has about five consistent point breaks suitable for all types of surfers and all skill levels.
Mizata beach El Salvador is for those who want an isolated location. If you are looking to hang out and party with other surfers or locals, this is not the right place for you.
El Salvador Surfing – Best Surf spots in El Salvador.
The surf spots in El Salvador are some of the best, if not the best, in Central America, that is a fact known by the best surfers in the region.
The country has plenty of top of the line surf spots located along its Pacific coast. Some of them are centrally located and easy to get to like El Tunco, Punta Roca, and El Zonte. On the other hand, other surf spots like Mizata, Las Flores and Punta Mango, are farther away and take longer to get to them.
It doesn't really matter which surf spot you decide to visit, at the end of the day, you will have a great time.
Just imagine traveling to El Salvador and having high-quality long surfing waves available 300 or more days a year, in 82-degree water with no crowds!
Get to know these great surf spots in El Salvador! However, if you are looking for non-surfing beaches, take a look at the other beaches in El Salvador; I am sure you will find one that fits what you need.