The Apastepeque Lagoon is in the north-central part of the Department of San Vicente in the Santa Clara municipality, about 63 kilometers from the capital city and 65 kilometers from the international airport.
The Apastepeque lagoon is of volcanic origin; it is a natural place that offers tourists a fun and quiet environment to enjoy with family or friends.
The lagoon is small, the body of water is less than one square kilometer. Visitors can easily see from one Lagoon shore to the other in front of you, not so clearly as to distinguish small details but roughly enough to distinguish large items.
SEE ALSO: El Salvador Tourism: A Journey Through Pristine Beaches, Colorful Towns, and Enchanting Parks
The lagoon has no significant streams or rivers flowing into it or acting as drainage. Rainwater is the principal source of the lagoon, although it is also fed by underground water sources.
The lagoon's water levels fluctuate, with the highest level between October and November and the least between April and May.
Apastepeque Lagoon Tourism
The Apastepeque Lagoon is a beautiful natural place worth exploring. It is easily accessible and has a variety of restaurants and other places for those that want to spend a few hours enjoying either the lagoon's waters or simply the view.
People visit this lagoon to try the traditional Salvadoran foods at one of the many small places or spend the day at the Apastepeque recreational center.
A visit to the Apastepeque lagoon can be combined with a stop at San Sebastian and its looms manufacturers or the city of San Vicente with its impressive volcano in the background.
It can also be part of a visit to Ilobasco and its famous clay crafts or as part of tasting the local gastronomy at San Rafael Cedros.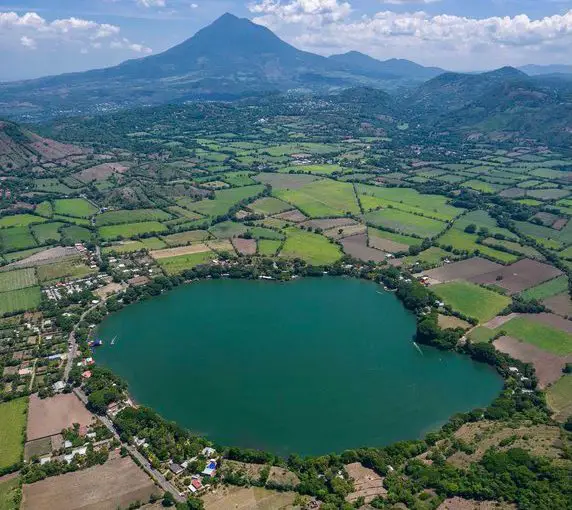 SEE ALSO: El Salvador's Ecotourism. 10 Incredible Salvadoran Natural Parks Worth Exploring!
The area where the lagoon is located is underdeveloped; therefore, visitors will see plenty of rural El Salvador. In addition to being a safe place, it is one of the places that you can visit without making a large investment.
The Recreational Center.
The Apastepeque Recreational Park was built in 1979 and is managed by the Salvadoran Institute of Tourism or ISTU.
This recreational space includes a beach area, a swimming pool, a restaurant, trails, picnic areas, cabins. Also, a cozy boardwalk and a floating dock to enjoy the freshwater.
The park is open from 8 am to 4 pm. The entrance cost is $1.50 for nationals and $3.00 for foreigners; kids under 6 and those over 60 do not pay a fee.
The Apastepeque Lagoon in San Vicente.
Visit the Apastepeque Lagoon and combine it with other great small towns in the area. Take a dip in the warm waters, try the local dishes, and take a boat ride into the lagoon. It is worth visiting!