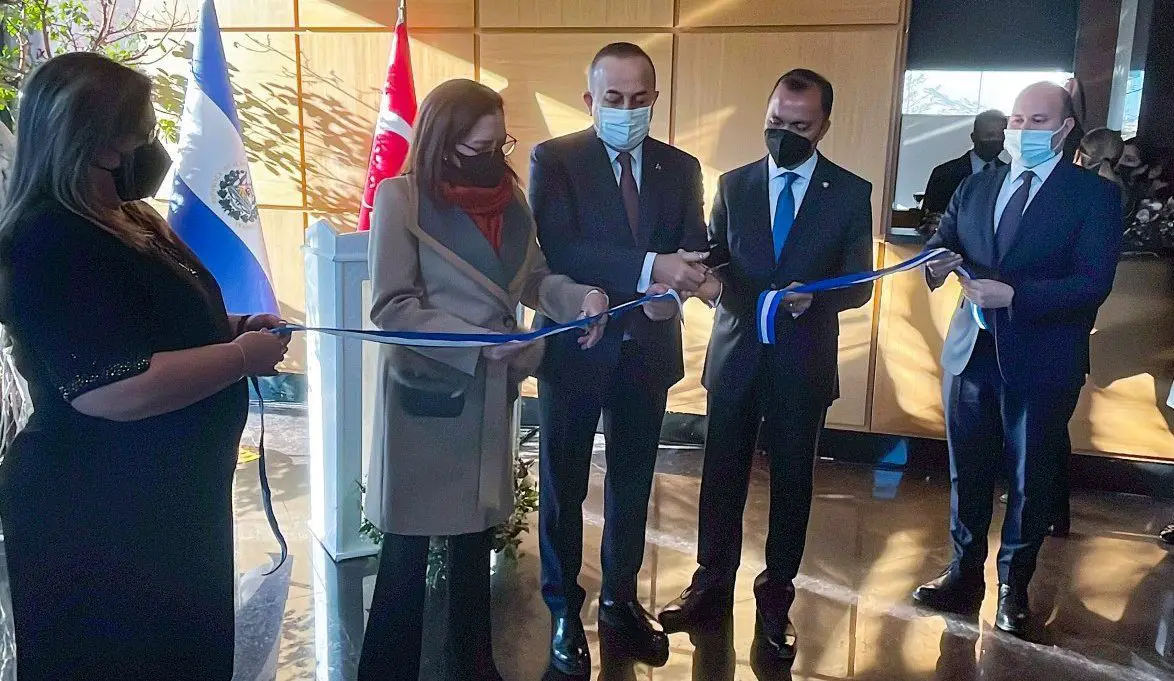 On January 20th, 2022, the Salvadoran Minister of Foreign Affairs, Alexandra Hill, and the Minister of Foreign Affairs of Turkey, Mevlut Cavusoglu, inaugurated the Embassy of El Salvador in Ankara, Turkey.
Despite having diplomatic relations with Turkey for more than 70 years, it was until 2022 that the embassy was officially inaugurated.
"It is a sign of interest in strengthening the strategic relationship with the Republic of Turkey," stated the Salvadoran authorities.
The embassy inauguration takes place within the framework of the State Visit made by President Nayib Bukele to Turkey. It is the first time that a Salvadoran president has made an official visit to Turkey.
During the inauguration, Minister Hill thanked her counterpart for the opportunity to open the Salvadoran embassy in Ankara.
"This represents the interest in increasing bilateral ties and deepening the strategic alliance with Turkey, thus prioritizing cooperation initiatives that favor our peoples in the commercial, educational and cultural areas."
"Despite the difference in our geography and culture, our two countries share the same vision of development, based on the transformation of reality and the commitment to serve with determination," said the Foreign Affairs Minister.
Minister of Foreign Affairs of Turkey, Mevlut Cavusoglu, conveyed that Turkey has 17 embassies in South America and said that the eighteenth would open in El Salvador.
The Turkish minister recalled that Minister Hill announced the opening of the embassy in Turkey in 2019. Since then, there have been significant advances in bilateral relations, and the trade volume between the two countries has tripled.
Additionally, the Turkish president, Recep Tayyip Erdogan, and his Salvadoran counterpart, Nayib Bukele, closed a commercial exchange agreement worth 100 million dollars.
The agreement between the two nations includes investments in defense, energy, and infrastructure.
"We are going to build a geothermal plant with the help of Turkey. We want to buy military equipment from Turkish companies, and we also want to build a satellite with Turkish technology."
President Nayib Bukele.
The Press Secretariat of the Presidency of the Republic of El Salvador wrote on Twitter: "Since the beginning of his administration, President Nayib Bukele has opted to strengthen the bilateral relationship with Turkey."
Next March, Turkey will hold the Antalya Diplomatic Forum; Minister Hill was invited to the event in representation of El Salvador.