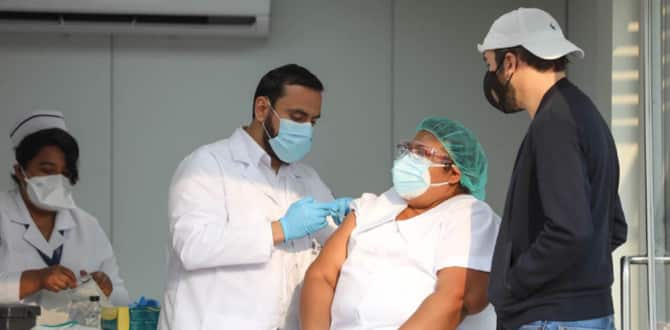 Health Minister Francisco Alabi injected the first COVID-19 vaccine in El Salvador; standing next to him was president Nayib Bukele. Mirna Moreno, a nurse who works in the front-line at Dr. Juan José Fernández hospital, also known as Zacamil hospital, was the
first person
in El Salvador to receive the COVI-19 vaccine.
Alabi gave the first dose on Wednesday, the same day the Vaccines arrived in El Salvador from India. President Bukele, who supervised the symbolic event, assured that he would be the last person to get vaccinated.
According to President Bukele and Minister Alabi, the top priority is to get front-line personal vaccinated first. Those over 60 years of age will follow, and then people at risk or with pre-existing health conditions.
"Health workers are the ones most at risk, and that is why they are a priority. It is they, who have to battle the virus day by day, and therefore should be the first, and I think that no one should be against it," said president Bukele at the event.
Bukele also pointed out that the Salvadoran government purchased the first batch of vaccines, and it was not a donantion, as some in the opposition were saying. The vaccines that the country will receive under the Covax system of the World Health Organization (WHO) will arrive in early March.
At the event's press conference, Bukele stated that this batch of 20,000 vaccines would be followed by a second batch of 90,000; then, a large delivery of 400,000 vaccines would arrive in the third week of March. The vaccines originate from India's AstraZeneca pharmaceutical company.
"Now comes this stage of vaccination. That is like a light that we are going to get out of this pandemic. God willing that soon, in a few months, we can see the pandemic as a sad part of our history, of the history of the world, but that is already behind us," added the president.
This first batch of vaccines is part of the 2 million doses of the Bukele Government agreement with the AstraZeneca pharmaceutical company; the deal was announced on November 24, 2020, by President Bukele.
According to Health Minister Alabi, vaccination against COVID-19 will be carried out in three phases, starting with front-line personnel until reaching 4.5 million Salvadorans.
To ensure vaccination was carried out as fast as possible, the Salvadoran Government built 162 vaccination centers with the conditions required by different types of vaccines.