---
Life in El Salvador
El Salvador hopes to revive tourism with a folkloric art rebrand.
On October 7, Salvadoran Tourism Minister Morena Valdez launched the new tourism logo "El Salvador" inspired by the work and art of Fernando Llort. The newly designed rebrand is intended … Read more
Historic homicide reduction in El Salvador continues to spur debate in the country.
After 15 months of governance, it seems that president Nayib Bukele — a 37-year-old politician who put an end to an old two-party system — is delivering on his promise to reduce El Salvador's … Read more
Salvadorans endure COVID-19 without running water to wash their hands.
One of the most essential aspects of COVID-19 prevention is regularly washing your hands; however, hundreds of thousands of Salvadorans are facing COVID-19 without reliable access to water. According to the … Read more
Michelle Sol, El Salvador.
Michelle Sol is the Minister of Housing and Urban Development of El Salvador and president of the National Fund for Popular Housing, FONAVIPO. Previously, Sol served as mayor of the … Read more
San Salvador is no longer one of the most dangerous cities in the world.
Yes, that is correct, San Salvador is no longer one of the most dangerous cities in the world. For many years, the nation's capital was amongst the top most dangerous … Read more
Otilia Sorto Fuentes. Salvadoran helping children at the Hospital Benjamin Bloom.
Otilia Sorto Fuentes is a Salvadoran living in the US whose life mission is to help children with kidney failure at the Benjamin Bloom Hospital in San Salvador. Otilia was … Read more
Water pollution in El Salvador. Getting worse every year.
The water pollution in El Salvador is getting worse every year; rivers, lakes, ponds, streams, and wells are so polluted that the country has less drinkable water. Every year more … Read more
The El Salvador Pacific Airport. A project by Nayib Bukele.
The El Salvador Pacific Airport is a new international airport that will be built in the eastern part of El Salvador, in the department of La Union. This airport will … Read more
El Salvador and Costa Rica sign agreement for ferry operation.
The El Salvador Ferri is a strategic project for Central America between Costa Rica and El Salvador to promote short sea shipping, which will help the economy of the region. … Read more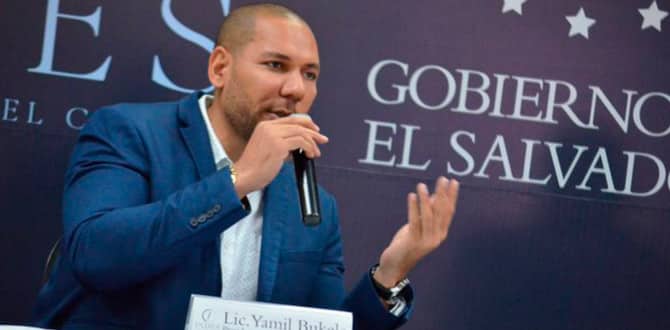 Yamil Bukele El Salvador.
Yamil Bukele is the President of INDES, the National Institute of Sports of El Salvador. Bukele is also the Vice President of FIBA Americas and President of the Central American … Read more