The latest CID Gallup survey shows that 90% of Salvadorans approve of the security measures implemented by the Bukele administration against gangs, including the controversial State of Exception. Luis Haug of CID Gallup communicated the results in a TV interview.
Haug also stated that 85% favor implementing more drastic measures against criminal gangs; and that 90% of Salvadorans want to maintain the current security measures.
"At a general level, we observed a happy population with the changes that have been implemented this past few months. Today there has been a change in the lifestyle of the population; there is less fear when being outside," explained Luis Haug, the CID Gallup director,
Haug stated that respondents declared, "It is not that there is more security, but that their style of living has changed." "Now, when kids go to school, no people (gang members) are asking them for money, so they go study."
The survey also showed that over the last four months, only 10% of households have been victims of robbery or assault. This is a low percentage in the region.
Furthermore, 84% believed that the crime trend in the last four months has decreased, 11% declared it remains the same, and 5% believe that crime has increased.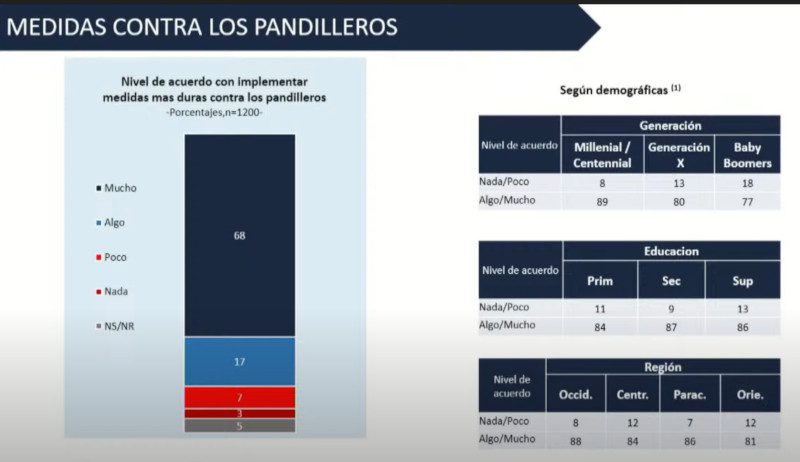 This survey results, conducted in August, are good news for Nayib Bukele's security cabinet, which has been condemned locally and internationally for implementing the Estate of Exception.
A level of criticism is shown, but more than 90% approve of the work of President Nayib Bukele." Luis Haug.
Haug also mentioned that people in other countries in the region are asking for their governments to implement measures similar to El Salvador's. For example, Honduras, Guatemala. and South America's last electoral campaigns are asking their leader to act in the same way as El Salvador.
The Salvadoran Estate of Exception is scheduled to conclude at the end of August. However, based on comments by politicians, the reductions in homicides, and surveys, it will most likely continue to be extended for as long as the Bukele administration requests it.