The Planes de Renderos El Salvador is an excellent place to unwind, enjoy nature, explore the natural parks, and do all kinds of ecotourist activities. Additionally, it has an all-embracing climate that fits all types of visitors.
A visit to the famous Planes de Renderos is a popular thing to do for locals and foreigners alike. It is located in the department of San Salvador, not that far from major urban areas such as San Salvador and Santa Tecla.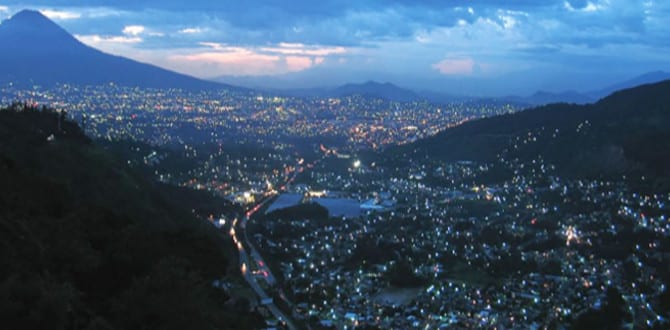 It is common for families or groups of friends to venture into the Planes de Renderos to enjoy the many activities. The area is a popular destination, especially on the weekends.
Visiting the Planes de Renderos.
A trip to the Planes de Renderos is not difficult to do. The area is located about 10 kilometers from downtown San Salvador and about 19 kilometers from the city of Santa Tecla; this is to give you a point of reference on its location.
This area has many options when it comes to activities, all of them eco touristic friendly; at this location, you can go for a walk at the parks, take a hike through the forested areas, go canopying, go bicycling, or simply enjoy nature.
Without a doubt, one of the places you definitely want to consider visiting is El Mirador or the outlook; from here, you will get fantastic panoramic views of San Salvador. Also, at El Mirador, you will find plenty of small restaurants to taste traditional Salvadoran dishes.
Here are some of the locations you can visit at the Planes de Renderos, the Balboa Park, La Puerta del Diablo or devil's door, Parque de La Familia or Family park, and El Mirador.
El Mirador at Los Planes de Renderos
Balboa Park.
Balboa Park is a natural reserve with overflowing vegetation located at a high altitude of over 1000 meters above sea level. The park's area is about 28 acres and is considered one of the most important ecological reserves in El Salvador.
The Balboa Park, one of the principal ecological reserves of El Salvador, was inaugurated in 1949; it was named in memory of Vasco Nuñez de Balboa, the Spanish who discovered the Pacific Ocean.
Balboa Park has plenty of entertainment areas for the whole family, there are extreme sports areas for skating, biking trails, and sports fields. Also, there are areas for children's such as the castle, the labyrinth, and many others.
Lastly, Balboa Park has an area where you will find over 20 small Pupuserias, here you can taste the famous pupusas with all the different ingredients and sizes.
La Puerta del Diablo or the devil's doorway.
In El Salvador, the famous Puerta del Diablo is a landmark located just outside the capital. Its main attractions are the three impressive rock formations that appear to create a passage to another world.
The original name of what is now known as the devil's door was Cerro El Chulo, which contained a single rock. It is believed that after a severe storm in 1762, the mountain collapsed and broke into three huge boulders that became known as El Chulo, El Chulito, and El Chulon.
The devil's door is part of the Los Planes de Renderos area; here you will find activities such as canopy, rock rappelling, and of course trails that will take you to the highest point on the rocks.
However, the devil's door main attraction is the panoramic views; from here, on a clear day, you can see San Salvador, Ilopango Lake, the city of Cojutepeque, and the magnificent volcano of San Vicente.
Parque de La Familia or Family park.
The Parque de La Familia or Family park has been around since 1996; it is located in the municipality of Panchimalco, about 12 kilometers from San Salvador. This park is one of the attractions at the Los Planes de Renderos area.
Family Park has an area of about 33 acres of land; here, the diverse vegetation provides an excellent habitat for animals such as rabbits, squirrels, birds, and reptiles.
At Parque de La Familia, you will find basketball courts, soccer fields, volleyball fields, and kid's play areas. Additionally, some trails will take you throughout the park and to a lookout point towards the San Salvador volcano.
El Mirador de Los Planes de Renderos El Salvador.
The El Mirador or the outlook is located on the road that leads to Panchimalco; it has astonishing views of the capital and its surroundings.
This is a popular hangout, especially on the weekends and at night; visitors come to enjoy the refreshing climate, savor the typical Salvadoran foods, and for the views from the south of the city.
Undoubtedly, the Mirador is a popular place to visit; from there you can see most of the city of San Salvador and several neighboring municipalities; also in the area, there are many traditional pupuserías for you to enjoy.
The Mirador at Los Plane de Renderos is an unforgettable place to take a souvenir photo of your visit to the capital city.
Lastly, the Mirador is on the way to other tourist places at Los Planes de Renderos; such as Balboa Park, Family Park, Puerta del Diablo, and the town of Panchimalco.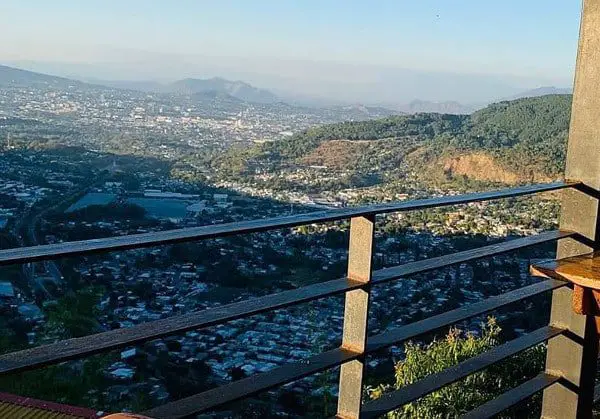 El Mirador at Los Planes de Renderos
Planes de Renderos El Salvador.
Undoubtedly, the Planes de Renderos is a popular destination for Salvadorans and foreigners. They come here to enjoy a refreshing climate, green areas, and spectacular views of different parts of El Salvador; furthermore, it is located just 30 minutes from San Salvador.
So, if you ever get the chance, go to Los Planes de Renderos, get in touch with nature, see amazing views of the capital; also, taste many of the typical Salvadoran foods, and most important of all, get some fresh air.
Without a doubt, a trip to this place is worth taking; so, take the journey with your family, friends, or significant other. I am sure you will enjoy it!
 El Salvador INFO