Milena Mayorga is an independent politician representing San Salvador at the Legislative Assembly. Before becoming a politician, she worked in communications as a news anchor, and she had her own TV show.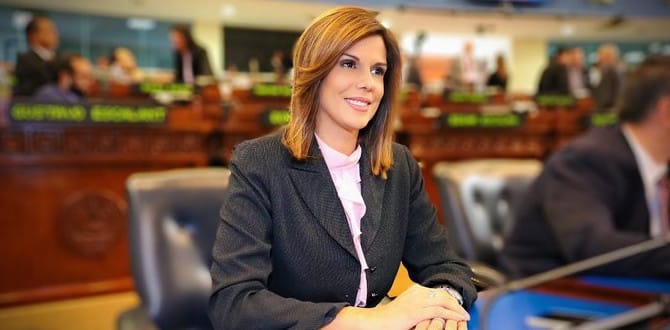 Milena Mayorga
Milena Mayorga in the Legislative Assembly.
Milena Mayorga, in the 2018 elections, was elected to represent the department of San Salvador in the Legislative Assembly. She ran for this seat under the banner of the right-wing political party ARENA.
However, since 2019, Milena has been at odds with the right-wing political party leadership. It got so bad that in June 2020, Mayorga renounced her affiliation with ARENA and declared herself as an independent politician.
As of today, Milena Mayorga will not be allowed to seek reelection in the 2021 elections. The only way Milena can compete is if a judge rules in her favor and grants her permission to participate as an independent candidate.
Problems with ARENA's leadership.
The problem between ARENA's leadership and Milena started in 2019. Milena, along with Felissa Cristales and two other ARENA politicians, criticized the right-wing party for decisions made by Gustavo López Davidson. López Davidson was the new president of the right-wing political party.
Besides, Mayorga went against her political party by saying that she will vote YES on the projects created by the new president-elect Nayib Bukele. She said she will vote, YES, as long as the initiative helped the Salvadoran population in general.
Milena renounces affiliation with ARENA.
In June 2020, through her social media accounts, Milena Mayorga announced that she was ready to present her resignation to ARENA and become an independent congresswoman in the Legislative Assembly.
Milena had an open case against her in the internal ARENA courts. The process against her began in July 2019. ARENA's in-house court was supposed to render a decision in a few months. However, it has been a year since the case was open; so far, the ARENA court has not delivered a verdict.
Although ARENA never spoke about it, it was public knowledge that the ARENA party was not going to allow Milena to participate in the party's internal elections to seek reelection.
When the time came for the ARENA internal elections, Mayorga was not allowed to register as a pre-candidate for the Salvadoran Congress. Therefore, in June, she resigned from ARENA.
Milena Mayorga.
It is not clear what is going to happen with Milena Mayorga's political career. As things stand today, she will have to wait until the 2024 elections to compete again.