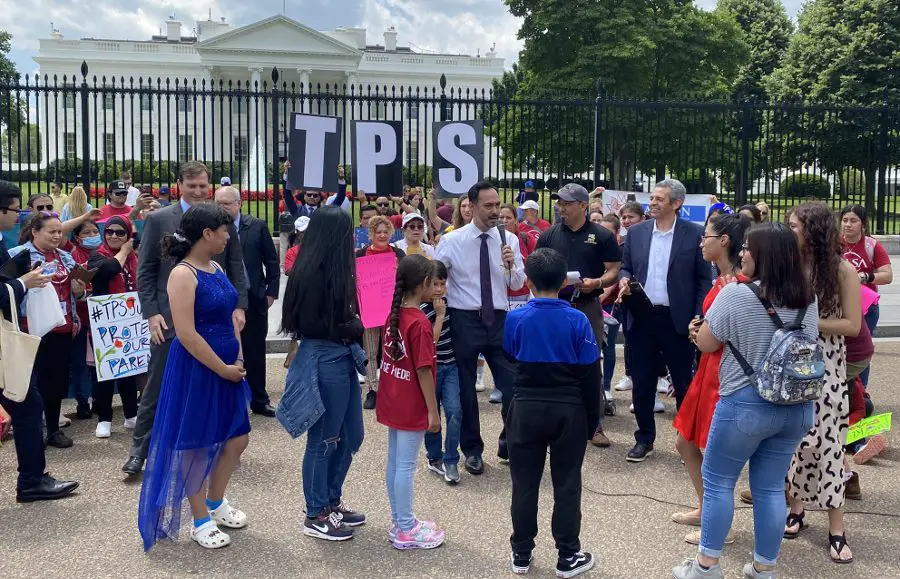 The Department of Homeland Security (DHS) stated Tuesday, June 14, 2023, the extension for the TPS for Salvadorans for another 18 months. The extensions provide "continued safety and protection" for those Salvadorans legally in the U.S. on Temporary Protected Status.
The Salvadoran beneficiaries of the program had a deadline of September 10, 2023, enacted by the Trump-era presidency. The new extension granted by the United States government will allow them to benefit from the status until March 9, 2025.
Through the extension of Temporary Protected Status, we are able to offer continued safety and protection to current beneficiaries who are nationals of El Salvador, Honduras, Nepal, and Nicaragua who are already present in the United States and cannot return because of the impacts of environmental disasters." Secretary of Homeland Security Alejandro N. Mayorkas.
SEE ALSO: Nayib Bukele Approval Rating.
The new extension will allow some 239,000 Salvadoran beneficiaries to re-register to legally remain in the United States through March 9, 2025.
The TPS extENSION allows BENEFICIARIES to live and work in the United States without fear of deportation; however, it does not grant a path to residence or citizenship.
People from Honduras and Nicaragua will also benefit from this extension. Hondurans and Nicaraguans with TPS, whose period was going to expire on January 6, 2024, will get an extension until July 5, 2025.
Democrat Senator Bob Menendez, from New Jersey, who vigorously pushed the White House for this extension, applauded the step but added it "simply does not go far enough."
While I'm glad the Biden Administration extended TPS for El Salvador, Honduras, Nicaragua, and Nepal, I'm disappointed it did not heed my call to re-designate these countries for TPS and excluded Venezuela and Guatemala from this action." Senator Bob Menendez.
SEE ALSO: El Salvador Homicide Rate
Trump Tried to End the TPS for Salvadorans
Between 2017 and 2018, then-US President Donald Trump tried to end the Temporary Protection Status (TPS); however, a group of civil rights organizations filed a legal appeal before federal courts, a process that is still ongoing today.
Trump tried to end the TPS programs, arguing that "previous administrations had abused their authority."