Ernesto Muyshondt's legal troubles continue as a judge recently ordered the cancellation of his pre-trial house arrest and the imposition of pre-trial detention. These legal developments mark another critical point in his ongoing legal proceedings
In a special hearing, a judge revoked the pre-trial house detention of the former mayor of San Salvador in the criminal process linked to negotiation with gangs or electoral fraud and illicit associations case.
The hearing transpired at the Second Investigative Court of San Salvador (Juzgado Segundo de Instruccion de San Salvador) on Wednesday, October 18.
The Judge approved the request from the Salvadoran Prosecutor's Office to change the house arrest measures imposed on Muyshondt in June 2021 and ordered to change it to provisional detention.
October 19, 2023, marks two years of provisional detention against the former mayor of San Salvador; therefore, the court hearing his legal process would have to order his release since he has not been convicted.
According to Article 8 of the Salvadoran Criminal Procedure Code, a defendant must be released with alternative measures when he or she has been detained for two years and has not been convicted.
The assistant prosecutor in the case argued during the proceedings that there was a danger that Muyshondt could escape if he found himself with alternative measures to detention.
"Perhaps he does not have the same influence as he had at the beginning of the process, but he can escape and flee through a blind spot," said one of the prosecutors assigned to the case.
Even though he was granted pre-trial house arrest in 2021, Muyshondt has been in prison awaiting trial the entire time.
The former mayor of San Salvador is currently in pre-trial detention for the breach of duties as city mayor case. He is now also in pre-trial detention for the electoral fraud and illicit associations case.
Muyshondt is facing three legal actions against him. He is facing charges of electoral fraud and illicit associations, tax withholdings misappropriation, and breach of duties as city mayor.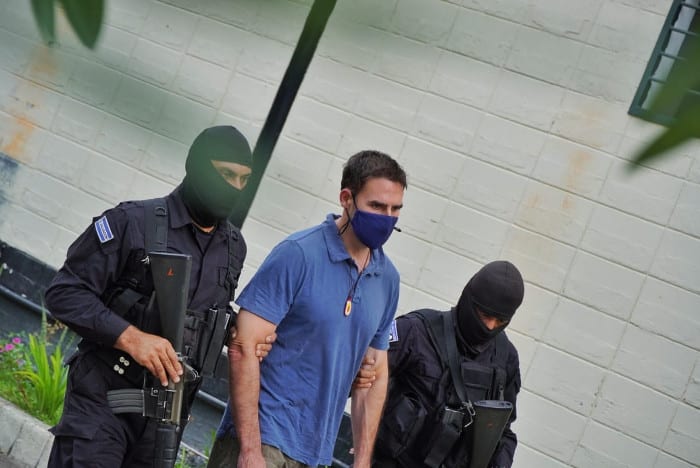 Electoral Fraud and Illicit Associations Charges
Ernesto Muyshondt is accused of the crimes of electoral fraud and illicit groups. In this case, a judge decreed in June 2021 for Muyshondt the use of electronic bracelets, house arrest, and the prohibition of leaving the country. These pre-trial measures expire on October 19, 2023.
Nevertheless, Muyshondt was never released, as in June 2021, a judge ordered pre-trial detention for the Tax Withholdings Misappropriation case.
Muyshondt faces multiple processes, so it is "logical to think that he could evade justice and for this reason, I will agree to the prosecutor's request for provisional detention," noted the judge who revoked his pre-trial house arrest benefit.
Muyshondt's accusations of negotiating with gangs for votes originated from the 2014 presidential campaign. The former mayor allegedly met with gang members and paid them money to vote for Norman Quijano, the presidential candidate for the right-wing political party ARENA.
Muyshondt met with the gang leaders to influence them to have their families and other gang members vote in their favor in exchange for money. No trial date has been set for this case!
Tax Withholdings Misappropriation Charges
Salvadoran authorities accused Muyshondt of withholding tax money from workers of the Solid Waste Directorate of the capital's mayor's office and not declaring them to the Ministry of Finance.
According to the prosecutor's office, the withholdings amount to $275,145; it occurred in 2020 while he served as mayor.
This case went to trial, and in August 2023, the Sixth Sentencing Court acquitted him. However, the Prosecutor's Office appealed the decision, and the Third Criminal Chamber ordered a retrial.
The retrial for the tax withholdings misappropriation case is scheduled for January 2024; it will be added to the trial for breach of duties, Muyshondt's third legal case.
Breach of Duties as City Mayor Charges
In the breach of duties case, Muyshondt is accused of being responsible for the withholding of $5,217,129.47 in labor contributions from municipal employees that were not delivered to the corresponding institutions, arguing that the mayor was aware of the problem but did not act.
It includes 41 victims and 54 financial entities, including the Pension Fund Administrators (AFP), several credit unions, banks, and cooperatives.
The Prosecutor's Office accuses Muyshondt of being aware that money was withheld from employees, and instead of sending it to the appropriate institutions, it was used for city hall projects. The trial of this case is scheduled for January 2024.
SEE ALSO: Can Salvadoran political parties ARENA recover political ground?
Ernesto Muyshondt's Legal Troubles
In conclusion, Ernesto Muyshondt's legal troubles have taken a serious turn with the recent judicial decision to replace his pre-trial house arrest with pre-trial detention. The trial for two of Muyshondt's charges will occur in January 2024.