Christmas in El Salvador is a holiday that has many customs and traditions that have been passed on from generations. Christmas celebrations are a significant part of the country's culture and history. Every year, family members of all ages spend weeks preparing for it.
Christmas is the time of the year that everyone in the country looks forward to; no one wants to miss the holiday's customs and traditions. Additionally, during this festive holiday, people in communities go out of their way to embrace and be kind to each other.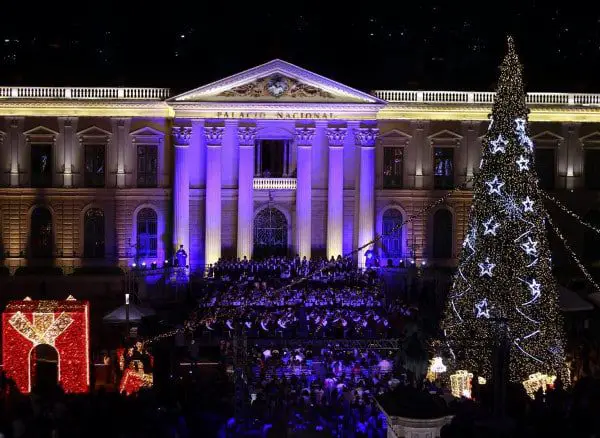 Some popular Christmas customs and traditions practiced all over El Salvador are family gatherings, cooking unique foods, setting off fireworks, and creating nativity scenes (Los Nacimientos.)
Family gathering during the Christmas holidays.
A family gathering is one of the best traditions El Salvador has during Christmas. Salvadorans travel long distances to be with loves ones during these holiday celebrations.
During December, the International airport in El Salvador gets extra busy. Salvadorans living abroad take this time to travel to the country and spend time with family and friends.
Families do different things during Christmas gatherings. For example, some families attend religious activities together. Other families stay at home, play music, dance, or hang out, and talk to each other.
Every Salvadoran family that gets together during this holiday has its unique way of spending the celebration. By the way, Christmas family gatherings are great to see relatives that you haven't seen all year or even longer.
The cooking of traditional and unique foods during Christmas.
Another popular aspect of Salvadoran Christmas traditions is the cooking of typical foods and unique family recipes. During the Christmas holidays, families go out of the way to cook these types of foods.
Some of the traditional foods prepared for Christmas are Tamales, Pan con Pollo, and Quesadillas, to name a few. These foods are prepared in larger quantities as they serve a few purposes.
The traditional Christmas foods, cook in more massive amounts, are there for anyone visiting during the holidays. Showing up unannounced is a regular thing to do in Salvadoran culture.
Also, these foods are giving as gifts to relatives and neighbors. Lastly, the traditional foods prepared in larger quantities are there for any family member to eat at any point during the festivities.
On the other hand, specific or unique family recipes are prepared and share with the immediate family. It is customary to eat this meal together on the 24th at a family dinner. Examples of these recipes are Lomo Relleno, Lasagna, Roasted Chicken, etc.
When it comes to specific foods for Christmas dinner, each family decides what they want to prepare. The cooking of these traditional Salvadoran foods is a tradition that makes this holiday better.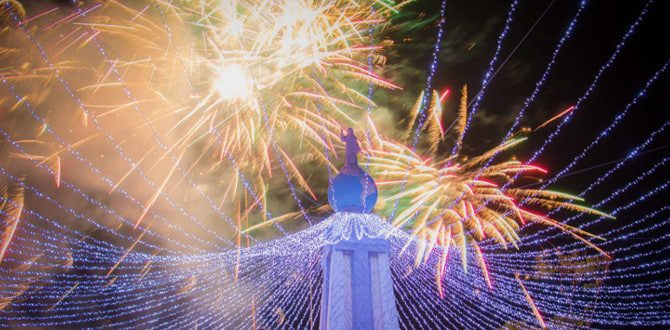 The fireworks during Christmas.
Fireworks are a big part of Christmas in El Salvador. Salvadorans set off these fireworks at any point during December. The sounds of fireworks are a normal thing to hear all over the country. In El Salvador, people have no restrictions on setting off fireworks.
The big traditional firework event takes place on Christmas eve, right before midnight. It is a tradition that at this time, people set up all types of fireworks. If you have fireworks, this is the time to set them off and be part of the tradition.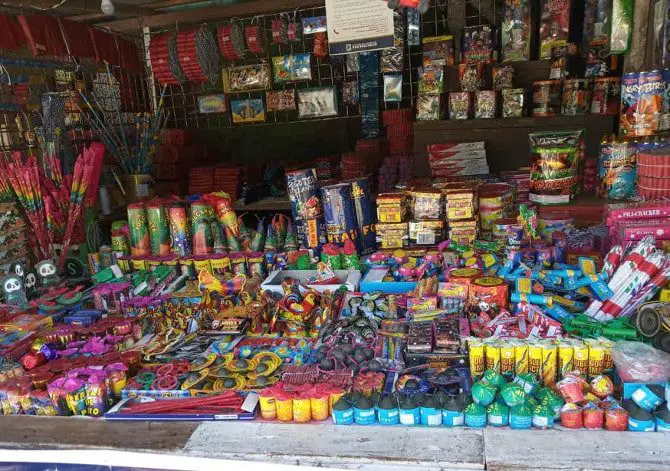 Local Fireworks Store
The chaotic sound of fireworks being set up all over the place is something that it is the best experience in person. During this time, the streets get filled with smoke, and the smell of burned powder is intense.
Fireworks in El Salvador is a Christmas tradition that has caused controversy over the last few years. The country has no laws regarding who, where, and when these fireworks can be set off. Therefore, the number of firework-related injuries during Christmas is a problem.
Every year, during the Christmas holidays, many people get injured, especially children. Most of the injuries reported are severe burns. However, in some cases, injuries are more critical as the loss of fingers or even death.
Setting off fireworks is a Christmas tradition enjoyed by Salvadorans all over the country.
Los Nacimientos or nativity scene.
In El Salvador, families take the nativity scenes or Los Nacimientos seriously. Some families spend days setting up their nativity scenes to impress others.
Generally, native scenes are different in each house. They can be modest setups or complex as to have their own water fountain or light show.
Setting up the nativity scene is a Salvadoran Christmas tradition that makes this holiday more attractive.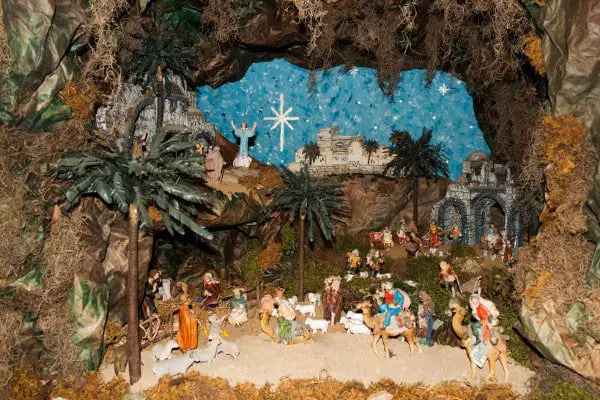 Salvadoran Nativity Scene
The community and neighborhoods during Christmas.
During the Christmas holidays, members of some communities or neighborhoods go the extra mile to be more inclusive of each other.
People in these communities give away some of the traditional foods they have prepared to neighbors as gifts. Additionally, at midnight on the 24th, after the customary hug has been shared among family members; people, go into the street, hug neighbors, and wish them a merry Christmas.
Although this tradition is in decline, it is still visible, especially in smaller neighborhoods. Embracing others in the community during Christmas is a pleasant Salvadoran tradition worth doing.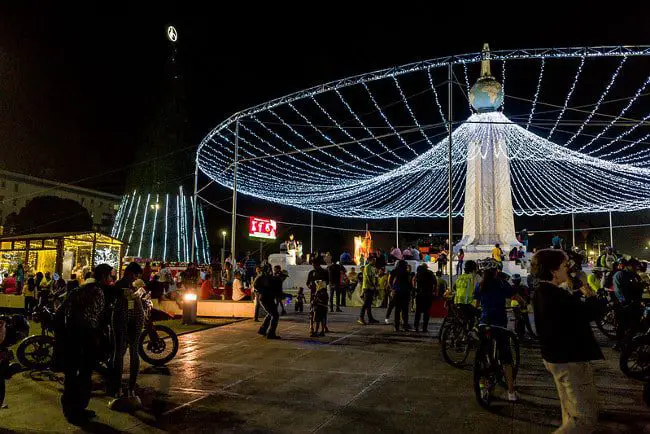 Other local traditions during Christmas in El Salvador.
El Salvador has other small traditions that make this holiday even more special. Obviously, not everyone in the country follows them; however, they are worth mentioning.
As one of my uncles told me, you haven't experienced Christmas in El Salvador until you have danced to La Bala on Christmas eve and take a trip to the beach on Christmas day. Also, you must do the Estreno on Christmas eve and eat Recalentados the following days.
Dancing to La Bala Song.
La Bala is a classic song popular during Christmas eve; it is a silly song that Salvadorans, especially the older generation like to dance at some point during the night. Click here to see a video of this song.
Going to the beach on December 25th.
Basically, Salvadorans celebrate Christmas on the 24th at midnight. Therefore, taking a trip to the beach on the 25th is a popular tradition for Salvadorans.
El Estreno on Christmas eve.
El Estreno is just wearing something new for Christmas eve; it does not matter what it is, shoes, pants, skirts, shirts, etc. Many Salvadorans will make sure to wear something new (Estrenar) during Christmas eve.
Eating Recalentados.
Recalentados is a Spanish word for leftovers. Since families prepared so much food for Christma eve; and also get multiple food gifts from family or neighbors, there is plenty of leftover food to eat for days.
These small traditions are what makes Christmas in El Salvador special. Yes, they might be silly in nature but are part of the Salvadoran culture.
Christmas in El Salvador.
This national holiday, for many different reasons, is one of the most popular in the country.
Salvadorans from all ages, kids to adults, look forward to it, to spend time with family, eat the tasty food, set off fireworks, and have fun.
Without a doubt, spending Christmas in El Salvador is a fantastic event that can't be described; you must experience it yourself.