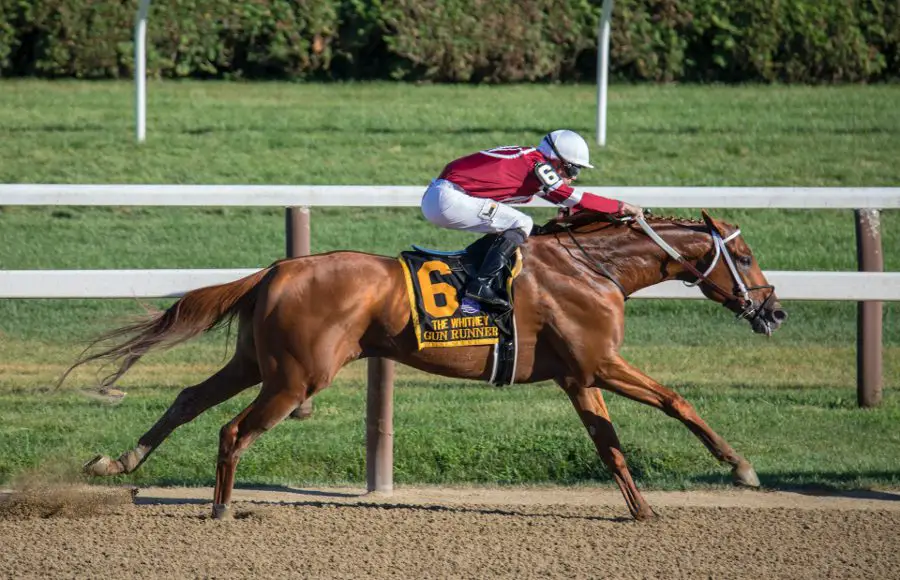 Jockeys are spectacular athletes. The ideal jockey is, of course, small. They are lightweight, able to be weighed in at 126 pounds or less, saddle included. However, their body composition is pure muscle. They must have the core strength to ride in short stirrups at more than 40 miles per hour. 
They must have the strength to keep control of a horse that weighs more than 1000 pounds. They must also have lightning-fast reflexes and an analytical mind, in order to avoid disaster or even death on the racetrack.
In the middle of the twentieth century, many young, slight Latin American men came to the United States from riding schools in their native countries. 
These jockeys quickly rose to the top and became renowned for their charisma and technique. You can check all the ones that made the Kentucky Derby glory here: edge.twinspires.com/racing/10-top-winning-kentucky-derby-jockeys-of-all-time/
Here are only a few of the greatest jockeys to come from Latin America.
Angel Cordero, Jr. (Puerto Rico)
Angel Tomas Cordero, Jr was born on November 8th, 1942 in Santurce, Puerto Rico. He was raised among horsemen; his father, grandfather, and uncles were all riders and trainers. 
He moved to Long Island, New York where he became a professional jockey, and eventually led the Saratoga jockey colony for thirteen years. In 1988, he became the first Puerto Rican jockey to be inducted into the United States Racing Hall of Fame. 
Cordero was also the first Puerto Rican jockey to win all three Triple Crown races, though he did so in separate years. His first Triple Crown victory came in 1974, when he won the 100th Kentucky Derby aboard Cannonade; he later added wins in 1976 (on Bold Forbes, who also provided Cordero with his lone Belmont Stakes win) and 1985 (on Spend a Buck). He won the Preakness in controversial style aboard Codex in 1980, and took it again four years later on Gate Dancer.
Cordero, age 80, has long since retired from riding, but still works in the industry as a jockey's agent. 
Laffit Pincay, Jr. (Panama)
Born December 29th, 1946 in Panama City, Panama, Laffit Alejandro Pincay, Jr was, at the time of his 2003 retirement, the world's winningest jockey. Twenty years later, he still sits in third place on the all-time list, behind only Russell Baze and Jorge Ricardo. He began riding in Panama, but in 1966, Fred Hooper brought him to the United States, where he quickly became a sensation.
Pincay won three Belmonts in a row (1982, Conquistador Cielo; 1983, Caveat; 1984, Swale) and one Kentucky Derby (also aboard Swale). In the early years of the Breeders' Cup series, Pincay was one of the most renowned jockeys; he won seven Breeders' Cup races between 1985 and 1993.
Laffit Pincay Jr's son, Laffit Pincay III, is a horse racing commentator for NBC. 
Jacinto Vasquez (Panama)
Jacinto Vasquez was born January 4th, 1944, in Panama. It was at Panama's Presidente Remon Racetrack that he began his career, riding as an apprentice starting at age 15. He came to the United States in 1960, riding primarily in New York and Florida.
Vasquez won his first Kentucky Derby aboard champion Foolish Pleasure in 1975, but it was his connection with two important fillies that history remembers most. 
Jacinto was the regular rider of Ruffian, the undefeated coal-black speedball of a filly who sadly met her fate in a match race against, of all horses, the aforementioned Foolish Pleasure. Given the option to choose between the two horses, Vasquez chose the talented filly, whom he believed had a better future. 
Five years after Ruffian's untimely demise, Vasquez was aboard a chestnut filly in the Kentucky Derby. The filly, Genuine Risk, had finished a promising third in the Grade I Wood Memorial, and propelled that start into a powerful stretch drive at Churchill Downs. 
She was only the second filly to win the Derby. In the Preakness, Vasquez and Genuine Risk encountered formidable opponents in Codex and Angel Cordero, who allegedly fouled them in the stretch, though the objection was disallowed.
Vasquez, who retired from riding in 1996, settled in Ocala, Florida, where he began training racehorses.