Violence in Central America has long been a prevailing issue, profoundly impacting the region's social fabric and development. Rooted in complex historical, economic, and social factors, it poses significant challenges to stability and prosperity.
The Central America Homicide Rate per country per 100,000 people for 2022 was Guatemala 17.3, Honduras 35.8, El Salvador 7.8, Nicaragua 6.7, Costa Rica 12.8, and Panama 11.5.
The most significant decrease in 2022 compared with the previous year was achieved by El Salvador, with a -57.14% reduction. Panama came second with a -10.16% reduction.
On the other hand, the most significant percentage increase went to Nicaragua; it grew from 5.7 in 2021 to 6.7 in 2022, a 17.54% increase. Costa Rica came second, with a 11.30% increase.
Central America Homicide Rate Per 100,000 Inhabitants

| | 2014 | 2015 | 2016 | 2017 | 2018 | 2019 | 2020 | 2021 | 2022 |
| --- | --- | --- | --- | --- | --- | --- | --- | --- | --- |
| Nicaragua | 8.7 | 8 | 7 | 7 | — | 7.5 | 4.4 | 5.7 | 6.7 |
| El Salvador | 61 | 103 | 81 | 60 | 51 | 37.9 | 21.1 | 18.2 | 7.8 |
| Panama | 15 | 11 | 9.3 | 10.2 | 9.6 | 11.2 | 11.6 | 12.8 | 11.5 |
| Costa Rica | 9.5 | 11 | 11.8 | 12.1 | 11.7 | 11 | 11.2 | 11.5 | 12.8 |
| Guatemala | 31 | 30 | 27.3 | 26.1 | 22.4 | 21.5 | 15.3 | 16.6 | 17.3 |
| Honduras | 66 | 57 | 59 | 42.8 | 40 | 41.2 | 37.6 | 38.6 | 35.8 |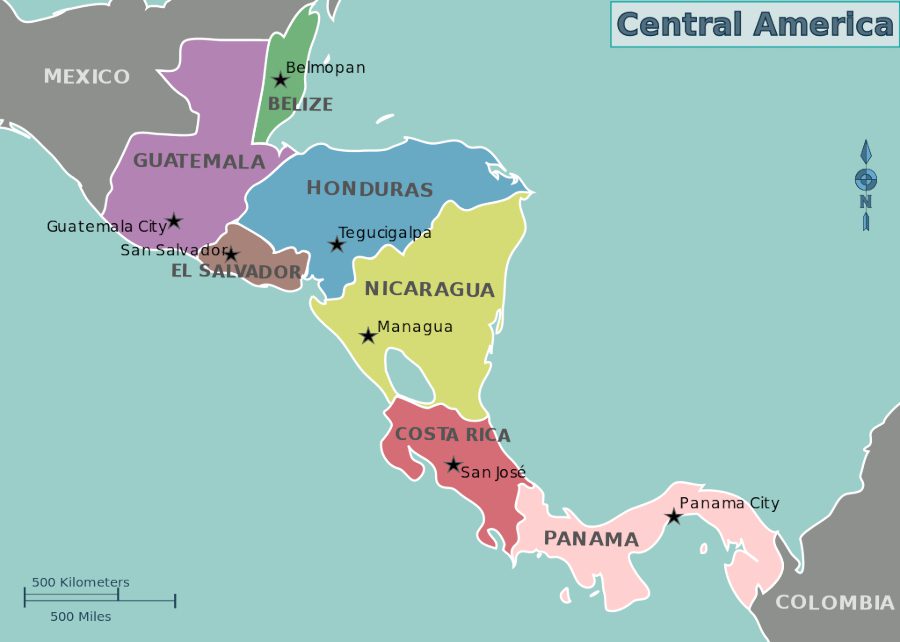 Guatemala: 17.3 per 100,000
The 3,004 homicides registered in Guatemala in 2022 gave the country a homicide rate of 17.3 per 100,000 according to the government's Center for National Economic Research (Centro de Investigaciones Económicas Nacionales – CIEN). This was a 5.7% rise from the 2,843 registered last year by the same institution.
Non-governmental organizations offer slightly different figures. According to Mutual Support Group (Grupo de Apoyo Mutuo – GAM), a Guatemalan human rights group, there was a 7% rise in homicides between January and October 2022 compared to the same period in 2021. The group puts the number of murders at 3,609.
GAM's findings also revealed a worrying jump in the number of murder victims who showed signs of torture, from 104 in all of 2021 to 164 in the first 10 months of 2022.
Criminal activity is likely behind these rises. In October, at least seven people were shot to death in the pool of a hotel in El Semillero on Guatemala's Pacific coast, with police suggesting the killings were connected to Barrio 18. Also in October, five Nicaraguans were found slaughtered with their hands tied behind their backs in the Atescatempa municipality.
Honduras: 35.8 per 100,000
Honduras continued its streak as Central America's deadliest country in 2022, with a homicide rate of 35.8 per 100,000 people, according to government figures.
Nonetheless, the country reduced homicides by 12.7% compared to 2021. The government has not registered such a low number of deaths since 2006, according to a statement from the Security Ministry.
President Xiomara Castro stirred controversy near the end of the year by implementing an anti-gang crackdown that arrested 652 suspected gang members and dismantled 38 gangs, according to statistics reported by the newspaper El Heraldo.
Many of the violent deaths in Honduras are attributed to gangs known for retail drug trafficking and extortion. Honduras's transport sector has been particularly persecuted by extortion and ensuing violence, with at least 60 workers losing their lives in 2022. While Castro's state of exception targeted gangs carrying out extortion schemes, it is too early to tell how the strategy will impact the country's homicide rate.
El Salvador: 7.8 per 100,000
Homicides in El Salvador tumbled in 2022 as the police registered just 496 murders, compared to 1,151 the previous year. The steep decline in homicides continued a trend that has seen killings fall year-on-year since 2015 when a murder rate of 103 per 100,000 inhabitants made El Salvador the most violent country in the Western Hemisphere.
Last year's drop-off in murders came amid one of the most brutal anti-gang crackdowns ever seen in Latin America, enacted by President Nayib Bukele in response to a gang murder rampage in March that claimed 87 lives. The government has leveraged emergency powers to pummel the country's main street gangs, the MS13 and Barrio 18, locking up around 60,000 people, or nearly 2% of the adult population in the process.
The results have been striking, with murders and extortion both sharply down. The crackdown has forced the gangs into hiding, though they remain well-armed.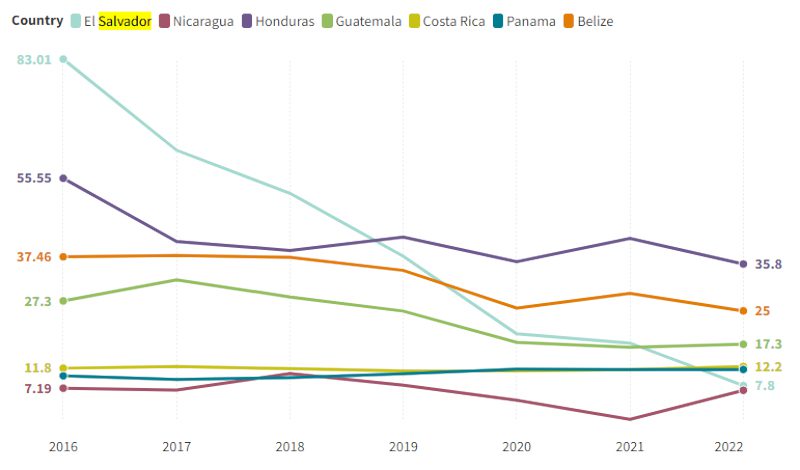 Nicaragua: 6.7 per 100,000
A stark lack of trustworthy data or reporting on homicide in Nicaragua once again makes a homicide roundup difficult for the country. Official sources put the country's homicide count at 460 last year, according to Agence France-Presse, though sociologist Rodolfo Calderón of Costa Rica University said the figures were "not reliable."
The country's lack of transparency looks unlikely to change soon. In November 2022, President Daniel Ortega won a fourth term in office in an election roundly criticized by the international community. US President Joe Biden called it a "pantomime election." During Ortega's rule, 160 journalists have been forced into exile, according to the Salvadoran newspaper, El Faro.
Costa Rica: 12.8 per 100,000
Costa Rica experienced its bloodiest year on record in 2022 with 661 homicides committed, when not counting cases of euthanasia and professional negligence, which are included in the official homicide statistics. This marked an increase from 2021, and pushed the country above 600 murders for the first time since 2017.
President Rodrigo Chaves acknowledged the problem, admitting that violence was "getting out of hand."
With 167 killings, the province of Limón on the Atlantic coast was far and away the most dangerous of Costa Rica's seven provinces, despite having the second-smallest population. It accounted for more than a quarter of the national total and gave the province a homicide rate of 35.9 per 100,000, a slight increase from the year before.
The uptick in murders there is linked to a rise in fighting for control of the port of Limón, a vital asset for groups seeking to export cocaine to Europe. Up to 90% of the province's killings were reported as being connected to organized crime, the Judicial Investigation Department (Organismo de Investigación Judicial – OIJ) said.
Panama: 11.5 per 100,000
Panama managed to reverse its recent trend of gradually increasing murders. The 501 homicides registered in 2022 represent an 8.9% drop in the number of murders compared to 2021, when 550 homicides took place, according to the country's Attorney General's Office.
Prior to 2022, the country's homicide rate had been slowly rising, from 9.6 per 100,000 in 2018 to 12.8 per 100,000 in 2021.
While some countries have continued to take the militarized approach to tackling crime, police in Panama have taken a different strategy. Panama's national police director John Dornheim underlined the importance for law enforcement to incorporate technological solutions and rely on information. "You don't chase crime with muscle, you chase it with intelligence," he told TVN.
The decision appears to be paying off, with a quarter of charges against homicide suspects coming thanks to video surveillance.
However, problem areas still exist. Although it only makes up around 7% of the population, the northern coastal province of Colón accounted for 21% of murders in the country last year, and its homicide rate is close to that of Honduras. Indiscriminate killings linked to organized crime in the province saw homicides occurring in hospitals and schools, with disputes over territory and a rise in unemployment also among the causes blamed for the killings that have blighted the region.
Colón holds the Atlantic entry point to the Panama Canal and is a crucial hotspot for cocaine trafficking logistics. The country again broke its annual drug seizure record, amid news that it acted as a significant hub for sending cocaine to a coalition of major drug traffickers in Europe.
Panama's top drug trafficker, Jorge Rubén Camargo Clarke, head of the Bagdad gang federation, was arrested in February 2022, yet figures do not suggest that a bloody fight for control of the market among rivals ensued.