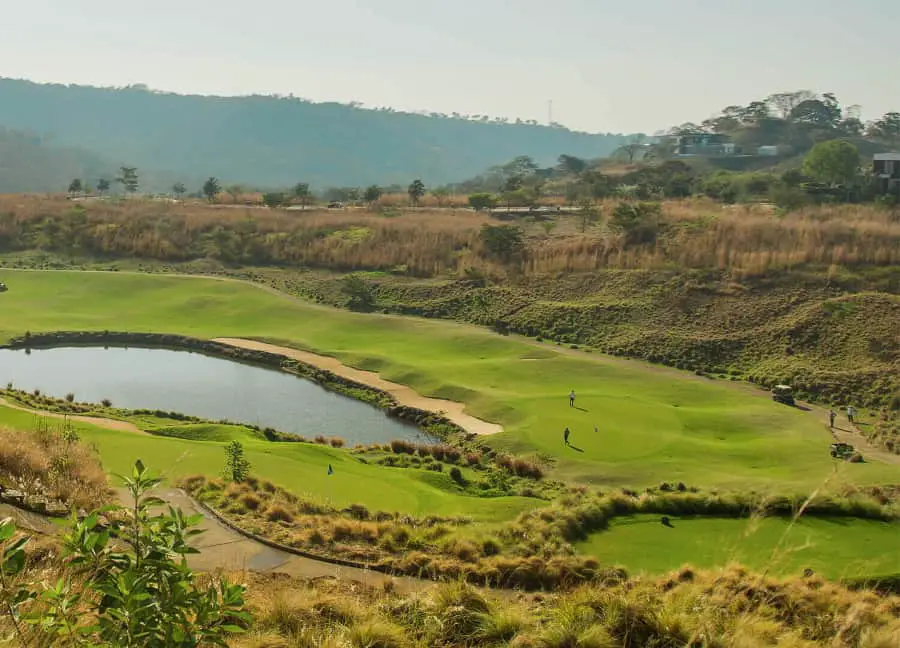 El Salvador may be the smallest country in Central America, but the land is swelling with rich culture, pristine beaches, and other natural ardor.
The Land of the Volcanoes may be best known for its world-class coffee, fantastic surfing points, tropical weather, and volcanoes, but most people don't realize is that it's a hidden paradise to golf enthusiasts.
In this article, we will unearth El Salvador's most outstanding golf courses, as well as golf must-haves, so interested golfers know what items to pack before heading out to these links.
Club Salvadoreño
Imagine spending the weekend playing golf outside, where you can witness the beauty of Lake Ilopango and while the rest of your family members enjoy other recreational activities within the vicinity. Isn't it a marvelous way to spend a worthwhile family vacation?
If you want to hit the links without compromising quality time with family, look no further— Club Salvadoreño is here to accommodate your desires for an exciting weekend trip.
Club Salvadoreño has two facilities in El Sunzal and Corinto, where you can access many facilities, including specialty restaurants, swimming pools, the beach, clubhouse, golf course, and tennis courts. Inside Club Salvadoreño, you can enjoy various water sports with your whole family. There is also a clubhouse wherein you can conduct special parties and occasions with your loved ones.
The Fred Hawtree-designed, 18-hole golf course is a rich parkland track that spreads out over a flat landscape with fairways lined with tall trees while featuring the beauty of Lake Ilopango. Golfers need to take note that having a caddie is required when playing on this course.
The golf course includes the following:
Driving range
Putting green
Chipping green
Golf lessons
Golf carts
Pro shop
Dressing room
Practice bunker
To become a member of Club Salvadoreño, you need to acquire a membership by paying an entrance and monthly fee. Club Salvadoreño membership entitles you to visit the two branches (Corinto and El Sunzal), where you can enjoy their amenities and receive free sports classes.
El Encanto Country Club
As its name suggests, the charm of El Encanto Country Club in San Jose Villanueva is hard to miss. It's arguably the only place wherein you can experience luxury and exclusivity at the highest level.
If you're an avid golfer and considering moving and living near a golf course, you may consider buying a residential property or building a house in El Encanto. It offers quick, effortless entry to the links, security, and everyday view and enjoyment of spectacular landscapes, and an exclusive lifestyle in a thriving community. Quality amenities are all kept within the well-manicured grounds of the course.
El Encanto's 18-hole golf course was designed by Dye Designs, displaying a flat-out gorgeous design with natural hazards such as lakes and strategically-placed bunkers, all of which require a blend of finesse and power to overcome.
After your rounds, do yourself a favor and visit their highly acclaimed restaurant. The restaurant offers a mix of exquisite international and local food selections you'll surely enjoy.
Aside from golf, you can also explore other outdoor sports such as squash, soccer, and tennis. To make the most out of your experience, sign up for a membership on El Encanto Country Club's website.
Club Campestre
Experience seeing stunning views, a worthwhile round of golf, and a satisfying dining experience at Club Campestre in San Salvador. This 9-hole, the private golf course is ideal for amateur golfers seeking to improve their game in an exclusive area. Additionally, it makes an exceptional practice ground for serious players looking for various challenges that'll hone their strength and accuracy on the greens.
Aside from the golf course, people also enjoy playing tennis, swimming by the pool, and dining in, making it an ideal place for families seeking a quick weekend trip to the countryside. Club Campestre is highly acclaimed for its spectacular food choices, accommodating staff, exclusivity, and high-quality amenities.
To enjoy all of these perks in Club Campestre, membership is mandatory.
What to bring to a golf course?
Now that you're ready to discover El Salvador's greatest golf courses on your own, it's time to make sure your golf bag is filled with essential golf equipment. Like any other sport, golf requires specific items, but it is more complicated than basketball and soccer, wherein you will only need a single ball to play.
Here's the list of must-have items in your golf bag:
Golf clubs – You will require a set of golf clubs that consist of a fairway wood, iron, wedge, hybrid, putter, and a driver. Each club plays a unique role, so make sure to familiarize yourself with their purposes first before entering a golf course, or better yet, join a golf class so your coach can personally teach you how to use them.
Golf ball – Your set of golf clubs is worthless without golf balls. If you're a beginner, the quality of your golf balls wouldn't matter a lot. If you're a pro player, bring new balls with you. But, if you're visiting a golf course to practice, shag balls are ideal for this purpose.
Golf shoes – A pair of trainers work well, but if you're taking golf seriously, then pack a pair of golf shoes. Wearing golf shoes will provide greater balance, traction, and stability more than your fanciest pair of trainers will ever give you.
Golf hat – Sporting a golf hat doesn't only make you stylish and well-put-together on the greens, but it also protects you from the harmful UV rays. When playing golf, your skin is exposed to a great deal of sunlight for a couple of hours, which only emphasizes the need to protect your face and eyes from its adverse effects. Additionally, wearing a hat while playing under the sun makes sure you have an excellent vision of your golf ball's position and allows you to follow your golf ball, so you never lose sight of it.
Drinking water – No golfing trip is complete without water to keep you cool and hydrated.
Conclusion
These three golf courses in El Salvador show that the country is more than its pristine beaches, numerous volcanoes, and other things that they're famous for. So whether you're an interested golfer or an avid player, make sure to experience playing in any of the golf courses mentioned!
By Jordan Fuller.