Traditional Salvadorian food includes Pupusas, Tamales, Yuca Frita con Chicharron, Sopa de Pata, Sopa de res, Empanadas, Pastelitos, and Quesadillas. Most of these typical foods are distinctive from the diverse Central American cuisines. The traditional Salvadorian foods are the outcome of a mixture of indigenous and Spanish influences.
Some of these typical Salvadorian foods are available in larger cities in the USA, Europe, and some countries in Latin America. Nevertheless, these foods seem to taste better when made by locals in El Salvador, they give it that local flavor! These are some of the most traditional foods from El Salvador.
Pupusas – Traditional Salvadorian food which is the national dish.
By far, Pupusas are the most well-known Salvadorian dish around the world; it is the pride of all Salvadorian. Tell any Salvadorian that you are going to visit El Salvador, I am sure almost all of them will tell you that you have to try the pupusas.
What are pupusas? Well, pupusas are thick hand-made tortillas made out of corn or rice flour filled with items such as cheese, pork, beans, or Loroco (a local edible flower).
You can eat pupusas just as they are, or you can top them with homemade tomato sauce or Curtido; which is a sour cabbage salad served on the side.
Here are a few things for you to keep in mind when eating pupusas in El Salvador.
Pupusas are typically made of a corn-based tortilla; however, in some parts of the country, they are made with a rice-based tortilla. The taste is different, so it will be up to you to decide which you prefer.
The traditional fillings of pupusas are cheese or pork; nevertheless, you can get them with other items that include beans, Loroca, or Ayote, which is a Salvadorian Punkin.
When it comes to Curtido, each Pupuseria is going to serve a different variation of this side dish. The main ingredient of Curtido in all places is cabbage; but, some Pupuserias will add their own mixture of carrots, onions, or spices to it. So, Curtido will taste different at each Pupuseria.
When in El Salvador, try the Pupusas, it is the Salvadorian national dish.
Pupusas
Salvadorian Tamales.
Tamales are another typical Salvadorian food that you should try at least once. They are prepared using corn dough and spices to give it flavor. They are normally wrapped in banana leaves and cooked in water.
Tradition tamales are made with corn dough and stuffed with chicken and tomato-based sauce. Additionally, some people also add a quarter of a boiled egg, an olive, and a small slice of green pepper or potato.
The tomato sauce that goes inside the tamale also changes by individuals or families, everyone has their own recipe for this sauce.
Lastly, when it comes to a typical tamale, some people use other meats instead of chicken, either turkey or pork.
Here are the different variations of tamales that you can find in El Salvador.
Traditional tamale, stuffed with a reddish tomato sauce, meat (chicken, pork, or turkey), vegetable (olive, green pepper, potato, or a combination), and in some instances a slice of boiled egg.
Tamales Pisques are made with corn dough and typically only stuffed with refried beans. However, some people stuff the Tames Pisques with refried beans and Salvadorian cheese.
Tamales de Azucar or sugar tamales, these are mostly made in individual homes and for personal use. They are made out of corn dough and stuffed with Salvadorian sugar or Dulce de Atado
Tames de Elote or corn tamales belong to the Salvadorian tamale family but are seasonal. The main ingredient for this tamale is fresh corn that is available only at the earliest stages of the crop.The corn dough is mixed with milk, butter, and either salt or sugar. They are wrapped in corn leaves instead of the traditional banana leaves and cooked in water. Lastly, these tamales are served with Crema, a Salvadorian cream cheese.
As you can see, there are many tamale options for you to try in El Salvador.
Tamales de Elote – Tamales
Yuca Frita con Chicharron or fried yuca with pork.
Yuca con chicharrón consists of fried pieces of Yuca root served with chunks of crispy pork or Chicarrones; additionally, you can add raw cabbage and tomato sauce to the mix.
Chicharrones is a dish commonly consisting of fried pork belly or fried pork rinds.
Yuca Frita is made from a delicious root vegetable similar to cassava. It is a starchy root, almost like a potato when it comes to texture and taste. The preparation is more tedious, firstly you need to steam it and then deep-fried it to a golden brown color.
All over El Salvador, you will find the same Yuca Frita with Chicharron, the only thing that it will change is what they are served with, such as the type of cabbage and sauce.
Yuca with Chicharron
Sopa de Pata and Sopa de Res. – Salvadorian food at its best during lunch.
Both of these typical Salvadorian soups are mainly served during lunchtime at local markets.
Sopa the Pata or Feet's soup is made using beef tripe and meat from the cow's leg. The broth is complemented with a wide variety of vegetables such as Yuca, corn, plantains, beans, tomatoes, and cabbage.
On a side note, Sopa de Pata is a popular dish among local Salvadorans for getting rid of hangovers, just so you know!
Sopa de Res is an authentic Salvadorian lunch soup, it is made by cooking large chunks of beef with a mixture of vegetables that include corn, carrot, cabbage, and zucchini.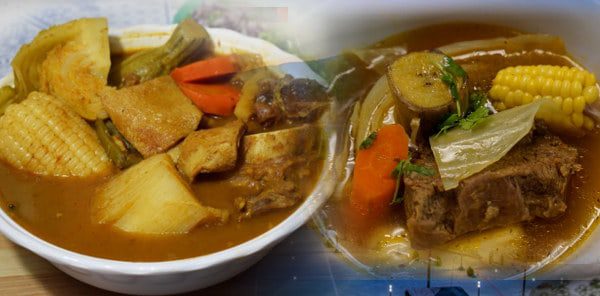 Salvadorian Empanadas.
Empanadas are ground plantain shaped into little oval balls stuffed with vanilla custard; they are served with sugar sprinkled on top after cooked. Empanadas are more like a dessert or snack usually served with coffee.
Fried Pasteles or Pastelitos
Fried Pasteles or Pastelitos is another popular food in El Salvador. It is prepared using corn dough with achiote powder and other condiments.
Each Pastelito is made into a half-moon shape part filled with either meat, vegetables, or a combination. Fried Pasteles are deep-fried and served with tomato sauce and cabbage on the side.
Quesadilla Salvadoreña.
Quesadilla is a delicious bread made with a mixture that includes cheese, butter, eggs, milk, and flour. You can find this bread all over the country; however, if you find it a location that makes it using an artisanal oven, it will taste better.
Artisanal ovens are shaped like igloos and made from mud, you can find them mostly in rural areas or smaller towns.
Panes Con Pollo or Pavo. – Chicken or Turkey sub.
Panes con Pollo is not really a traditional Salvadorian dish, but it's well-known across the country. Basically, it is a chicken or turkey sub roasted with a tomato-based sauce and spices; it is served with tomatoes, cucumbers, and lettuce.
They are also known as Panes Migueleños, this is because they are characteristic of the department of San Miguel, in the eastern part of the country.
Other Traditional Salvadorian food.
This is a list of more typical Salvadorian foods that you might want to try.
Nuegados are made of Yuca or corn dough, they are deep-fried and served with honey.
Enchiladas, the batter is the same as the one for Fried pasteles; the dough is flattened like a tortilla and then fried until done. The enchilada is topped with many items that include refried beans, eggs, avocado, cheese, and tomato sauce.
Fried plantains with cream and refried beans, (Platanos con Crema y Frijoles), a typical Salvadorian breakfast.
Fish soup or Sopa de Pescado.
To sum up – Traditional Salvadorian food.
El Salvador is the smallest country in Central America, but it has fantastic gastronomy. Whenever you get a chance, try the traditional Salvadorian foods, I am sure you will enjoy them!
Travel to El Salvador and indulge yourself in an astonishing local cuisine!