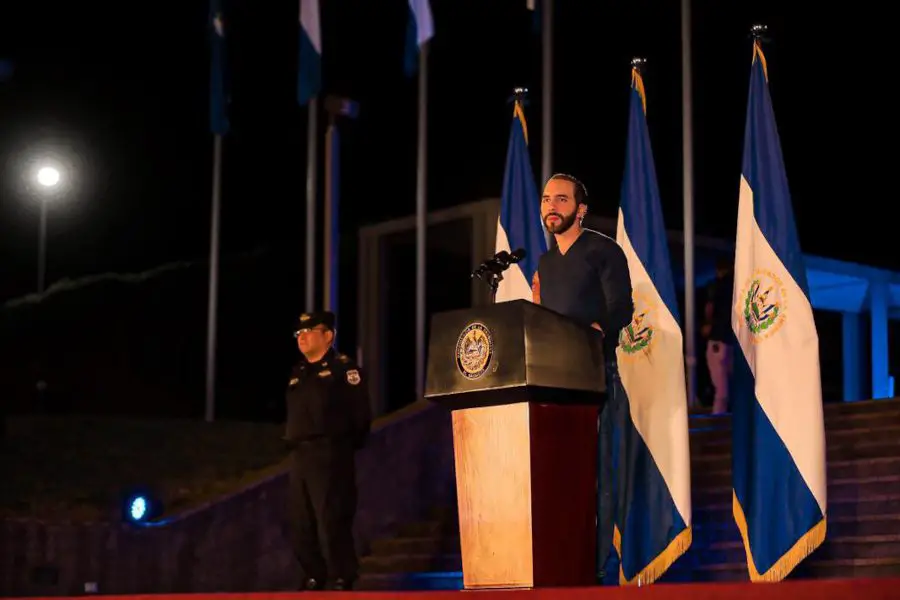 President Nayib Bukele assured on his Twitter account that "Salvadorans are happy" with his Government's strategy to combat criminal gangs. He also accused international media organizations of maintaining a campaign of attacks against his security plan.
The big international media continue with their attacks on our war against gangs, but there are 2 things that they can no longer hide:
1. That it is working.
2. That Salvadorans are happy with its implementation.
We will continue… President Nayib Bukele
President Bukele is correct regarding the high approval rating the Government security measures have in El Salvador. All surveys conducted during the state of exception gave it a high approval rating.
For example, CID Gallup in April gave it 91% approval; the UCA university poll in May gave it a 7.99 score out of 10; La Prensa Grafica newspaper, in late May, gave it a 74% approval; and CID Gallup in September gave it a 90% approval.
Furthermore, the international German news agency DW conducted an online survey asking the following, And you? What do you think about the Nayib Bukele method to end the violence in El Salvador? 93.6% answered, "I think it's correct."
The security measures implemented by the Bukele administration have the seal of approval of most Salvadorans; therefore, there is no reason for President Bukele to stop enforcing them.
The Salvadoran government started with the Territorial Control Plan. Then, after an escalation of homicides in late March 2022, it established the State of Exception that has led to the arrest of 59,307 suspected gang members.
The State of Exception has reduced homicides in El Salvador; however, humanitarian organizations, such as Human Rights Watch (HRW) and Amnesty International, have attacked the security strategy for alleged human rights violations.
It is clear that those who oppose these [security measures] are against human rights, against Salvadorans, peace, freedom, and justice. But even if they oppose us, attack us, and sanction us, we will continue…" Nayib Bukele.
On December 7, 2022, Human Rights Watch and Cristosal presented a report claiming widespread abuses by Salvadoran security forces under the State of Emergency, such as enforced disappearances, torture, deaths in custody, and hundreds of arbitrary arrests.
The International organizations recommend that the Salvadoran Government end the emergency regime. "Human Rights Watch recommends that the government end the emergency regime," tweeted Juan Pappier; almost immediately, president Nayib Bukele responded on Twitter with a simple "NO."
Many people in Latin America praise what the Bukele administration has accomplished and want the harsh measures implemented in their countries. Thus far, Honduras is the only country that has created a State of Exception to combat crime.
The implementation of this security measure by Honduras president Xiomara Castro is already being questioned by Human Rights Watch.
It is risky to imitate the Bukele model. Latin American governments should not be blinded by Bukele's popularity because history shows that strong-arm policies do not serve to improve insecurity in the long run." Tamara Taraciuk.
A few days later, president Nayib Bukele responded to Tamara Taraciuk's Tweet.
Have you noticed how the mainstream media and NGOs have intensified their attacks in recent days? Here's why. It is not that they are interested in El Salvador (they never were); their fear is that we will succeed because other governments will want to imitate it. They fear the power of example." Nayib Bukele.