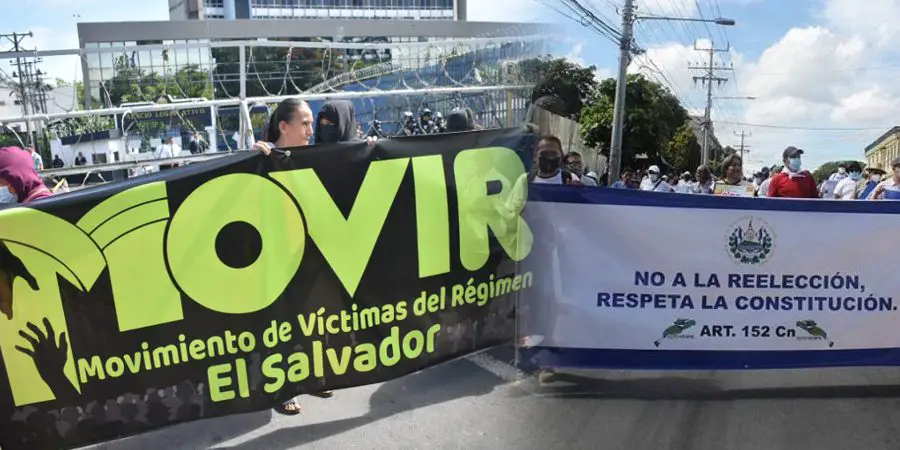 Opponents of the Bukele government will march on September 15, El Salvador's independence day. The opposition march will begin at the Rosales Hospital and will conclude in the Civic Plaza in front of the Metropolitan Cathedral.
Opposing organizations have called to march against the presidential re-election, the State of Exception, the municipal restructuring, the reduction of deputies, and the change in the seat allocation formula.
What are they calling to protest?
The predominant issues the civil society has stated for the march are the possible re-election of Nayib Bukele, the State of Exception, and the municipal and legislative restructuring.
Bukele's posible re-election
The organizations claim that Nayib Bukele can't seek a second term as president, even though the Constitutional Chamber stated that he could register as a presidential candidate. They contend that the Salvadoran constitution explicitly prohibits an immediate presidential re-election,
"It is a march to express the no to re-election," stated Walter Raudales in a radio interview. Raudales is the President of the Salvadoran Left Movement (MIS).
The State of Exception
The Salvadoran State of Exception began in March 2022 and has been extended 18 consecutive times. The security measure has resulted in the arrest of over 71,000 people.
However, organizations called on the march state that many people arrested are innocent and have had their human rights violated. They also claim that individuals arrested face inhumane conditions, and over 150 have died.
The municipal and legislative restructuring
Another hot issue to protest is the municipal and legislative restructuring. The legislative Assembly reduced the municipalities to 44 from 262. Also, the number of deputies was reduced to 60 from 84.
Opposition organizations claim this was done so the Nuevas Ideas political party maintains control of the municipalities and the Legislative Assembly.
Walter Raudales affirmed that they expect around 40,000 people to attend this event since people are dissatisfied with the re-election of President Bukele.