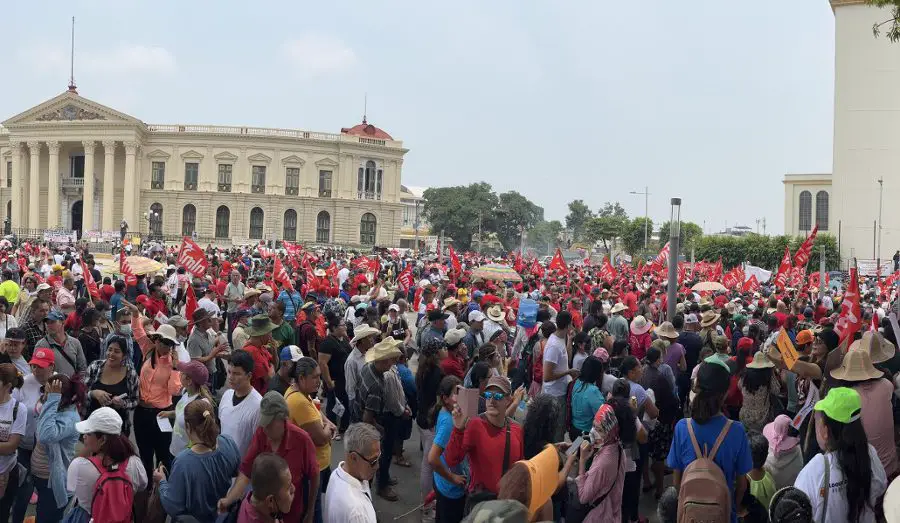 On International Workers' Day or Labor Day in El Salvador, hundreds of workers took to the streets, rallying for an increase in the minimum wage to cope with the rising cost of living. Some of the protestors also voiced their opposition to President Nayib Bukele's potential re-election.
The protest included workers, union members, and families of those detained during the regime of exception; it also included members of the Salvadoran LGBTI Community and women from various organizations.
The demonstrators called upon Salvadoran authorities to review the current minimum wage of $365 per month. Salvadoran workers demanded an increase that would enable them to afford essential goods, meet their basic needs, and help workers cope with the high cost of living.
The price of the basic food basket in El Salvador has surged by around 12.7% in urban areas and 19.20% in rural areas compared to the same month last year.
In January, the rural basic food basket cost $185.26, up from $157.13 in January 2022, while the urban basket rose from $213.43 to $245.02 for the average Salvadoran family.
The protesters also denounced Bukele's intention to seek re-election in 2024, deeming it unconstitutional. The possibility of his re-election arose when the Salvadoran Supreme Court's Constitutional Chamber ruled that the current president could register as a presidential candidate.
Current and former members of political parties such as Vamos, Nuestro Tiempo, and FMLN marched against the economic crisis the country is facing and the capture of innocent people during the emergency regime.
It is important that the people who are here make themselves feel and express what are the needs that are not covered: the high cost of living, the high price of food, and unemployment. Deputy Claudia Ortiz.
The peaceful march concluded in San Salvador's historic downtown without any reported incidents. However, social media platforms reported that Salvadoran security forces imposed blockades on people traveling from different parts of the country to participate in the protest.
Support for President Bukele on Labor Day in El Salvador
In a TV interview, labor Minister Rolando Castro highlighted the good relationship the Bukele government has with the Salvadoran working class. Castro stated that President Nayib Bukele has met around five times with unionists, something never seen before.
With the workers and employers, it is necessary to socialize, discuss and analyze the creation of the new Labor Code, which carries all the robustness and legality. Minister Rolando Castro.
President Bukele did receive support during the labor day marches; the Salvadoran Union Unity (USS) called for the re-election of President Nayib Bukele due to the excellent work he has developed in favor of the Salvadoran population.