El Tunco beach El Salvador is considered in all probability one of the most sought after beaches by foreigners in the country; El Tunco Beach stands out for being an ideal destination for the sport of surfing. Additionally, this beach is famous for its amazing sunsets and weekend parties.
How can you get to this beautiful beach? What will you find here? I will answer those questions here, and I will provide you with other relevant information about this beach. But first, let's answer a question … Why is it called "El Tunco"?
Origin of the name El Tunco.
If you are not from El Salvador, you will probably find it difficult to understand this word. For the locals, the word "Tunco" refers to a Pig … yes, that curious fat little animal that is served in restaurants all over the world.
Why is the beach named after this animal? The reason is the curious formation of black stones, which are located just in front of the beach. When you look at it, it resembles a pig lying on its back. You have to see it in person to understand it!
But beyond the unusual rock formation that lives up to the name of the place, Playa El Tunco offers you a unique atmosphere with activities that you will enjoy.
What to do in Playa El Tunco?
Visiting this popular tourist destination in El Salvador is an interesting activity for locals and foreigners. In the area, you will find a bohemian atmosphere, characterized by the visit of foreign people.
Its sand is of natural black color, and its beaches are surrounded by smooth stones, which result from the mouth of a small river that goes into the sea.
On this beach, you will find chalets with different options for food and drink at really reasonable prices; this is perfect so you can enjoy your stay while surfing its exceptional waves.
Surfing.
Don't you know how to surf? In that case, here, you will find places where you can learn this exciting sport with the help of a professional instructor. You can hire an hour of surf lessons for as little as $15 to 20 dollars on-site.
On the other hand, if you already have the experience, you can even participate in the professional Surf tournaments that regularly take place between March and August, which are usually some of the best for this sport.
Gastronomy.
Now, if what you prefer is simply to spend the day relaxing on the beach and enjoying a delicious local meal, this is the perfect location to visit some of its restaurants.
Among these popular restaurants are El Coyote, Mopelia Bar and Restaurant, and La Bocana. Furthermore, on weekends you will find various options to have fun; you will find live music or even concerts that brighten the atmosphere.
Shopping.
Another of the attractions of Playa El Tunco is precisely its main avenue; here, various local merchants offer their artisan products. You will find accessories such as handmade bracelets in which the artisans can place your own name on it; also, you can buy woodwork crafts, hats, and clothing.
Sunsets at El Tunco beach El Salvador.
Without a doubt, the sunsets at El Tunco beach are a popular attraction. Every late afternoon at El Tunco, you will see many people witnessing the beautiful sunsets.
Some of these people are at the bars having a drink and enjoying the view. Other sit on the beach overlooking the ocean while the sun is setting. Watching the sunset at El Tunco beach is a tourist attraction by itself.
Safety at El Tunco beach.
As for security, don't worry! There is surveillance from the authorities at all times; El Tunco beach El Salvador is one of the safest tourist locations in the country. You can read, "Is El Salvador safe to visit" to get information on safety in El Salvador.
Where to stay in El Tunco beach El Salvador.
At El Tunco beach, there is a diverse variety of hotels, as well as hostels, where you can spend the night in a safe environment. Among the most popular, you will find the following.
Obviously, there are other accommodation options available at El Tunco and the surroundings of the beaches. Finding the right accommodation for you will not be a problem!
How to get to El Tunco El Salvador.
Reaching most of the beaches of El Salvador is not very difficult. The beaches extend along the Salvadoran coastal road, and of course, El Salvador is a small country.
If you come from the International Airport, you just have to take a taxi or a shuttle and explain that you are going to El Tunco beach. The trip will not last more than 45 minutes.
In case you are traveling as a backpacker, and you want to take a Bus, the following Bus routes pass through the small town of El Tunco, route 102, 107, and 177.
These bus routes can be taken from San Salvador, in the Parque Bolívar; the trip cost ranges from $1.25 to $2.00. The trip takes around 1 hour and 45 minutes or more, depending on traffic.
On the other hand, if you travel by car, look for the road to Puerto de la Libertad and follow the signs. Also, you can input the information into a mobile map application and follow the directions.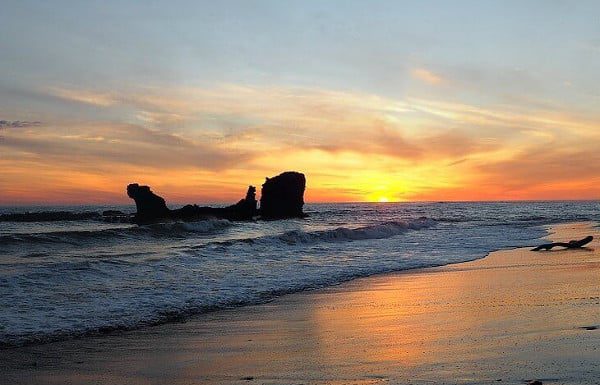 El Tunco beach El Salvador.
Visiting El Tunco beach is a popular thing to do for locals and foreigners alike. Some of them come to El Tunco for the surf, others for the sunsets, and others for the weekend parties.
This remarkable beach offers plenty of activities for visitors to enjoy; obviously, surfing is the top thing to do. Nevertheless, other than surf, you can relax at the beach, enjoy the sunsets, or simply hang out at the bars with locals and foreigners.
Take a chance and visit this excellent tourist destination in the beautiful country of El Salvador. El Tunco Beach in El Salvador is one of the best beaches in El Salvador and one of the best surf spots in El Salvador.